December 30, 2015
As 2015 comes to an end I've been doing a lot of reflecting on the year gone by, on what I've learnt, what I've did, how I've grown and what I'm grateful for.
It's been a huge year, so in the spirit of celebration, reflection and gratitude, I would love to share with you some of the most profound lessons and experiences of my 2015.



2015 has felt like…
DEVOTION. Joy. Creation. Challenging. Ease. Fulfilling. Complex. Connection. Growth. Exciting.
And more than ever — I've felt GRATEFUL for it all.
The first half of the year was like running the last 1km of a marathon race… Intense. Challenging. Not sure if I was going to make it. But the finish line was near.
The second half of the year was the complete opposite. It involved slowing down. Surrendering. Trusting. And giving myself permission to adopt a slower pace of life, which was challenging in it's on way. Both the halves of the year — although complete opposite ends of the spectrum — challenged me in different ways.


My word for 2015
At the beginning of the year, I declared that DEVOTION was going to be my word for 2015. And this year taught me true meaning of devotion, and what it actually involves to DEVOTE yourself wholeheartedly to what's important to you.
I initially chose this word it because I wanted to be profoundly dedicated to what was important to me. And that I did.
This year I devoted myself to: Completing my university studies. Writing.  Blogging. Life coach training. Moving my body. Serving. Coaching. Learning. Creating.
And this word turned out to be so much more than what I thought it would be.
I learnt that devotion is being unwaveringly dedicated to your goals. And what it means to be loyal to your hopes and dreams (and fully and deeply committing to these things). And doing what needs to be done in order to make them happen.
2015 taught me that devotion is showing up. Consistently. Over and over again. Even when you don't feel like it. Even when it's hard — especially when it's hard.
I learnt that devotion is doing the work. It's looking resistance in the eye and saying I see you  — but I'm not going to let you stop me.
Devotion is being committed to your vision. As well as actually taking action to make it happen. It's about dreaming and doing.
I've written more about my reflections on this word, but to sum it up in one single sentence, I discovered that for me it all came down to this…
Devotion is about finding the joy in commitment.
And that is one of the biggest and most profound things I learnt this year, how to find joy in being wholeheartedly dedicated and doing the work.


 My first creation


At the end of last year I dedicated myself to writing an eBook, so my year kicked off on an absolute high with releasing my creation into the world.
In January, I launched my eBook: 'Infinite: Take your life to the next level and beyond!' Seeing something go from a tiny fragment of an idea in my head — to actual reality — was mind-blowingly awesome! And it kick-started the beginning of me stepping up this year.
I learnt so much from the creative process itself. From facing my putting-myself-out-there fears to self-care, over-delivering and feeling uncomfortable, it really was a huge learning experience.
One of my Core Desire Feelings for this year was GENEROSITY. And it was one of my main drivers behind launching an eBook that was completely free. It felt really incredible to put as much thought, effort and consideration into creating this eBook as I would if it was a paid product, and then giving it away for free.


If you haven't already got a copy of Infinite and you want something inspiring to read for the new year, you can enter your details below to get your free eBook right here…


 Blogging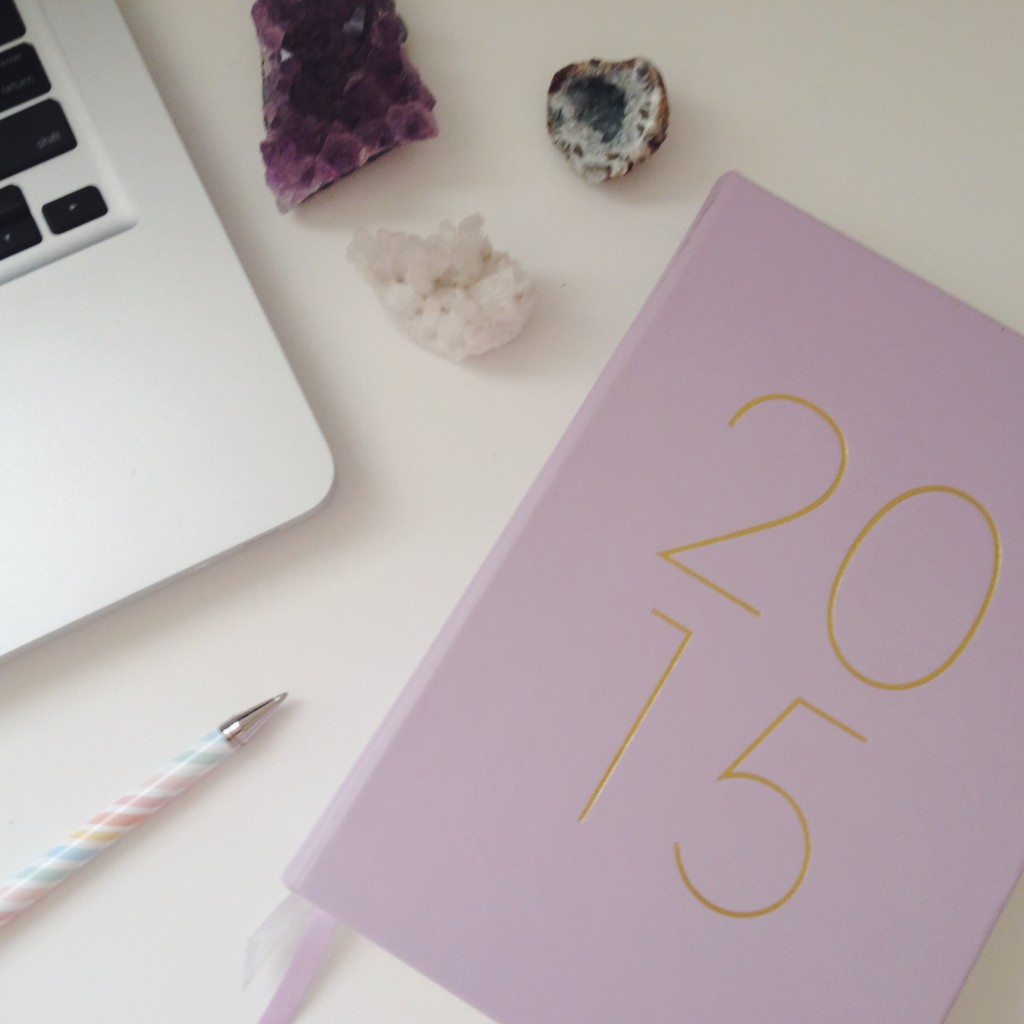 This year I blogged and wrote my heart out this year with…
79 blog posts. 22 inspirational emails to my Infinite community. 7 interviews. 1 eBook. And a 28 day email series.
Being devoted to blogging was super challenging at times — and easy at others — but ultimately very rewarding and fulfilling. I discovered that there's definitely power in showing up again and again.
For me, to makes this happen I had to not let procrastination get in the way of doing the work. It meant sitting down and writing, and making it happen, even when I didn't feel like it!
One of the biggest changes I experienced in myself this year is that I've become a lot more comfortable with putting myself out there online. My theory was that it would get a lot easier if I just kept showing up. So that's what I did. Through feeling the fear (and doing it anyway) as well as working with a coach, I can now say that even though it's not necessarily super easy for me to put myself out there now, I feel so much better about it than I have ever before.
This resulted in me to start sharing more openly about myself, which led to a mega update to my about page to reflect more me and my story on how I got to where I am today. Doing this really helped me to feel more aligned with my online space than ever before.


A lesson I learnt on authenticity and blogging:
This year I became more comfortable with sharing more of myself online, but I also had to make sure what I was sharing felt good to share. I believe that sharing for the sake of being authentic, is actually not authentic at all. And this year I discovered for myself (and accepted) that being authentic doesn't have to mean baring it all to the world. That it's okay not to share absolutely everything. Withholding from sharing things because it doesn't feel genuine to you, doesn't mean you're not being inauthentic at all — it means your doing what feels right for you. And for me that truly what authenticity comes down to.


 Some more blogging related stuff:
+  It was surprising and super interesting to discover the 10 most-read posts on my site this year. Turns out you guys really dig useful posts, books recommendations, lessons, tips and reflections from my own life experiences, as well as lessons from books and movies. Which is awesome, because I love writing about those things too!
+  I was interviewed 7 times this year. And I wrote my first ever guest post. You can check them out here.
+  In the last few months of the year I became super committed to sending emails to my Infinite community a couple of times a month with exclusive content, such as personal insights (that feel too sacred to share here on the blog), behind-the-scenes updates, inspiration and awesome resources I think are super useful. This has quickly become one of my absolute favourite ways to connect with those who resonate with what I am doing. And I look forward to continuing to serve this way in 2016.
+  I did my first ever interviews on this blog, with 12 incredible humans, on the topics of blogging and gratitude. You can check them out here, here and here.
+  I took part in this year's round of Bright-Eyed and Blog-Hearted. I mentioned how this course was a total game-changer for me last year in helping me actually launch my blog. And this year, it continued to support me in stepping up my blogging, as well as creating and launching my projects. Plus it's been completely revolutionary for my online evolution in general.
+  I also had the privilege of mentoring several other awesome humans through the Bright-Eyed and Blog-Hearted course this year, which was a total honour and privilege, and also a lot of fun!
+  The Bloghearted Facebook community has been one of my absolute favourite places to hang out online this year. The space — as well as the incredible people in it — are just totally next-level. The celebration, unconditional support and constant inspiration is just INCREDIBLE. I truly could not imagine blogging or navigating the online world without this community.
+  A little note of gratitude for this space: Writing, sharing and connecting on this blog has been essential for my growth and learnings this year. Having a little space on the Internet where I can share my thoughts and learnings has transformed into something I'm not only proud of, but it's something I get a lot of enjoyment, fulfilment and purpose from.


 A useful lesson for navigating the online world:
This year I aimed to show up again and again online. This consistency has been essential for my growth this year, and something that's helped me to this is: detaching from the outcome. For me this looks like giving something my complete all (whether that be a blog post, newsletter, social media post, or an actual creation), then once I've share it I completely let go of the outcome. And not getting caught up in the external result (likes, comments, subscribers, views, etc.) has helped me to persevere and to keep showing up (again and again) no matter the outcome, which has helped me to continue to devote to doing the work and showing up.


Connection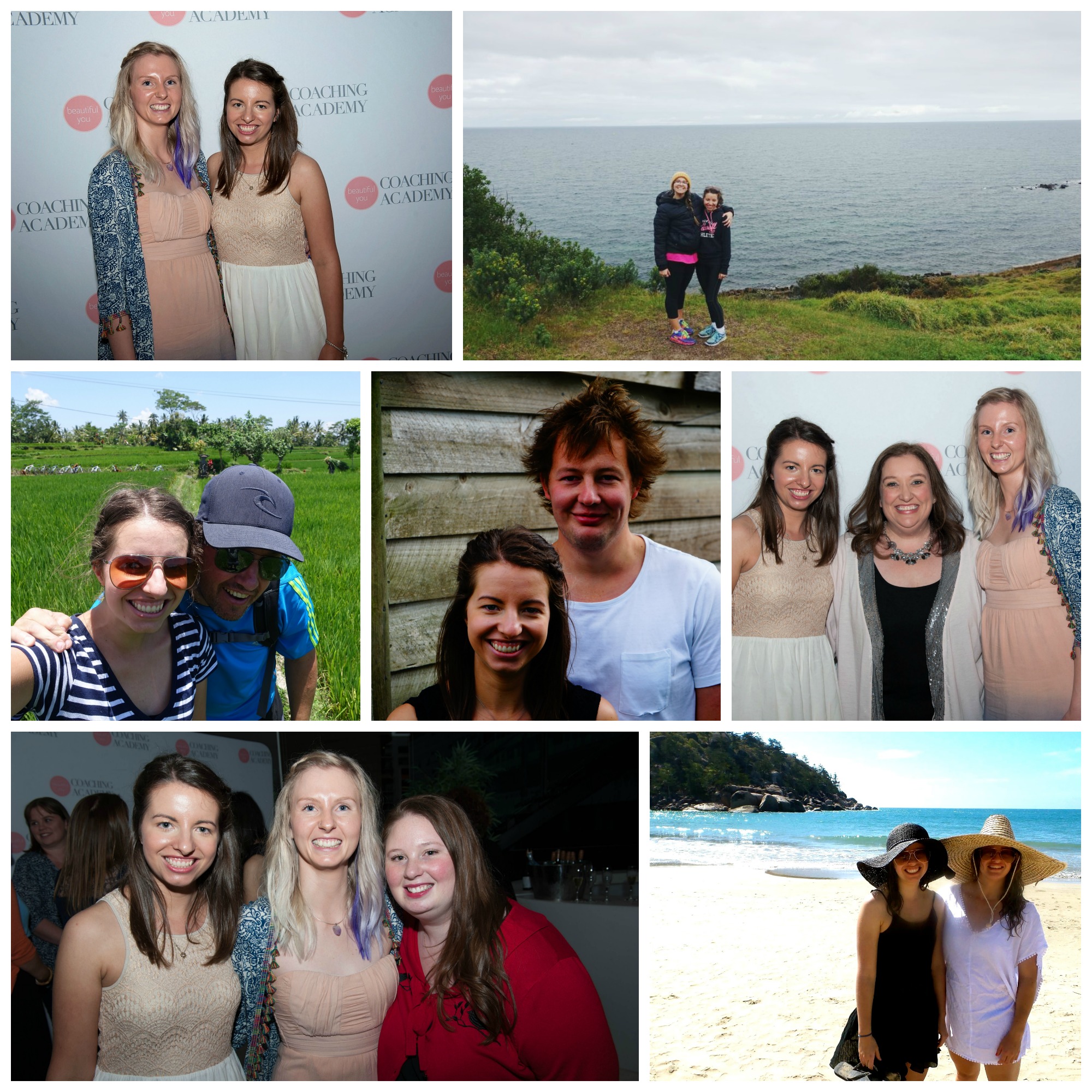 Another one of my Core Desire Feelings for this year was CONNECTION. I wanted to connect with some like-minded people — those who were walking the same path as me. And feel connected to those already in my life.
This year I discovered that whether it be online or in person, there's something to be said about the pure magic that comes from like-minded people gathering together.
Through my Infinite community, the Blog-Hearted community, the Beautiful You coaching community, Skype chats, various Facebook groups, my incredible clients, moving back home to where my friends and family live… This year I felt more connected then ever before.
And I've definitely experienced first-hand how powerful the ripple effect can be when you surround yourself with absolutely incredible humans.
Words cannot explain how grateful I am for the connections I've made (and maintained) this year.


Coaching
Last year in October I began my life coach training with the Beautiful You Coaching Academy. And this was definitely one of the BEST decisions I've ever made (yep, in my entire life!) And I've written about why I'm grateful for the academy here.
At the beginning of this year I started coaching my first of many real clients. I remember the first time I sat down with my first ever real client. I was SO incredibly nervous, and I had sprayed Rescue Remedy probably  about 20 times.
By the end of that first session, I had the biggest this is what I'm meant to be doing  feeling ever. And I knew that if this was the path I wanted to take I was going to have to get really comfortable with feeling completely uncomfortable.
This year I feel so grateful to have worked with so many incredible humans who have challenged me, inspired me, and also helped me to learn and grow as a coach.
If I could sum up the role coaching has played in my life this year, it would be with these words…

And I'm looking forward to coaching more incredible humans in 2016.


A lesson I learnt from launching my coaching packages:
I had been a qualified life coach since April this year, but I kept putting off officially launching my coaching packages. After several months, I realised that there was never going to be a perfect time to actually do it, and with the way I was going I could continue along the path of putting it off forever. So I kept reminding myself this:
If not now, when?
This mantra (from Emma Watson's HeForShe speech) is one I kept repeating to myself over and over again to help me actually get it done, which I did.
This year I learnt (time and time again) that there is never really going to be a perfect time to do something — so I might as well do it NOW.


A few more things on coaching:
+  This year I realised that coaching is definitely one of those things you learn by doing. You can study your heart out, you can read all the resources, you can do all the work, you can read all the self-development books — but I truly believe the most powerful way to get better at coaching people, is to actually coach people! So that's what I did this year, I coached a lot of people.
+  One of my favourite days of this year was our final in-person training day with the Beautiful You Coaching Academy for our graduation. It was a divine day full of reflection, celebration and inspiration with some of the MOST inspiring humans I've ever met.
+ I also officially became a Certified Beautiful You Life Coach and I now have an awesome profile over on their website (this is also one of those things I kept putting off doing, but I'm so glad I got it done before the end of the year!)


Being mentored
One of the highlights (and most influential experiences) of this year was being mentored by Katherine.
When I first connected with Katherine I had been blogging for about 8 months and had been qualified life coach for a couple of months. Despite this, I was still struggling with putting myself out there online, and I knew it was holding me back.
During our time together Katherine supported me in officially launching my coaching packages, sharing more of myself online, and creating and launching my most important project to date.
All of this was awesome, however the best thing about coaching with Katherine was that it helped me to FULLY and completely embrace my introverted energy and I started to truly believe (and know) that I can just show up as myself and no matter what — and that it more than enough.
I'm so incredibly grateful for Katherine's support this year and as you can probably tell by reading this post, working with her has played a significant role in many of the things I have learnt this year.


A note on embracing my introverted self:
I was studying at university when I discovered that I was an introvert — and it completely shocked me. But it soon began to make a lot of sense. I used to get confused when I was hanging out with people I actually liked, but afterwards I would need to have alone time (and this made me feel super guilty!) I've really worked on honouring my true nature as an introvert and understanding my needs. This has helped me show up better for myself and the other people in my life. One of the most profound things I learnt this year (with the help of Katherine) was finding the happy ground between honouring my introversion, without hiding behind it or using it as an excuse. Which is a trap I've easily fallen into (many times) when I first discovered I was an introvert.


Completing my university degree
When we began 2015 I was in the middle of studying over the summer holidays. And even though I was really enjoying studying some interesting and unique subjects (like psychology of trauma, wellbeing, personality and human-animal relationships), deciding to not take any time off meant that my final year of uni was quite intense. And not having any breaks meant finishing my degree was quite challenging. But I got there and…
In June of this year I finally completed my Bachelor of Psychological Science!
In my three years at uni I really grew up and became more of who I really am. I learnt what it meant to do the work. I discovered how I worked best (and did it!) And I really enjoyed studying psychology as well.
I also really enjoyed my time living in Bendigo to go to university, but when my degree came to an end, it was an easy decision to move back home.


Moving back home to the Mornington Peninsula
In the middle of this year I moved back home to live with my family (who are based on the Mornington Peninsula in Victoria.) And after living with only 1 other person for 3 years, moving back home into a house full of people was a big change.  But honestly, it wasn't a super difficult transition (at all) because I get along well with my family and I love living on the Peninsula, but it also came with it's own challenges, such as…
Not bringing the person I was 3 years ago home with me. I'm not who I was then, and I had to be super conscious of not falling into the trap of old habits and behaviours. Which is something I still find myself doing on the occasion. And also on the other hand, I've also had to realise (and accept) that others aren't the same as they were when I left either.
Plus moving back home with my family has really made me learn to be more tolerant, accepting, understanding and empathetic.
A few of my favourite things about moving home:
Sunday night roasts with the family. Actually having a backyard with a real garden and trees (and not just a concrete courtyard). Exploring the Peninsula, one of my favourite places in the world. Being (a lot) closer to the beach. Spending time with my friends and family who live here.


Slowing down
One of my biggest lessons this year that I was forced to learn was this:
In order to do my best work and show up as my best self in the world I need to do it from a full cup.
This is pretty simple — and I thought I already knew that when I take care of myself, everything in my life just seems to work a lot better. I witnessed first-hand while I was at university how my work was dependent on how well I was looking after myself, but it's something that I kept ignoring this year. Until I was forced to come to face with it.
As I mentioned above, in the middle of this year I came to the end of 3 years of studying at university (with one full year without taking a break). And by the end I was depleted.
But there was so much I wanted to do, so I kept trying to push through (as I often do) but I just couldn't anymore and ended up getting constantly sick, had zero energy and I was just flat-out exhausted, which forced me to slow down — but I definitely wasn't happy about it.
One day I was listening to an amazing podcast episode (you can read more about that here) of The Lively Show with Alexandra Franzen where she said this: "You cannot produce your best work on an empty tank."
And this realisation — that in order to do your best work you need to create (or give or serve) from a full tank has revolutionised my approach to my work — and my entire life as well.
This moment was the tipping point of my year. I decided that I was going to experiment with this paradoxical idea and see what happened. I stopped focusing on trying to get things done and I turned my attention to doing what felt good. I also decided to give myself permission to take the rest of the year off (and a little note here: I was in a unique position where I was living at home, had no commitments and a chunk of savings to live off.)
The lack of doing things was the most challenging thing I had to do all year. Which seems strange but it truly was. I struggled with feeling guilty about not going and getting a "real" job like I intended to do after I finished uni. I also felt bad that I wasn't doing anything and everyone around me was working really hard. And I struggled with allowing myself to rest, but deep down I really knew I needed to so I just had to it.
During this time I… Slept (a lot). Read heaps (highlights included these books.) Went bushwalking. Watched movies. Went mushroom foraging. Spent a lot of time at the beach. Listened to inspiring podcasts (like these ones). And just completely relaxed.
And after while (I think it was about a month), I started to feel like myself again. And even when I returned to blogging I decided to maintain the approach off filling myself up first, then creating. I made sure I focused on feeling good before I worked. And I've maintained this approach ever since then.
This year I really learnt that this approach helps me to do my best work consistently and sustainably. And even though it seems counter-productive it has resulted in me being more productive than ever.
When I felt rejuvenated again, I made the conscious decision that I wanted to finish off the last few months of the year the way I wanted to begin 2016: with a whole lot of patience, persistence and devotion.


Going on holiday to Magnetic Island
In September I spent a week in Magnetic Island with my family and my boyfriend, and it was exactly what I needed at the time.
We hiked to secluded beaches. We swam in the ocean. I read (a lot). We relaxed. We cooked delicious seafood. We witnessed the most incredible sunsets I've ever seen. We spend most of our time outside. We played card games (and board games). We kayaked. We laid on the beach. And we all-round just had an amazing time.
And on this holiday, I was reminded of how powerful it is to take time away from working, in order to do your best work. And I came home with an energy that helped me to really amp up what I was doing for the last few months of the year.


My most important project yet
In September I created and launched my most important project yet: The 28 Day Gratitude Project.
I started practicing gratitude when I was 13 (you can read more about that story here) and after a decade of experimenting with gratitude this is what I believe:
Gratitude has – and continues to – make my life infinitely better.
Because of this, I always knew that I wanted gratitude to play a role in my space online. And it has, with my regular Gratitude series on the blog (called The Gratitude Diaries) and one of my all-time most popular posts. But this year I felt called to share more of my learnings and experiences with gratitude.
This desire grew and evolved over time and resulted in me creating a series that was 28 days long. This project has meant so much to me, and I think that's because gratitude has actually changed my life (and constantly continues to).
My core desire feelings of GRATITUDE and GENEROSITY led the way in me creating this project. I made it a free course because I wanted to be generous, but I also truly believe in the power of gratitude and I wanted as many people as possible to have access to my learnings and experiences with it.
The first round kicked off in October of this year and I was SO thrilled and honoured to guide over 70 people through 28 days of gratitude. Plus the feedback from the first round was amazing and I was so grateful that the project was well-received.
From the first round (which I participated in myself) I realised that the project does an awesome job of not only showing people how powerful gratitude it is — but also how practicing it can actually be fun and enjoyable. This has become my intention for the next round of the project, which I have recently reworked and made it even better than before. And I'm really looking forward to kicking off the new round early next year.


One year of blogging
September 22nd of this year marked One Infinite Life's first birthday!
Around this 1 year mark, I felt like something shifted. When I first started my blog I was super uncomfortable and fearful of putting myself out there online. And it truly was one of the most challenging things I've ever done. So hitting this small milestone was such a huge deal for me and something I am incredibly proud of.
Blogging has taught me so much, but I think the most valuable lesson has been this:
Start before you're ready.
There truly will never be a perfect time to do that scary thing  — the one that deep down you really want to do. You probably will never feel completely ready to step up and take the chance, but when you find the courage to do it anyway, I'm sure that amazing things will happen.
A few more lessons from 1 year of blogging:
+  It's okay to take action that's imperfect. It's the taking action part that counts and helps you to move forward.
+  It's okay to learn while you're in the fray. And I've found learning while doing is one of the absolute best ways to learn.
+  It's okay to work out what you want while you're doing it. I still don't have a fully formed vision of what I want my online space to be, but I'm going to keep creating anyway as I continue to work that out.
+  And you've really got to do the work.


 Returning to Bali
In last year's highlights I shared these words about my first trip to Bali:
"Bali, I'm in love and I will be back…"
But honestly, I didn't expect to be going back so soon. But a spontaneous decision by my family to take a trip to Bali meant that for the second time in just over a year I was heading back to the Island of Gods.
We spent two awesome weeks in Bali and this is what we did:
Explored Ubud and it's surrounds. Visited volcanoes. Rode bikes through local villages, rice fields, and forests. Visited a traditional Balinese compound and learnt about Balinese way of life. Ate heaps of delicious food. Went trekking in the jungle. Visited (and marvelled at) temples. Canoed in an emerald lake. Walked and relaxed on the beaches. Visited the Bukit Peninsula. Went shopping in Seminyak. Had the best massage ever. And just had a really amazing time.
I wrote a mega post on my experience in Bali (including photos), plus my recommendations on what to see, do and eat, plus some useful tips based on my observations. So if Bali is on the cards for you in the future you can read my recommendations here.


Some rapid-fire lessons I learnt this year:
+  Consistency is key. So is showing up. And doing the work.
+  Be who you are. Own what makes you different. Embrace (and share) what you love. Realise that no one is normal — and we're all weird in our own way. Not everyone will get you or resonate with you, but those who do will find you.
+  The fear of doing something is so much worse than actually doing it.
+  Fitting in pockets of movement and stillness makes my day so much better. Plus I'm calmer and more productive, win!
+  Question absolutely everything. What your told. What you think you know. What you believe. What you want. What you observe. Be curious and question it all.
+  Be patient and persistent. Something I first learnt at Vipassana, that I continue to find power in to this day.
+  Taking inspired action is POWERFUL.
+  Focus on doing what makes you feel good. The rest will come.
+  Giving yourself permission to fully be yourself, allows others to show up as their real selves too.
+  Accepting yourself exactly the way you are doesn't mean that you don't have to want to continue to grow and evolve. There's no shame in wanting to be the best version of yourself.
+  One of my Core Desire Feelings this year was EASE. And I realised that intentionally making decisions to bring more ease into my life (and embracing it) makes life feel exactly the way I want it to.
+  Feeling stagnant? Mix up what your consuming by trying a different book, movie, tv show, blog, magazine that you wouldn't normally go for.


What else I did this year + things that I loved…
+  I reflected on (and shared) the best things I have ever done.
+ I took part in Susannah Conway's photo challenges on Instagram, including #AprilLove2015, #AugustBreak2015 (which I dabbled in) and #DecemberReflections (which I'm currently doing now).
+ I sent more snail mail than ever before. And decided that it's something I want to do more of.
+  I turned 23.
+ I experimented with different types of movement and introduced Wabi-Sabi workouts into my exercise repertoire.
+  I read Big Magic by Elizabeth Gilbert and it instantly became one of my all-time favourite books I've ever read (and definitely my favourite read of 2015.) I took so much away from reading it (my favourite lessons are here) but the biggest thing was that it helped me to realise that I am creative — and kickstarted me exploring my creativity, which has been revolutionary. (more on this here).
+  This year I read more fiction than ever before. Between studying at university and feeling completely burnout I read less self-development books than any other year before. And I actually really enjoyed diving into more fictional reads. Some of the ones I most enjoyed were…
Girl on the Train by Paula Hawkins. Vampire Academy (and the spin-off Bloodlines) by Richelle Mead. The Shatter Me series by Tahereh Mafi. The Sky is Everywhere by Jandy Nelson. Love Letters to the Dead by Ava Dellaira. Eleanor and Park, Fangirl and Carry On all by Rainbow Rowell. All the Bright Places by Jennifer Niven. Oblivion (and the Lux series) by Jennifer L. Armentrout. Everything I Never Told You by Celeste Ng.
+ I also shared some the books I read this year that I would recommend (and my thoughts on them) here and here.
+ I discovered and fell in love with meditones by Sonescence, which was surprising for me because I've never enjoyed meditation music before, but these ones are next-level.
+ I took part in Sarah Jensen's Rock Your Goals course, which helped me to get super clear on what I wanted to achieve, to declare some mega goals of mine that I had been ignoring, to create a pathway to achieving them and propelled me into action.
+  I became completely obsessed with podcasts, especially inspirational ones (like these). And I recently discovered Serial and became obsessed with that as well.
+ I decluttered like crazy. Especially when before and after I moved home . I realised that I prefer quality of quantity and I'm no longer interested in obtaining lots of stuff that I don't use or love.
+  My favourite movies I saw were Wild, The Duff, Me and Earl and the Dying Girl, What if, and Mockingjay Part 2.
+  I started using social media more intentionally and consciously than ever before. So even though I was posting more than I have ever before, I actually spend less time on there than ever, which made more time for doing the things that actually bring me joy.
+  My favourite way to shake up a bad day was to remind myself that today is not over yet.
+ I started doing mindful colouring in, and loved it because it's calming, creative, meditative and fun. This has been my favourite resource to use.
+  My favourite TV shows of this year have been: The Vampire Diaries, The Originals, How to get Away with Murder, The 100 and Game of Thrones.
+ And this year there was also a whole lot of this…


Now let's wrap up 2015 with some gratitude…
2015, I'm grateful for… The highs and the lows. For what came easy and for what didn't. For the process, as well as the result. For the wins and the setbacks. For the experiences and the lessons. For the incredible people I met, the places I went, and the memories I made. For both ends of the spectrum. For it all really.
Thank you 2015, you've been one huge year.
And I'm ready for whatever next year has in store for me…


Looking forward to 2016…
+  Even though my Core Desire Feelings of Connection, Joy, Gratitude, Ease and Generosity have served me so well this year. I'm going to be revisiting Danielle Laporte's The Desire Map and reevaluating how I want to feel in 2016 (and I'll be sharing these with you early next year.)
+  I'm also working through Susannah Conway's Find Your Word to help me uncover a guiding word for next year. And I've been unravelling my intentions for the year ahead by using this awesome workbook.
+  I'm currently working on a super awesome way we can work together in January (which will be exclusive to those in the Infinite community) that's going to help you kick off the new year on a high, plus help to make 2016 your best year yet. I'm getting really excited about sharing this with you early next year.
+  I'll be launching several more rounds of The 28 Day Gratitude Project, with the first one of the year kicking off on January 7. I'm excited to explore and experiment with the best way I can deliver my experience and learnings with gratitude. Plus I'll also be creating something extra special next year to help me do this in a fun and effective way.
+  I'm looking forward to continuing to work with incredible humans who are over playing small and holding themselves back from living an amazing life. If you're wanting to take your life to the next level, I'd absolutely love to work with you in 2016 to help you make that happen. I've opened up spaces for coaching for January, so if you're interested you can find out more here.
+  On that note, if becoming a coach is something that you think might be on the horizon for you in 2016, I would absolutely love to support you in doing that. Becoming a life coach was one of the best things I ever did. Because of this, I really feel called to support those of you who are wanting to become a coach. And I'll be revealing more details about this in January next year.
+  I'm finally going to bring to life something I've wanted to do for such a long time (actually since I started my blog in September last year), which is an inspiring interview series. Keep an eye out in the new year for the very first one!
+  I'm also completely devoted to serving and supporting you next year. With more blog posts, useful content and creations.
+  And I'm also super excited to be welcoming in a new year and all that it will bring. I have a feeling that 2016 is going to be an expansive and exciting year.


 In closing…
Thank you for your incredible support this year.
This space — and sharing with you is a huge part of what made this year so awesome and rewarding for me.
So whether you're an active engager or a silent observer know this: I appreciate you!
And I wish you all the best for the new year. May 2016 be an absolutely incredible year for you.
Thank you for being here (and reading this mega post!)
And I would absolutely love to hear about your year: What was one your favourite things you did or learnt in 2015? What is something you're looking forward to in 2016? I would love to know, so feel free to share away in the comments!
Love & (so much) Gratitude,