November 19, 2015
There's so much more to Bali than only the resorts, chaos, and let's be honest — Bingtang singlets. If you choose get to know this special place a little more, I have no doubts about it — you will be enchanted.
Known as the Island of Gods, Bali truly is one special place. And I've been to Bali twice now, first to celebrate my 21st birthday with my boyfriend, and on my most recent venture in October of this year with my boyfriend and family.
This island — albeit small — has so much to offer, and it's why you'll find a variety of people raving about this place for many different reasons… Bali really can be so many different things to different people.
For me, the first time I visited Bali I was quite surprised by the devotion and reverence of the Balinese people. With their rituals, offerings and ceremonies being ever present in their lives, even in touristy places.
I was also unexpectedly captivated by Bali, and it's hard to describe why I felt the island was such a special place, but to me it just feels sacred.
In this post, I'm sharing what Bali is for me. Including some photos of my trip, my favourite area to stay, my best recommendations on what to do and see, where to eat, and some useful Bali travel tips based on the observations I've made during my two trips to this special place.
Let's dive straight in…


My favourite place in Bali:
Ubud.
Without a doubt Ubud, is my most favourite place in Bali.
I grew up by the coast, and always feel more at home by the beach, so I was a little surprised to find that the heartland of Bali was the place I liked the feel of the most.
Ubud is about an hour and a half drive from the airport, it's full of culture, art, temples, and surrounded by rice fields and jungle.
There's plenty to explore (including on foot), lots to see, and heaps of great places to eat and drink (and I've outlined my favourites below).
Where to stay? I'm not a fan of hustle and bustle (at all), so both times I've been to Ubud we opted to stay outside the main centre of town, more specifically in Penestanan area (off Jalan Penestanan Kelod). It's about a 10-15 minute walk into town, but I love staying up there.


Some of our favourite things we've done while in Bali:
Bali Eco Tours
These are super well-run tours, with friendly guides and a really incredible way to peel back the layers and get to see (and know — and feel) the real Bali.
Photos: Bali Eco Tours – cycling tour
The eco cycling tour is an awesome day activity. We got to see the incredible Mount Batur Volcano (while eating breakfast), ride bikes through local villages, rice fields and forests, visit a traditional Balinese compound and learn more about Balinese culture and daily life. We also had lunch at the Bali Eco Tour restaurant (it's included in the tour) which was a really yummy Indonesian buffet-style lunch.
Photos: Bali Eco Tours – jungle trek tour.
I also loved the jungle trek tour. On this day we trekked through the jungle in rural Ubud (where we saw a miniature deer!) We also visited ancient (and isolated) temples, and went canoeing in an emerald green lake (in a traditional wooden Balinese canoe), and visited a local market. I spend a lot of time hiking at home in Australia, so I really appreciated exploring Bali in this way, and being out in rural Ubud was incredibly peaceful.
Both these tours have been some of my most favourite days in Bali.
Paon Bali Cooking School
I've done several cooking classes before (in different Asian countries) while travelling, and this is the best one I've ever done. You get to visit the local produce market, see the rice fields and learn about how they grow rice, and then you get to cook a really delicious Indonesian feast. (The green bean salad and the fried tempeh are SO good!) It's a really fun day, plus we got to learn how to recreate some of my favourite Indonesian foods.


A few more things to see & do:
Exploring the beaches. There are so many beaches to see and explore in Bali. One of my favourite parts of being in Bali is watching the sunsets, they are really incredible. My favourite beaches in Bali are on the Bukit Peninsula (pictured below). We took a day trip there and it's definitely somewhere I want to spend more time in future Bali trips. So whether you want to have drinks and marvel at the sunset, just chill, or surf, you can bet you'll find a beach that suits your needs.
Bodyworks in Seminyak. I wish I had known that there is also a Bodyworks in Ubud, because I had one of the best massages I've ever had in my life here, for real. Compared to Aussie standards the treatments are super inexpensive (like $30 for a 1-hour massage), but the quality is incredible. Oh and they also do a good manicure, which I always appreciate
Temples. I'm fascinated (and in awe) of the temples scattered throughout Bali, there is really something special about them. There are so many different temples to explore, the most famous of them being…
Tanah Lot. Is a temple on a rock formation in the ocean. It's become quite a popular tourist destination and apparently at sunset it's incredible, but we honestly weren't willing to battle the crowds for the sunset show (maybe another time?) We opted for the morning, when it was much quieter. I do love temples, but I do believe this one is talked-up a lot and honestly a bit overrated, but I did appreciate seeing it in real life.
Local market night tour. This was a really interesting experience. We were taken to a local night market and from what I observed our small tour group were the only tourists at the whole market complex. It was really interesting to see the stalls, and we really enjoyed eating a traditional Indonesian meal of suckling pig and accompaniments and trying Indonesian desserts.
Ricefield local village walking tour in Ubud. This was a really enjoyable morning exploring outer Ubud on foot. Our guide took us through the rice fields, rainforest and his local village. We learnt about traditional Balinese life, their compounds, their traditions and ceremonies.


Our favourite places we ate and drank in Bali:
Photos: Yellow Flower cafe, Alchemy, Clear Cafe, Sari Organik
Yellow Flower Cafe in Ubud. There's something special about this place. Nestled up in the Penestanan village, and being quite difficult to find — it really is a hidden gem. Divine food, an incredible view, an awesome (and serene) vibe, we ate/drank here many times. Be sure to head to the Sunday night buffet, where for around $9 per person you can indulge in a variety of delicious Indonesian food. Definitely my favourite place to eat in Ubud.
Alchemy in Ubud. Is a paradise for raw vegan foodies (or those who just dabble in it!) There's an awesome breakfast bar with fruit, cocobiotic yoghurt and yummy toppings. The rest of the day there's a salad bar, which is incredible too. They have an awesome range of juices and smoothies (I'm obsessed with the fennel love juice!) It's a great place to hang out (the day beds are awesome) and they also have divine raw desserts, kombucha and coconut kefir (the raspberry one is my favourite!)
Sari Organik in Ubud. Located in the middle of rice paddies, with it's own vegetable farm makes for a pretty unique dining experience. It's peaceful out there and the view is amazing. It's a bit of a walk to get there, up off the main road and through the rice fields, but I think it makes this place even more special, even if it's just for a cold drink.
Clear Cafe in Ubud. Now it's located in a several-story building, overlooking a temple, and it's a really cool place to hang out. Plus they absolutely nails cold drinks. My favourites are the goji lemonade and chai cashew dream. Oh and the food is good too!
Earth Cafe in Ubud. This place has really delicious vegetarian food (the black bean burritos and the Mediterranean plate with falafels are awesome!) My travelling companions raved about the ginger ale, and I particularly love their fresh juices. There is also one in Seminyak, which I frequently visited as well. Both places have an awesome store in the cafe, which is great for stocking up on healthy snacks, raw desserts (which are really yum) and kombucha.
Warung Citta Ovest in Ubud. Who would have thought you could find really good woodfire pizza in Ubud? Well, strangely enough, you can. My family (especially my younger brother) was delighted by this place (maybe because of all the fresh juice and raw salads we were consuming?) The Balinese pizza was our favourite.
Bali Buda in Ubud. What I like about this place is there really is something for everyone, the menu has a wide variety of cuisines and caters to many different food preferences, plus everything I've ever had from here has been yum. I particularly enjoyed the Nasi Campur (one of my favourite Indonesian dishes). They also have a store (located around the corner from the restaurant on the main road) which stocks a lot of handy snacks as well.
Photos: Motel Mexicola x 3
Motel Mexicola in Seminyak. This place is super funky. The decor is incredible and the food is incredible. This is an awesome place to go during the evening, as the vibe just isn't the same during the day. The tacos are awesome, the tempura prawn and pineapple tacos, the corn is awesome, honestly everything I've eaten here is awesome. My travel companions loved the pork ribs too. Note: It get's pretty busy here, so I recommend booking ahead.
Lilan at Potato Head Beach Club in Seminyak. This is the Indonesian restaurant located in the beach club at Potato Head. It serves really incredible food, some of the best I've had in Bali. And the chilli crab is absolutely divine!
Sea Circus in Seminyak. This is an awesome eclectic cafe with really great food. Highlights for me were the veggie burger served in a cabbage leaf and the fritters. Plus the pistachio ice-cream is awesome too!
Poppies in Kuta. I'm going to be really honest here: I do not like Kuta. But my parents wanted to revisit this place as it was their favourite place they ate in Bali on their honeymoon (which was like  27 years ago!) As soon as you step foot into Poppies you feel like you are in a different world, and definitely not in Kuta. The rainforest setting creates a really cool ambience and the food is awesome. We had some divine crayfish and seafood here and it was a really enjoyable dining experience.
Photos: The Cashew Tree, view from Single Fin in Uluwatu x 2
The Cashew Tree in Bingin. This is an awesome place to hang out and eat awesome food. It has a super relaxed vibe, day beds, kombucha and a Mexican-inspired menu, considering these are some of my favourite things I loved this place straight away. We only went here once, but everyone loved the feel of it, and of course — the food (the black bean burrito was awesome!) I recommend bringing something to read and having a lazy lunch on one of the day beds, because that's what holidays are totally for.
Single Fin in Uluwatu. This is an awesome place to grab a drink and watch the sunset. It gets really busy here, so I'm glad that we booked ahead of going. And even though the afternoon sun was blaring, the view, sunset show (and cold drinks) made it totally worth it.



Some useful stuff to know: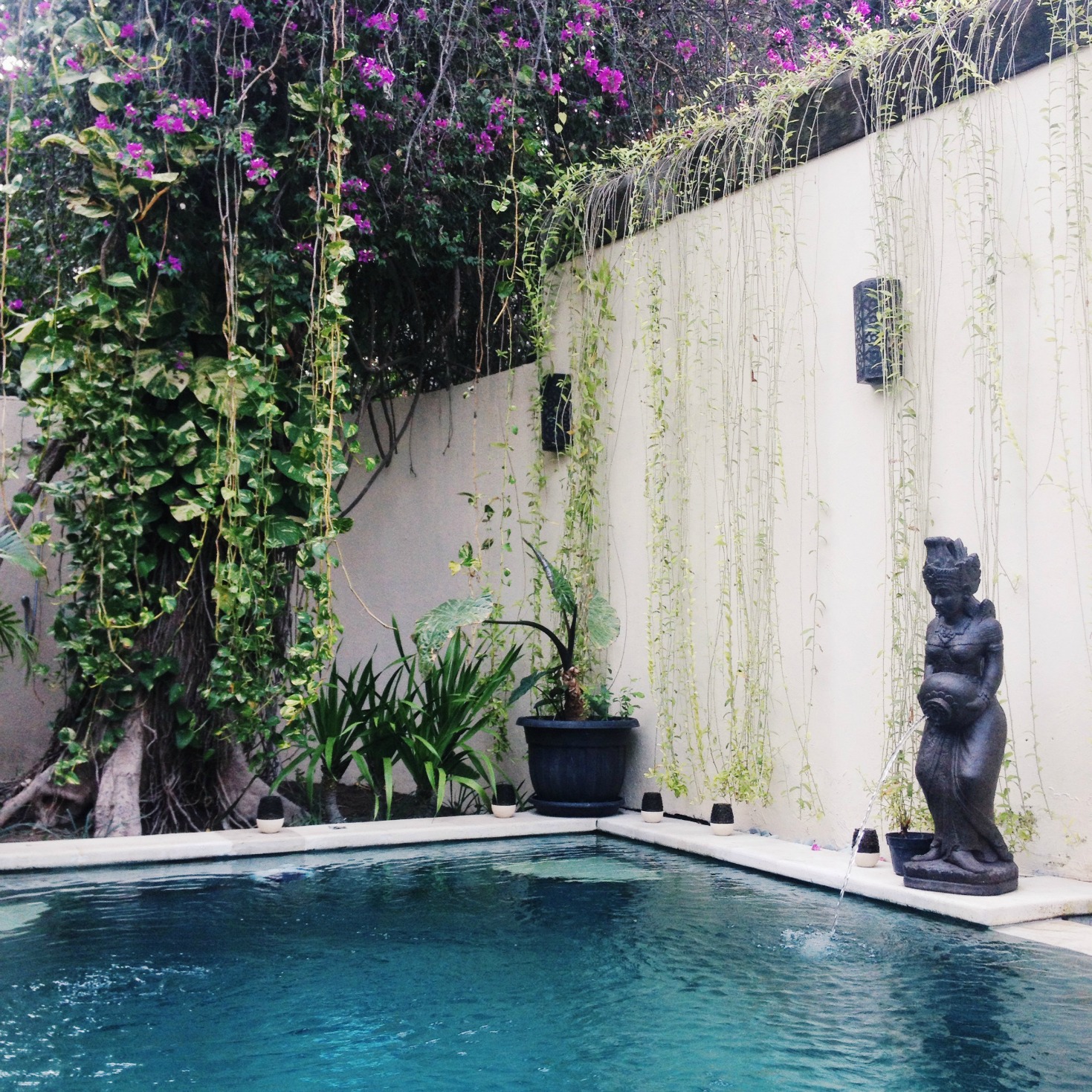 Where to stay. I recommend choosing your location based on what kind of holiday you are after. If you want peace and quiet, I wouldn't recommend staying in the heart of Seminyak, and on the other hand if you're interested in shopping, dining and nightlife I wouldn't recommend staying in Ubud. What I do recommend is getting clear on what you want to spend your time doing, and choosing your accommodation based on that.
Weather. The rainy season falls between October and April, where the dry season is considered to be from May to September. Strangely enough, it rained a lot more when I visited in July, than during my most recent trip in October where it drizzled (if you could call it that) once in the whole two weeks. And if you're not from a humid place (like me) the heat and humidity can hit you quite hard at first.
When to go. After visiting Bali during the Australian school holiday time, I would definitely recommend avoiding the "peak" times in Bali if you can. Not only is accommodation and flights usually more expensive during these times, but it seemed to be so much more crowded as well.
Transport. I prefer to walk everywhere when I can, but taxis are super cheap when you need them (note: your usually better to get them to turn the metre on, but if not agree on a price beforehand). For transfers and day trips I recommend booking a driver, we hired Dewa who was recommend by Nikki and he was great.
Opportunism. Bali thrives — and relies — on tourism, and because of that it's important to make sure you're not being taken advantaged of, but also to have some perspective when paying for things as well, after all it is a relatively inexpensive place (compared to Australia anyway). I recommend doing some research and asking around so you are aware what to expect to pay for certain things. For example, at the beginning of one of my trips we were charged 5x the amount we paid for the rest of the trip for a taxi into Seminyak, but we agreed to it because we weren't aware of what it should be. So be aware — but maintain perspective as well — compared to what taxis cost in Australia it was inexpensive.
Money exchanging. Check and double check your cash if you get any money exchanged. During all my travels I've personally had no issues with money exchanging, however, on this most recent trip my Dad and Boyfriend were both separately short changed $100 AUD (which they miraculously got back), but from what one of our guides told us this is becoming more frequent in Bali. So just be aware, take note of the exchange rate and what you should be getting in rupiah, count your cash, and stick to the reputable money exchangers.
Insect repellent. Bring some! I had a natural one that worked quite well, until one night where I didn't put it on and ended up getting eaten alive by mosquitos. It's not fun having mosquito bites, and I seriously still have marks on my legs from them.
Getting sick. I've been lucky enough to avoid the dreaded Bali Belly. But because I got a sick days before this trip, I decided to pick up some Travellan from the chemist just for some peace of mind. To be honest, I didn't remember to always take it before eating, but I did most of the time and remained unscathed, while a couple out of our group did get sick. I recommend only drinking filtered water and if you really want to (attempt to) guard yourself against getting sick I also take a probiotic each morning and carry hand sanitizer around too.
Visas. Keep in mind that some nationalities (including Australians) will need to pay a tax of $35 USD to enter Bali. You can apparently pay this in AUD now, but for ease and convenience I get this exchanged before getting to Bali. Note: There is no longer a departure tax to exit Bali.
Language. The Balinese speak really good English, so communication isn't really a huge issue. However, I think it's really important to make an effort when travelling to try and learn some basic phrases. I also have found that the Balinese are delighted when you speak Indonesian to them. I learnt Indonesian at school, and still remember (a little) so here's some basic phrases to get you started:
Yes – Ya     /     No – Tidak     /    Please – Tolong     /    Thank you – Terima kasih     /    No thank you – Tidak terima kasih     /    You're welcome – Kembali     /    Good morning – Selamat pagi      /    Good afternoon – Selamat siang (early afternoon) or selamat sore (late afternoon)      /      Good evening – Selamat malam     /    Good night – Selamat tidur     /    How are you? – Apa kabar?      /    Good, thank you – Baik-baik saja, terima kasih     /    See you soon – Sampai jumpa      /    Goodbye – Selamat tinggal (when leaving)
I'm sure I will head back to Bali again and again. And I'm planning on a trip there next year, so with that in mind, I would absolutely love to hear from you:
What are your favourite things to see/do/eat/stay when in Bali?
I'd love to hear your recommendations in the comments below.
Terima Kasih!
PS. Want to tuck this away for future Bali trips? I've got a Pinterest friendly image below for you.


If you liked this post, you'll love my FREE eBook and newsletter!

Enter your details below to receive fortnightly newsletter-only updates, insights and inspiration – plus you will also receive a FREE copy of my super inspirational eBook Infinite: Take your life to the next level and beyond!
"Life isn't meant to be a blood-sweat-and-tears style search for happiness. In actual fact, everything we desire lies within us. With this magical little eBook, Chloe will remind you of this truth, gifting you a bunch of simple tips to tapping into your infinite potential and creating the life you truly crave. Chloe – Thank you for guiding people home." Meg O'Sullivan | Adventuring Home