September 8, 2021
Today I am excited to be sharing with you another Client Coaching Story with you and showcasing one of my amazing past clients: Bridget Johns.
I first met Bridget when she reached out to me when she was wanting to become a coach with the Beautiful You Coaching Academy and was wanting my support for her coaching journey.
Bridget is a declutter coach and life organiser at Be Simply Free. Her mission is to teach women to simplify their lives. She created her business to empower women to create lives where their homes and minds are uncluttered so they can be simply free.
The way Bridget lives her life is a true reflection of her philosophy, approach and work she does at Be Simply Free, she really walks her talk!
In this interview, Bridget shares what led to her deciding to become a coach, her experience training as a coach and how she is using her coaching skills in her life now. She also shares what it was really like to work with me and get my support for her own coaching journey. And so much more!
You can learn more about Bridget and her coaching story through the interview below and you can also watch (or listen to) a live conversation we had together on Instagram. I know you will get such great and practical takeaways from these interviews like I do every time I speak with Bridget.
read more
July 16, 2021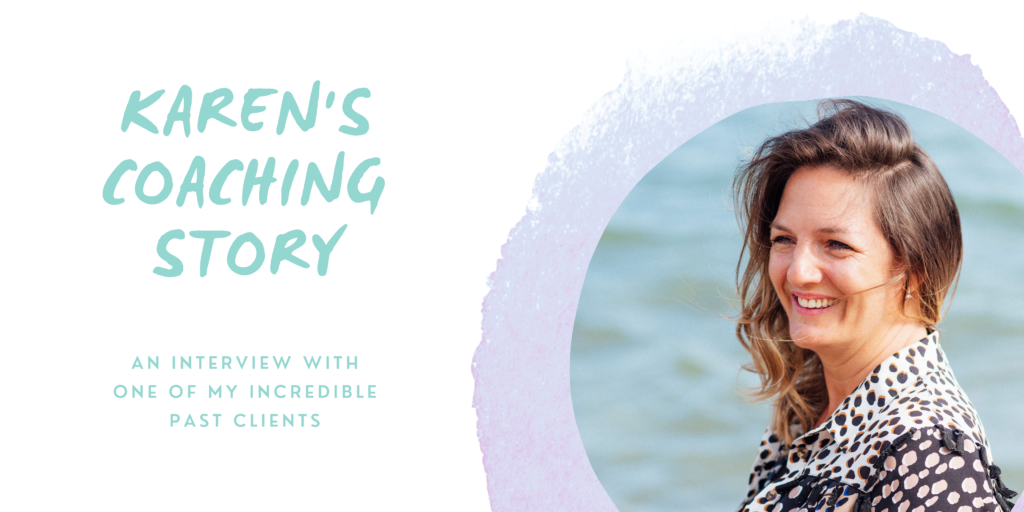 All photos of Karen Marie Johnston in this post taken by Sophie Carefull
I have been wanting to shine a light on my incredible clients and the truly incredible work they do for a long time and this post is the first (of hopefully many) that will allow you to get to know them and their work.
I am excited to be kicking off these client stories today with a very special human: Karen Marie Johnston.
I am a proud affiliate for the Beautiful You Coaching Academy the life coach training I undertook and wholeheartedly recommend. A part of the work I do includes supporting life coach trainees with their coaching journey through my bonus offer.
This is how Karen came into my life in 2018 when she was wanting my support with her coaching journey and since then I have been so inspired by her and the work she does.
Karen is a proud social worker who has two decades of experience working and supporting people in this deeply important and needed way and brings all of this (plus her own life experiences) to her coaching work.
In this interview, Karen shares what led to her deciding to become a coach, her background in social work and her experience with bringing coaching into the work she does now. She shares her experience becoming a coach with the training school we both trained with (and love!). She shares what it was really like to work with me and get my support for her own coaching journey. And so much more!
You can learn more about Karen and her coaching story through the interview below and you can also watch (or listen to) a live conversation we had together on Instagram. I know you will be just as inspired by her and the work she does as I am!
read more
September 21, 2020
Today is a special day… It's World Gratitude Day! And yes it's a real thing!
World Gratitude Day began in 1965 in Hawaii and since then has become a day that is celebrated and acknowledged across the entire world.
World Gratitude Day is a day to bring the whole world together in being thankful and to celebrate with gratitude.
So on that note, here are 10 ideas to help you celebrate World Gratitude Day today:
August 21, 2020
The number one question I get asked about gratitude is, "How can I be grateful when I'm going through a challenging time?"
People know that when they're going through something challenging, that is when we need practices like gratitude the most. However, this can also be a really hard thing for us to do when we're experiencing challenges. And I believe it's not always the kindest thing for us to do during these times.
August 19, 2020
Something that I lean on (even more) during challenging times is my gratitude practice. It's something that anchors me and keeps me connected to what's really important.
I know a lot of people are going through a challenging time at the moment and I want to make it clear right away that I don't believe that gratitude is "the answer" for this or that this practice is going to be supportive for everyone right now.
However, I know for some people (like myself) this can be a supportive practice to focus on during challenging times. It's something I've personally been leaning into even more during the challenges of this year and also while where I live (Victoria in Australia) is currently on stay at home restrictions.
I know that people are looking for all kinds of different support right now, so I've been spending a lot of time thinking about how I can best support you at the moment.
May 22, 2020
Note: This is an excerpt from an email to The Infinite Community, if you'd like to join and get my notes you can do that here.
I've been having many conversations with clients and those around me about what they are doing to support themselves during everything that is going on in the world at the moment.
So today I thought I'd give you an insight into how I'm personally supporting myself right now.
read more
December 29, 2019
As we come to the end of the year I've been reflecting on 2019 and all that unfolded during the year.
2019 was an interesting year for me. I spent more time focusing on my health, than I did on my work. I had less 'output' than previous years, but felt like the work I was doing was more meaningful than ever. I didn't create anything new this year, but I deepened the things I continued to offer and really honed the processes behind everything.
I have worked with the most incredible clients this year, which I'm so grateful for. I also continued to mentor and support life coach trainees with their coaching journeys (through one-to-one support and group coaching), which has become a much-loved and fun addition to my work. I continued to support people to add more gratitude into their lives through The 28 Day Gratitude Project, which I updated this year with new audio content. And the most unexpected part of my work this year was volunteering at a local youth organisation, which was both challenging, rewarding and given me clarity on the work I want to do with young people moving forward.
My biggest achievements in my work this year was receiving an award for my work as a coach and also being invited to speak on a panel about the power of gratitude. But I think the thing I am most proud of is doing work that feels meaningful to me and continuing to grow as a coach.
Each year I love to look back and reflect on the most popular posts on One Infinite Life for the year and then share them with you. It's always so interesting to see what resonated the most. And on that note, here is the best of One Infinite Life for 2019…
read more
December 11, 2019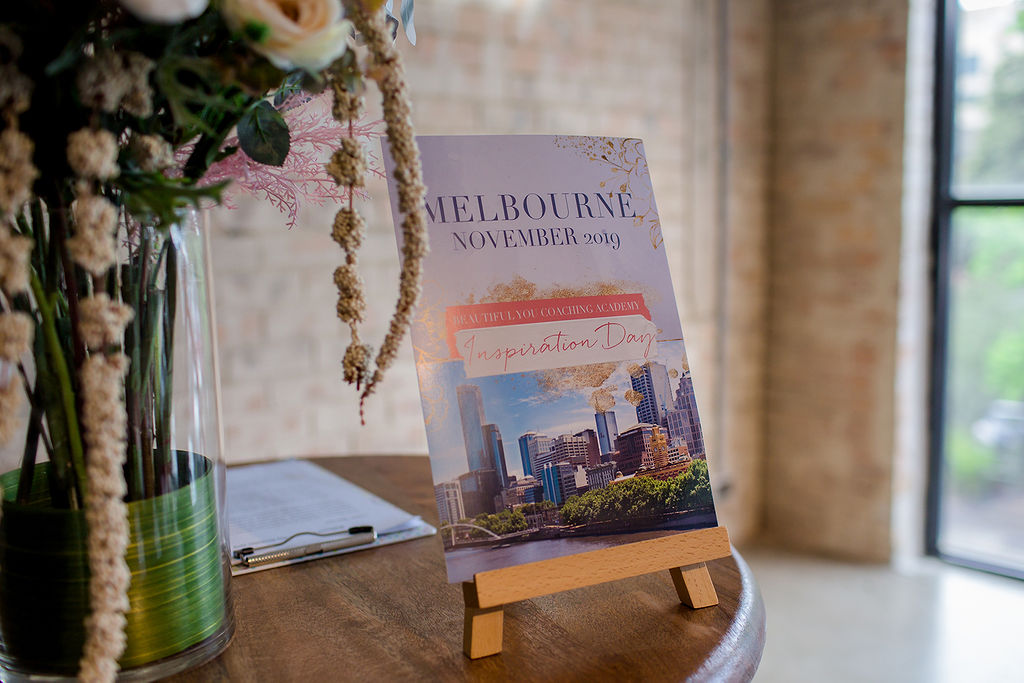 On Friday 15th of November I attended the Beautiful You Inspiration Day in Melbourne held at the very cool Creative Cubes space.
I've attended a couple of Inspiration Days before (you can read about them here and here), but this one was extra special because I was invited to be a speaker on the panel for the day, which was a real honour.
It was also special to meet new life coach trainees who are excited by what they are doing, to witness the graduates of the latest course and for me it was extra special to get to meet in person and share the day with several of my clients who are becoming life coaches themselves.
I was incredibly nervous about speaking so I didn't know how I was going to enjoy the day, but I got a lot out of the day and listening to the other speakers. I also wrote several paces of notes (I'm a reflective learner), so this is what I have used to put this blog post together for you.
Here are my reflections and takeaways from the Inspiration Day, with all photos taken by the incredible Fi Mims Photography who (as always) captures days like this so well.
read more
August 13, 2019
Last year I found myself in a really bad place health wise, probably the worst I've ever been. It all happened after I had wisdom teeth surgery at the end of the previous year. So last year included on-going pain, multiple infections and even though I didn't know it at the time a severe jaw condition.
It was during this time that I had the realisation that living my life was not being prioritised the way I wanted it to be. I remember lying on the couch in-between client calls and work and telling myself, "When I feel better I'm going to do ALL of the things." And I would imagine how I would live my life when I was well enough to do so.
So going into this year I decided that I wanted to focus on living my life first.
read more
August 6, 2019
Question: Have you ever gotten so discouraged that you haven't achieved what you wanted that you decided to give up working towards it all together?
I get it… I've been there before (many times!) and I know what it's like to feel discouraged about your goals, disappointed in yourself for not achieving what you wanted and feeling unmotivated to keep moving forward.
Sometimes — when we're feeling discouraged and unmotivated — it can be really challenging to remain optimistic about our goals and believe that we can actually get there.
read more