August 8, 2023
Today I am excited to be sharing with you another Client Coaching Story with you and showcasing one of my amazing past clients: Laila Atmane.
I first met Laila when she reached out to me when she was wanting to become a coach with the Beautiful You Coaching Academy and was wanting my support for her coaching journey.
Laila is a Life and Agile Coach at Move with Agility. In her work she supports ambitious and adventurous humans who have realised there must be a more soulful and sustainable way of living and being.
Laila is one of the most open and curious humans I've ever come across. She is incredibly devoted to her own personal growth and development, her coaching skills and doing meaningful work in the world.
In this interview, Laila shares the journey that led to her becoming a coach, her experience training to become a coach and how she is using her coaching skills in her life now. She also shares what it was really like to work with me and get my support for her own coaching journey. And so much more!
You can learn more about Laila and her coaching story through the interview below. I know you will be inspired by the way she approaches life.

AN INTERVIEW WITH LAILA ATMANE FROM MOVE WITH AGILITY
LET'S START AT THE VERY BEGINNING OF YOUR COACHING JOURNEY… WHAT IS IT THAT LED YOU TO WANT TO BECOME A COACH IN THE FIRST PLACE?
I first came across coaching in my early 20s, and it sparked a curiosity in me. It partly came from all the motivational psychology and personal growth books I was eagerly reading and learning from. I was then thinking to myself – "Wow, there are people who get to work with this!".
In 2008 I was selected and admitted to Sport Campus Sweden, an organisation supporting elite athletes while they complete their university studies in Sweden. That's where I was provided access to a coach who supported me in strengthening my mind in preparation for my taekwondo competitions. I had such a great experience with this coach, that this planted a seed.
Since then, I have had different professional and sport-related mentors support me throughout my journey, applying coaching in their mentorship.
Fast forward to more than 12 years later, I got to a point where I recognised more clearly that I have had an incredible drive and curiosity about life, inner growth and development throughout my journey on Earth.
It started as a kid and teenager with the exploration of movement and pushing my physical boundaries. The discovery then expanded further from movement to how to eat better, feel better and create more as a curious and sensitive soul.
Although I've been exploring this way since a young age, the more I go on the more I realise I don't have and will never have all the answers but that the beauty is exactly that. To stay open and curious as well as grounded on the journey while we learn more about life, ourselves and others.
Because of my openness and curiosity combined with the empowering experience of others holding space for me, it has made sense for me to also become a mirror for that and share with others, through coaching.
WHY DID YOU CHOOSE THE BEAUTIFUL YOU COACHING ACADEMY FOR YOUR LIFE COACH TRAINING?
A friend who had previously taken the Beautiful You Life Coaching Course recommended it highly to me. She spoke highly of the community, trainers and the way of coaching.
I was drawn to this course due to their focus on connecting with the heart space, embracing the feminine perspective and the belief in everyone's innate, unique gifts (among many other positive things).
I was coming from the perspective of doing, pushing and "mind over matter" where I approached things with strict discipline and rigidity. BYCA offered that softer and heart-led approach, that I felt a calling to explore.
WHAT WAS YOUR EXPERIENCE OF TRAINING WITH BEAUTIFUL YOU? WHAT DID YOU GET OUT OF IT?
I got so much out of the training not just on a professional level, but on a personal level too. I was stretched and challenged, yet beautifully supported and empowered the whole way.
The level of attention and care the trainers provided was world class and absolutely amazing. I felt so seen, heard and supported by the trainers and the community.
I loved the balance between encouragement and them not shying away from being direct and providing constructive feedback so we could improve.
There were different modes of learning being weaved together, and I was excited each week to dig into it – calls, reading materials, audios and interviews.
I was at the time of the training living on a cottage at a farm in beautiful Margaret River, Western Australia. It was the perfect environment for my learning, for contemplation and for integration of everything that I was taking in.
WHAT WAS THE MOST POWERFUL THING YOU LEARNED DURING YOUR LIFE COACH TRAINING?
To pause and ask those simple yet powerful questions.
To hold space with full presence, connect with my heart and really listen to another human being in a more conscious way.
And that it all starts with the great foundation offering this exact thing for myself.
WHAT HAS HAD THE BIGGEST IMPACT ON YOU CULTIVATING YOUR COACHING SKILLS?
Overall, three things:
∞ The foundations of coaching from the BYCA course, as well as opening up fully and letting myself be coached.
∞ The space holding I do through my training as an emerging TRE (somatic bodywork) practitioner – where we fully open up to the wisdom of the body, ask questions and observe curiously and where we let the body speak and guide us.
∞ Daring to be a beginner and open up again and again, to coach continuously.
WHAT LED TO YOU CHOOSING TO TEAM UP WITH ME FOR YOUR COACHING JOURNEY WITH BEAUTIFUL YOU?
The energy I felt in your words and presence on your website resonated. I could feel that you would be someone down-to-earth that could be trusted. I felt instantly comfortable when we connected and interacted.
You had a beautiful presence, made me feel heard and asked some simple yet powerful questions. I felt this at our very first encounter at the coaching consult before the series kicked off. It made it easy to choose to work with you.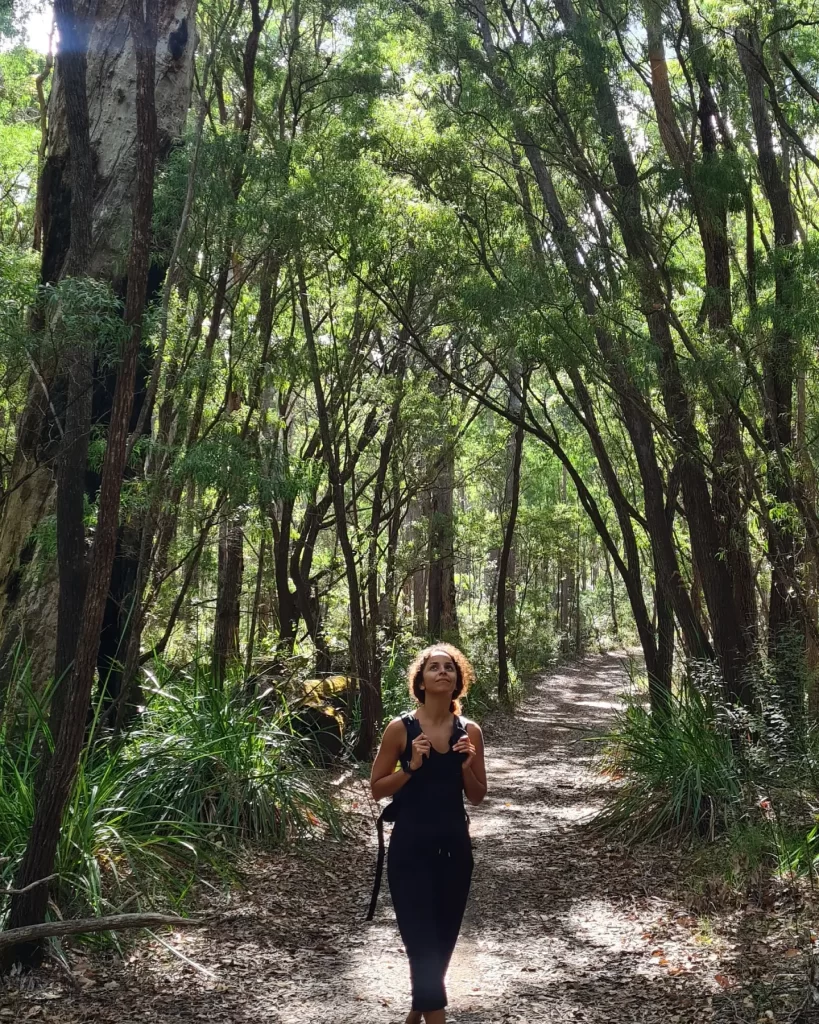 WHAT WAS THE BEST PART OF RECEIVING MY BEAUTIFUL YOU BONUS OFFER AND US WORKING TOGETHER IN THIS WAY?
It has been incredible and life-changing, and I would not have wanted to do it any other way.
The BYCA course was one thing, but the work with you proved to be just as important and another important layer of becoming a good coach.
It has been such a great learning experience to witness you as a life coach as well as to witness myself totally opening up my heart and mind to receive your coaching.
From the perspective of being an emerging coach, I could not have asked for better guidance, support and inspiration.
HOW ARE YOU CURRENTLY USING YOUR COACHING SKILLS IN YOUR LIFE?
I have been coaching on a small-scale and part-time basis since the course ended. I feel very fortunate that I have been able to keep practising and cultivating the craft.
Besides that, I'm currently training to become a somatic bodywork practitioner, where space holding techniques such as listening deeply and skillful inquiry is being used with the people I am working with.
Lastly, I have also become more aware of how I interact and hold space for family, friends and people I work with. I'm now checking in to see how well I am actively listening, staying curious and asking questions.
CAN YOU SHARE WITH US A STORY ABOUT A POWERFUL EXPERIENCE YOU'VE HAD WITH COACHING OR SUPPORTING OTHERS?
I worked with an ambitious man in his mid-40s who initially went in with the goal and idea to create and achieve a 3-year success blueprint. But as we went on, he discovered that was not what he needed or what his heart wanted.
He would initially show up worried and disappointed in not progressing this goal in the way and at the speed he thought. I was there listening deeply with full presence, asking simple and yet impactful questions as we went on.
Something happened within him when he dared to slow down, be compassionate and explore the questions in a more intentional way.
He had always been so used to 'go, go, go' and being hard on himself. He said he was so surprised that I did not simply just keep him accountable for not achieving what he said he was going to do, but that was not what he truly needed.
The most powerful experiences I have had, both in receiving and providing coaching, have been surprisingly simple. It has been about the space of shared presence, deep listening and connection between both coach and client, that creates something beautiful that is felt. The shift in energy may be felt during or after the session. Client (and even coach!) leave the session feeling lighter, at ease and ready to move forward more intentionally.
IF YOU COULD GO BACK IN TIME TO WHEN YOU WERE DECIDING TO ENROL IN LIFE COACH TRAINING, WHAT ADVICE WOULD YOU SHARE WITH YOUR PAST SELF?
I would have gone back to my past self and simply celebrated the decision to go for the coaching path. I would have hugged my past self and told her "Go for it! You're up for beauty, challenges and meaningful change. It starts with you first".
WHAT DO YOU WISH PEOPLE KNEW ABOUT THE WORK YOU DO?
My business is called 'Move with Agility', and I connected with it and envisioned the concept some time ago. It's based off the different worlds that I have been moving in for the last two decades.
At its core, I see 'move with agility' to be a holistic way that involves body, mind and soul — a path where we can return to our true nature while remaining adaptable, discerning and resilient in a modern world that may not always align with our biology or soul.
The main question that I have been exploring is: how can we as ambitious humans and sensitive souls, connect with and prioritise what truly matters to us without the stressing, pushing and forcing? How can we align with our natural flow and true nature?
It is a container for others to discover their own path to vitality, creativity, and authenticity, free from societal norms. I support and share this work as a coach, space holder and human being – as I experiment with it, experience it and ground it within myself. It is ever-evolving.
WHAT ARE YOU MOST EXCITED ABOUT IN YOUR WORK AND LIFE RIGHT NOW?
That I think I know, but I have no idea? Of course, I have somewhat of an idea. I do however feel that if we stay truly open, and let go a little of those detailed plans and the how, life may surprise us.
I share this because what I am most excited about is getting to support others to open up for the beauty in their life, their own vitality and finding their own unique ways to move with agility.

A FEW QUICK COACHING QUESTIONS:
What resource has had the most impact on your growth as a coach?
Beyond the BYCA manual, the following three things have had the greatest impact on my growth as a coach:
∞ Being coached by a great and heart-led coach like yourself, Chloe
∞ The trauma-informed course 'Cultivate' by Katie Kurtz
∞ The Emerge & Expand community created and led by Katherine Mackenzie-Smith
What is your go-to ritual before coaching or holding space for others?
I do my somatic practice (TRE) to ground myself and also sit in silence for a few minutes before the session, where I connect with the intention of holding space for the client.
What is one of your favourite powerful coaching questions?
A simple one: "What is your next step and how can you best support yourself right now?"
Another, new favourite: "How can this be easy?"
Who is your favourite coach to follow on Instagram?
If I had to choose only one person right now, that would have to be @_katiekurtz. Her course called 'Cultivate' and shared work on socials has supported me so much not only as a life coach but also as an emerging somatic bodywork practitioner.

CONNECT WITH LAILA ATMANE
You can connect with Laila via her website at www.movewithagility.com and learn more about the incredible work she does there.
You can find her on Instagram at @movewithagility_ where she shares behind the scenes of her own personal growth journey, adventures and work as a coach. You can also find her on Linked In for a more professional and holistic view of her work, as she merges life coaching with corporate consulting, coaching and training.
You can work with Laila individually for life and wellbeing coaching for the ambitious and adventurous humans and sensitive souls who want to learn how to 'push' and stress less, and move more with agility (mentally & physically), while going for what really matters to them.
Laila also works with organisations and teams with product management and agile coaching to enable distributed product teams to deliver value early and often to their clients, do work that matters and work better together – wherever they're based. All of this while taking wellbeing and context into account.
Laila also is creating a beautiful guide to support you to pause, be still, move and create before facing the distractions of the day. You can sign up here to be the first to access the guide when it is released and also get Move with Agility updates.

If you are interested in becoming a coach yourself the Beautiful You Coaching Academy are running free masterclasses this month to support you in kickstarting your dream of becoming a coach. You can find out more + sign up for the masterclass series here.
You can also find more about my experience becoming a coach and how I can support you as you train to become a coach with the Beautiful You Coaching Academy here. I offer a special bonus offer (at no extra cost to you) for those who want to team up with me for their coaching journey.