July 16, 2021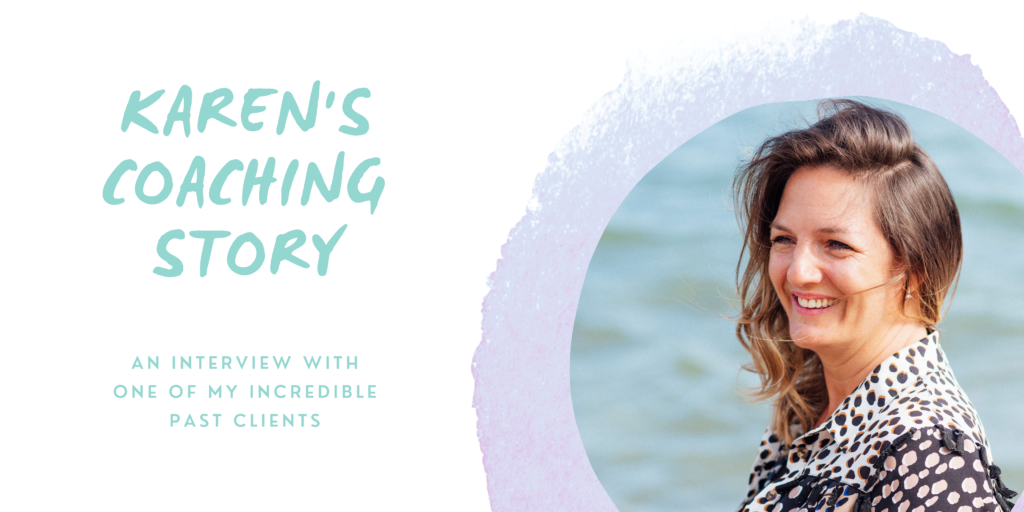 All photos of Karen Marie Johnston in this post taken by Sophie Carefull
I have been wanting to shine a light on my incredible clients and the truly incredible work they do for a long time and this post is the first (of hopefully many) that will allow you to get to know them and their work.
I am excited to be kicking off these client stories today with a very special human: Karen Marie Johnston.
I am a proud affiliate for the Beautiful You Coaching Academy the life coach training I undertook and wholeheartedly recommend. A part of the work I do includes supporting life coach trainees with their coaching journey through my bonus offer.
This is how Karen came into my life in 2018 when she was wanting my support with her coaching journey and since then I have been so inspired by her and the work she does.
Karen is a proud social worker who has two decades of experience working and supporting people in this deeply important and needed way and brings all of this (plus her own life experiences) to her coaching work.
In this interview, Karen shares what led to her deciding to become a coach, her background in social work and her experience with bringing coaching into the work she does now. She shares her experience becoming a coach with the training school we both trained with (and love!). She shares what it was really like to work with me and get my support for her own coaching journey. And so much more!
You can learn more about Karen and her coaching story through the interview below and you can also watch (or listen to) a live conversation we had together on Instagram. I know you will be just as inspired by her and the work she does as I am!

AN INTERVIEW WITH KAREN MARIE JOHNSTON
LET'S START AT THE VERY BEGINNING OF YOUR COACHING JOURNEY… WHAT IS IT THAT LED YOU TO WANT TO BECOME A COACH IN THE FIRST PLACE?
I had worked with people for 20 years and this felt like a natural extension of my work in the community.
WHY DID YOU CHOOSE THE BEAUTIFUL YOU COACHING ACADEMY FOR YOUR LIFE COACH TRAINING?
Julie (the founder of Beautiful You) was a social worker who had made the transition into coaching. I am a social worker, so I resonated deeply with her work around social justice and anti-discriminatory practice.
WHAT WAS YOUR EXPERIENCE OF TRAINING WITH BEAUTIFUL YOU? WHAT DID YOU GET OUT OF IT?
It was life-changing! It is such an incredibly intelligent course, covering everything you need to start and run a heart-centred business.
WHAT WAS THE MOST POWERFUL THING YOU LEARNT DURING YOUR LIFE COACH TRAINING?
I found the whole course mind-blowing! I learnt that it is ok to be me and build a business around my strengths, personality and uniqueness.
WHAT HAS HAD THE BIGGEST IMPACT ON YOU CULTIVATING YOUR COACHING SKILLS?
Practice! Having clients and coaching them has helped me to grow as a coach.
WHAT LED TO YOU CHOOSING TO TEAM UP WITH ME FOR YOUR COACHING JOURNEY WITH BEAUTIFUL YOU?
Your explanation of working with you was so well put together and thorough. I felt safe with you and I knew that your support would be a great base to explore how I wanted to show up as a coach.
WHAT WAS THE BEST PART OF RECEIVING MY BEAUTIFUL YOU BONUS OFFER AND US WORKING TOGETHER IN THIS WAY?
The time I spent with you 1:1 and being honest with you about my life story.
HOW ARE YOU CURRENTLY USING YOUR COACHING SKILLS IN YOUR LIFE?
I am working 1:1 with clients, I run weekly group coaching which is FREE to my community, I have a 12-week course The Codependency Code and I run Self-Love Retreats for women in recovery from addiction and mental health.
CAN YOU SHARE WITH US A STORY ABOUT A POWERFUL EXPERIENCE YOU'VE HAD WITH COACHING OR SUPPORTING OTHERS?
I have a client who has been struggling with an eating disorder for her whole life. She came to me for coaching and we undertook a 6-month coaching series. She extended this for a year as the work we undertake is not a 'quick fix'. She has not been active in her bulimia since we started working together and is now training to support others in this area.
IF YOU COULD GO BACK IN TIME TO WHEN YOU WERE DECIDING TO ENROL IN LIFE COACH TRAINING, WHAT ADVICE WOULD YOU SHARE WITH YOUR PAST SELF?
To trust your gut and your heart. I knew when I found Beautiful You that it was 100% right for me. Do your homework, look around, not all coaching courses are the same, it took two years to find the right course for me.
WHAT DO YOU WISH PEOPLE KNEW ABOUT THE WORK YOU DO?
That I work with women who are struggling with alcohol, addictive behaviours and eating disorders and those in recovery from these issues. That my work is trauma-responsive and that I have been a social worker doing outreach to women in the sex industry for two decades and that it is still my favourite thing to do. I am a proud social worker who loves her job and has an incredible business that sits alongside this.
WHAT ARE YOU MOST EXCITED ABOUT IN YOUR WORK AND LIFE RIGHT NOW?
That my retreat business has survived the pandemic, that I get to hold space every week for incredible women, that I have a deeply transformative course, that I get to support women with life-threatening disorders and hold space for them to heal.

A FEW QUICK COACHING QUESTIONS:
What resource has had the most impact on your growth as a coach?
The BYCA handbook.
What is your go-to ritual before coaching or holding space for others?
Dancing to very upbeat music – groups.
A cup of herbal tea and a candle 1:1.
What is one of your favourite powerful coaching questions?
What if you did know? (When people say they don't know)
Who is your favourite coach to follow on Instagram?
Sammie Fleming @sammiesonjafleming – I'm a bit in love with her!

A LIVE CONVERSATION WITH KAREN MARIE JOHNSTON:
Here is the audio of our conversation:

CONNECT WITH KAREN MARIE JOHNSTON
You can connect with Karen via her website at www.karenmariejohnston.com and learn more about her and the incredible work she does there. You can also find her on Instagram @karenmariejohnstoncoach.
Karen supports women seeking or in recovery from alcohol misuse, addiction, disordered eating, trauma and mental health. You can learn more about Karen and what led to her doing the work she does here.
Her services include 1:1 coaching, her group coaching program The Codependency Code and Self-love Retreats. She also offers a weekly free Self-Care Sunday's for group coaching and goal setting.

If you are interested in becoming a coach yourself the Beautiful You Coaching Academy are running free masterclasses this month to support you in kickstarting your dream of becoming a coach. You can find out more + sign up for the masterclass series here.
You can also find more about my experience becoming a coach and how I can support you as you train to become a coach with the Beautiful You Coaching Academy here. I offer a special bonus offer (at no extra cost to you) for those who want to team up with me for their coaching journey.