January 11, 2017
When I initially sat down to write this 2016 wrap up post I had no idea where to start.
Partly because when we came to the end of 2016 I felt like I hadn't really done much or nothing had really happened. But with some time, space and a whole lot of reflection I now feel like I can now wrap up the year that was 2016 in words.
This is why taking the time to reflect is so important (and it's something I'm always guiding my clients with), because if we don't take the time to check in and reflect on what we've learned and achieved — then we don't truly see how much we've learnt, how much we've grown, what we've accomplished and all that we did make happen. For me reflection = contentment and gratitude. And now, I feel really content with 2016, no matter what did or didn't happen and I feel ready to start looking at 2017.
So here I am (again) wrapping up the year that was with my highlights, lessons and gratitude for the 366 days that were in 2016.

My word for the year
Going into 2016 my guiding word for the year was: RISE. For me this meant stepping up, doing things I've never done before, stretching, amplifying, saying yes — to myself, opportunities and new experiences.
And looking back now, this word did really guide me to rise, to step up and to challenge myself. From holding my first online workshop, doing my first podcast interview, doing my first speaking gig at an event, releasing my first ever paid product, and facing fears that have held me back for a long time — this year I challenged myself more than ever before.

THE BIG LESSONS OF 2016
Facing my fears
A common theme for me this year has been facing my fears and doing things I'm afraid of.  The biggest thing I've learnt from doing this is that I can do things that scare me.
2016 was the year I decided to face my fear of driving and actually commit to learning how to drive.
Going to my first driving lessons was the hardest thing I've done this year — and probably even in my entire life. I've written more about this experience and how I made myself show up even though I didn't want to over here. Learning to drive has been one of the biggest challenges of the year for me.
I've now done 10 driving lessons, driven countless more times with my boyfriend and driven in places and roads I that if you told me I had done at the start of the year I would of never believed it.
Another fear I faced this year was doing my first ever speaking gig — even though I'm afraid of public speaking.
In November I spoke at the incredible On The Rise event. It was an honour to speaking alongside 4 other coaches and to share about my experience with the power of gratitude. This was a really special event and one of my highlights of the year and I've written more about it over here.
Learning how to drive and doing my first speaking gig made me realise that I could do things I was afraid of — and survive. And this year I really proved to myself that I could feel the fear, show up, and do what scares me anyway.

What's really important?
One of the biggest guiding themes for me in 2016 has been: what's really important. I've written more about how this question came up and what it has meant for me over here. This question has been powerfully guiding me this year and has been a really potent reminder to make decisions based on what's important to me — so I can live in a way that feels meaningful to me.
These 3 words have guided me this year in so many ways… From what I do when I sit down to work, how I plan my days, what I write on my to-do list, to how I choose to spend my life-minutes.

On things not working out…
This year there were many things that I wanted to achieve, do, or hoped would unfold in 2016 that didn't. At times during the year, this was really hard — but I also got so much from these things not happening.
This year I really learnt what it means to be persistent, to keep taking action, to trust that it was going to work out — but at the same time surrendering and detaching from the outcome.
I realised what was actually important to me, what I want to work towards, what is worth persevering towards and in the processed I uncovered that I'm more persistent than I ever thought I was.
Now looking back, I can see that I've really learnt so much from these things not happening and not unfolding the way I thought they would. And even though I'm still working towards some of these things I'm taking meaningful action and trusting that it will work out the way it's meant to.

THE BIG HIGHLIGHTS OF 2016
Graduating from university
In April I officially graduated from university with a Bachelor of Psychological Science and I've written more about what I learnt during university over here. This saw myself, my parents and my boyfriend head back to Bendigo (where I lived for 3 years while doing my degree) for a couple of days. It was really nice to celebrate this milestone in this way, heading back to some of my favourite places and having a celebratory dinner at one of my favourite restaurants.
When people congratulated me from finishing university I kept saying, "oh, it's not really a big deal" but it actually IS. My three years at university were awesome, but they were also really challenging as well. So when it came time to graduate I made sure to acknowledge and celebrate this milestone properly. Lesson: Remember to celebrate your achievements!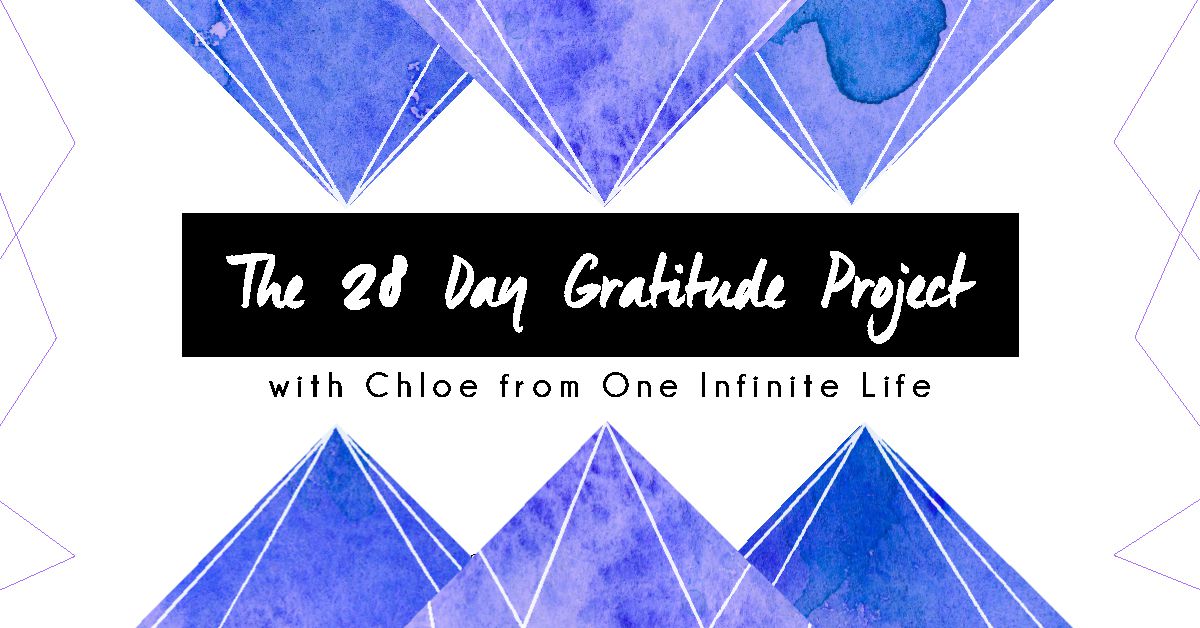 The 28 Day Gratitude Project
One of the biggest highlights in 2016 for me was The 28 Day Gratitude Project. This project is the most important work I've ever done and in 2016 it's played quite a big role in my life. It has been such an honour to guide even more people through experimenting with gratitude for 28 days.
I kicked off the year with the second live round of the Project, which was an awesome way to begin the year. I also used this as an opportunity to re-evaulute the content, so I could make it as simple and easy-to-implement as possible. I also started working on something "extra" to support people in putting the Project into action.
In October I hosted — and took part in — a mini gratitude photo challenge over on Instagram to celebrate launching the third round of the Project. Even though gratitude is a huge part of my life on a daily basis, it was really fun to share what I was grateful for over on Instagram alongside other people.
In November I ran the third live round of the Project and also launched my first ever paid product: A digital workbook version of The 28 Day Gratitude Project. The 61 page eBook contains everything I've learnt about practicing gratitude during the past 10+ years, delivered in a way that's simple, easy-to-implement and fun. Putting this digital workbook out into the world this year was a definite highlight for me, and I'm so grateful to have had some really beautiful feedback about it.
A heads up: In 2017 The 28 Day Gratitude Project will be undergoing another evolution which I'll share more about soon, so if you're wanting to devote to 28 days of gratitude head over here to find out more 😉

Getting nominated for two Beautiful You coaching awards
Late November I received an email notifying me that I had been chosen as a finalist for TWO Beautiful You Coaching Academy Awards this year for Emerging Coach of the Year and the CEO Shine Award. This was probably the biggest I-cannot-believe-it moment of the year, a standout highlight, proud moment and absolute honour.
Putting myself out there as a coach has been one of the hardest things I've ever done, but also one of the most rewarding and fulfilling things as well. Continuing to show up in this way continues to challenge me again and again, and sometimes it's really hard, which is why being recognised in this way is so very meaningful and special to me. 
If you're looking for a coach to support you in getting the absolute most out of 2017, here's how we can work together. I would love and be honoured to work with you 🙂

Connection
Connection has been such a strong theme in my life this year. From catch ups with old and new friends (including many breakfast meet ups — my favourite!), to connecting with my incredible clients on Skype frequently, to going to events and so on — this year was chock full of in-person connection.
This year I also went to many incredible events and got to connect in-person with some of my online connections. Highlights included (and are pictured above): Melissa Ambrosini's book tour for Mastering Your Mean Girl, meeting up with the Certified Beautiful You Coaches and Bloghearted bloggers, the Beautiful You Melbourne Inspiration Day, Cassie Mendoza Jones' You Are Enough workshop and Event Head's Inspired Women event.
I've said this (many times) before but there's something very special about connecting with like-minded people and this year I'm so very grateful for the people in my life and those I've spent time with this year.

A few more rapid-fire highlights from 2016:
∞  Doing my first ever online workshop and getting some awesome feedback from it, even though I was super nervous.
∞  Spending several days in Tasmania with my boyfriend and Parents and visiting Bruny Island, which has become one of my favourite places.
∞  Working with my incredible clients who have inspired me beyond belief this year, it actually blows my mind.
∞  Being apart of the Event Head team and getting to support Jade in doing the amazing work she does.
∞  Getting published on various sites around the web, including The Huffington Post, Tiny Buddha, Elephant Journal, You Zen Life, Raspberry Magazine, Casa De Karma and The Daily Guru. You can check out the articles I've written for other sites over here.
∞  Doing my first ever podcast interviews on Sarah Jensen's Rock Your Goals, you can listen to my episodes here and here.
∞  Getting some proper photos taken for my site (you can check some of them out here).
∞  I set myself a challenge to read a book a year in 2016 and I did just that — and more. Here's some of my favourites from the year.
∞  Going to Cairns for a family holiday and spending a week going for morning beach walks, drinking smoothies, hanging out at the beach, reading and exploring.

In closing, I'm grateful that the year didn't go to "plan" that things didn't unfold how I was hoping, that I didn't achieve the things that I wanted. I'm grateful for the challenges and for the setbacks. I'm grateful that I kept taking action and kept moving forward. I'm grateful that I truly realised this year that I can do things that scare me, that I can feel the fear and do whatever it is anyway.
I'm grateful.
For it all.
A few more end-of-year related things:

1.  If you're looking for some recommendations for the new year? Check out my 2016 Love List, where I've rounded up my favourite things from the year. Including my favourite books, tv shows and movies of the year, to my favourite brand of chai, to what I use to run my site and business.
2.  I've also created a Link Fest of my most-read and loved posts of 2016. There's powerful questions, book recommendations, my experience with a life-changing course and one of the most important things I've ever written. Happy Reading!
3.  If you're wanting some guidance in reflecting on the year gone by (and most importantly — what you can take away from it) and support getting clear on what you want for the year ahead, you might like to book an Ignite 2017 Session with me. This is an EPIC 90 session with me to help you start 2017 on an absolute high, with a clear idea on what you're taking away from 2016, what you're working towards in 2017 and guidance in setting goals that inspire you into action. You can find out more and book your session here.
Thank you for being here, for reading this (mega) post — and as always for your incredible support this year.
Feel free to shine a light on a highlight of your 2016 or something you learned that you want to carry into the new year. I'd love to hear how 2016 was for you.
I hope you have a Happy New Year and it is my hope for you that 2017 is an INCREDIBLE year for you!
Love & (so much) Gratitude,

PS. I'll be sharing an overview about what to expect from me and what I have to offer in 2017 with The Infinite Community next week. You can get the inside scoop by entering your details at the end of this post 🙂

Want FREE access to The Infinite Collection?
Enter your details below to get access to The Infinite Collection — a FREE (and growing) library of resources to help you get the most out of your one infinite life. There's currently an epic eBook, worksheets, workbooks, audios and more!
Plus you'll also receive super exclusive content from me each week, including personal stories and insights, behind-the-scenes peeks (that I don't share anywhere else!) and lots more.
To get access to The Infinite Collection enter your details here incredible human