March 1, 2016
It feels really good to be here and writing this to you today.
Maybe because its the first day of a new month (and I love starting new months!). Or that I started my day with almond milk chai and breakfast out with two of my favourite people. Or perhaps because I spent the better part of last week having a break in Tasmania, and have come back feeling full and rejuvenated.
Whatever it is, I'm glad to be here.
So to kick March of on an absolute HIGH, here's what I'm grateful for at the moment…


Mastering Your Mean Girl with Melissa Ambrosini
This month I had the pleasure of attending Melissa Ambrosini's book tour night for her incredible new book: Mastering Your Mean Girl.
It was an incredibly inspiring evening filled with soulful truthbombs and reminders that I definitely needed to hear.
One of the many takeaway for me was simply: Choose love.
I left feeling so inspired, and so grateful to have spend the evening with some really incredible people.
I'll be sharing more about my lessons and takeaways from the night, as well as the incredible book later on this week.


Tassie adventure
Arriving at our house on Bruny Island felt like the first time I had truly slowed down all year.
The start of 2016 has been incredibly full (and I'm truly grateful) but arriving at our 35 acre property overlooking the ocean felt like the first time I had exhaled properly all year.
There was no Internet, phone reception or tv. And I left my laptop (which I'm practically permanently glued to) at home.
But there was space to just BE. To slow down. To rejuvenate. With the ocean and bush as our backdrop and the waves as our soundtrack.
So we hiked. We cooked and ate awesome food. We marvelled at the ever-changing and ocean view that graced nearly every window. We played cards.
I also did a whole heap of reading, and you can find out what I read and what I'd recommend here.
We shucked fresh oysters on isolated beach coves (well my boyfriend did) and we picked and ate the sweetest blackberries I've ever eaten.
But instead of telling you how this all felt, I thought I would show you instead…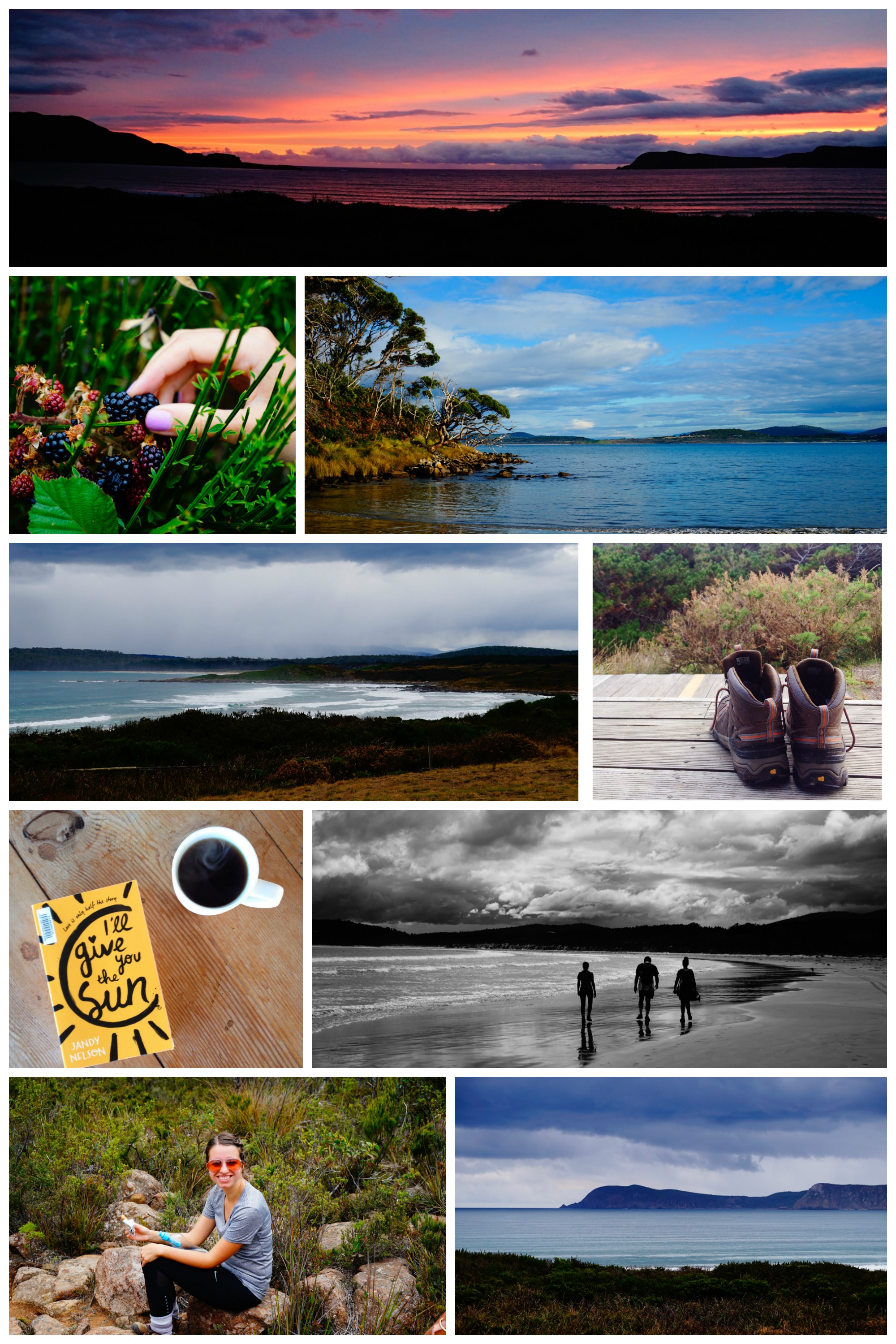 And now, I've come home feeling full, rested and ready to dive back into work and my everyday life.


Saying YES to things outside my comfort zone
Last month I did something that really scared me and was hugely outside my comfort zone…
I was interviewed on a podcast!
A couple of weeks ago I head the pleasure of chatting to Sarah Jensen for her Rock Your Goals podcast (which I love!).
We chatted about what I've learnt from putting myself out there online and blogging for the past 17 or so months, including my unconventional approach to being more productive, the (kinda weird) ritual I do Monday morning to kick each week off on a place of gratitude and service, how I use social media in an intentional way, how I approach creating consistently and sustainably, and so much more.
You can listen to it here.


What are you grateful for from the past month? Feel free to shine a light on what you appreciate in the comments below.
Love & Gratitude,
PS. If you're wanting to add more gratitude into your life you might like to check out The 28 Day Gratitude Project.
PPS. I've also got a FREE daily gratitude worksheet to guide you in exploring what you're grateful for in The Infinite Collection. You can access to this worksheet — plus a whole lot of other resources by entering your details in the sign up box below 🙂

Want FREE access to The Infinite Collection?
Enter your details below to get access to The Infinite Collection — a FREE (and growing) library of resources to help you get the most out of your one infinite life. There's currently an epic eBook, worksheets, workbooks, audios and more!
Plus you'll also receive super exclusive content from me each week, including personal stories and insights, behind-the-scenes peeks (that I don't share anywhere else!) and lots more.
To get access to The Infinite Collection and your free gratitude worksheet enter your details here incredible human