May 18, 2016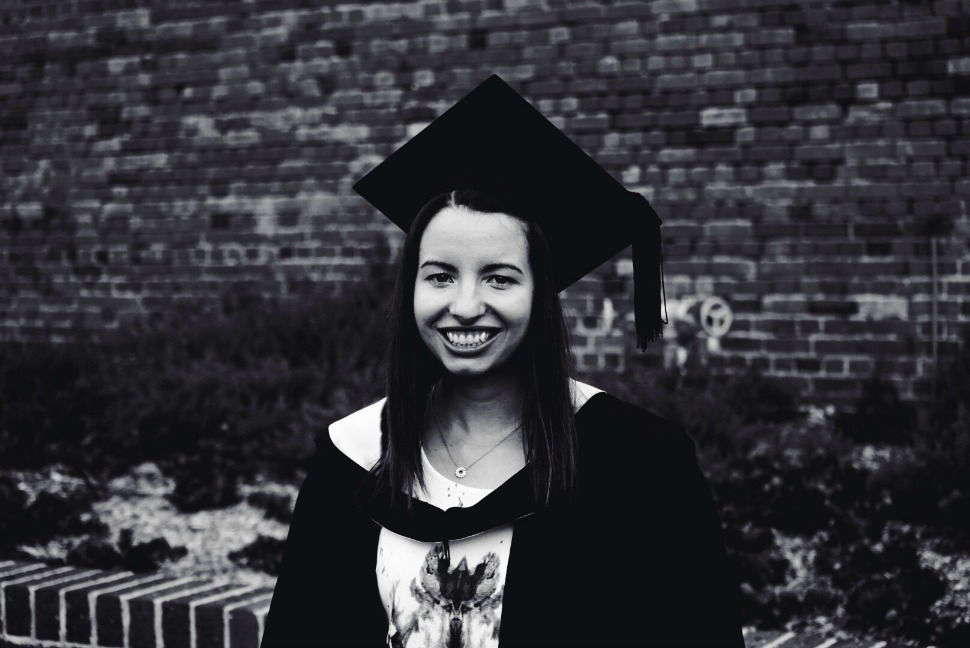 A couple of weeks ago I graduated from university.
And ever since then I've been deep in 'reflective mode' — thinking about and pondering the last few years of my life, how I've got to where I am now and what I've learnt along the way.
For the past 3 years of my life I've been studying psychology at university, and during this time I've learnt more about myself and about life than ever before.
So in the spirit of acknowledging this milestone (which is something I'm honestly not good at doing — but I'm getting better at ?) here are 9 of the most profound things I've taken away from my the last 3 years of my life.
And even though these lessons come from when I was studying at university — they are all about life in general.


HERE ARE 9 OF THE MOST IMPORTANT LESSONS I LEARNT AT UNIVERSITY
Lesson 1: It's okay to change your mind.
I had always wanted to go to university.
When I was 12 years old I read my very first self-development book and became really interested in this field, which led to me becoming interested in psychology. It was at the time I decided I wanted to be a psychologist and I worked towards this goal for the better part of a decade.
However, right before I began my degree I realised that I didn't want to be a psychologist anymore. It took me awhile to let go of this goal I had wanted for such a long time, but once I did I felt so much more aligned.
Lesson: As you grow and evolve as a person, your goals and dreams might change too — and that's completely okay. It's okay to change and grow and it's okay to change your mind as well.
Lesson 2: Follow your curiosities, even when you're not too sure where they're going to take you.
Since I was 12 I kept following this curiosity I had for the mind, human behaviour, psychology and self-development — which led me to enrolling in my psychology degree.
Even when I decided I didn't want to be a psychologist anymore, I still decided that I was going to commence my degree anyway.
I had no idea what I was going to do with my degree or where I was going to end up, but I decided to trust — and follow — the part of me that was really interested and passionate about psychology, and now looking back — I'm so glad I did.
Lesson: Keep following what interests you — and trust that it will lead you somewhere — because it will.
Lesson 3: Be open to it being way better than you imagined.
Following along from the lesson above, I knew what I was interested in but I didn't know "how" I would do this.
For so long I thought that in order to do the work I wanted to do I would need to be a psychologist, but after letting that go I realised that I was really keeping myself on a very narrow path — when there were so many possibilities on how I could do the work I wanted to do.
By being open to all the different options I ended up exploring things I never thought I would — and it turned out to be way better than I could of possibly imagined.
Lesson: Don't get caught up on "how" it's all going to work out — just trust that it will.
Lesson 4: Question everything.
This is one of the most profound things I took away from studying and my actual degree — and it's something that I've found to be incredibly powerful.
I learnt to not take anything at face value. To go deeper. To explore different sides of an argument.
To question absolutely everything. What I think I know. What I'm told to be true. What I read. Question it all.
Lesson: Be eternally curious about everything.
Lesson 5: Approach your work (or anything for that matter) in a way that works best for you.
One of the unexpected things I learnt while at university was how I learn and work best.
Everyone truly learns different and because of this I think it's really important to work out how you learn best, and then approach your work in that way.
I experimented with many different approaches and this helped me to get clearer on how I work best and do my best work.
On a practical note, here's a little insight into how I approach my work:
∞  I completely embrace the messy (and awful) first draft. I find that getting started and giving myself permission to just get the words and sentences onto the page (even imperfectly) works really well for me. I personally find it a lot easier to re-write and draft work than trying to write a perfect piece the first time round.
∞  I personally can't read/listen/watch content and remember it, I have to engage with content in order to remember and understand it. Practically this looks like creating mind maps, constructing my own multiple choice and short answer questions, talking about the concepts with other people, etc.
∞  I help myself by not leaving things to last minute. I unintentionally did this once in my first semester at university and the night before the assignment was due and the feelings of stress, pressure and regret where enough to make me say never again, and I never did this again.
∞  I honour when I need to step away from work and refill and also when I need to sit down, push through the resistance, and do the work.
∞  When it comes to actually getting work done The Pomodoro Technique changed everything for me. This approach involves setting a timer and focusing on working with no distractions for the set time, then taking a short break, and repeating.
Lesson: Honour the way you do your best work.
Lesson 6: Always keep learning and seeking new information.
Learning isn't just reserved for school.
After I finished my degree last year (and got over my extreme burnout) I realised how much I missed studying and learning new things — and I decided that I didn't need to be at university to continue to learn.
On a practical note, I actually set aside time (usually at least an hour or two — sometimes more) each and every week for learning and studying. I might re-visit content from the online courses I've taken, or I might seek out information about something I'm interested in, whatever it is I ensure that I continue to seek out information on things I'm interested in.
Lesson: Be a student of life.
Lesson 7: Taking care of yourself is essential.
When I finished my degree I was so burnout that I was constantly sick and couldn't get off the couch for practically 3 months — and this seriously sucked.
But it was such an important reminder that in order to do my best work and show up as my best self in any aspect of my life sustainably — I need to do this from a full cup.
Riding the continual burnout train is optional — not essential.
Lesson: The secret to doing your best work is to create from a full tank.
Lesson 8: There's no such thing as being behind on your life
I was always going to go straight into university after high school, but I ended up having an unintentional gap year and a half. This meant that for a long time I felt like I was "behind" where I should of been. But now looking back I know that I am — and have always been — exactly where I need to be.
After finishing university last year, I've also taken another break to work out what I want to do.
Giving myself space (and permission) to do this has always been revolutionary in helping me get clarity around what it is I really want to do.
And now, I trust that even though I'm not sure where I'm going to end up or what I'm going to do that I am right where I need to be right now.
Lesson: Everything is always unfolding exactly as its meant to.
Lesson 9: You don't need to have everything figured out right now (or ever!).
To be honest with you when I began my degree I thought by the time I had finished and graduated I would have my life "figured out" — whatever that means! ?
But honestly — I don't.
And I'm okay with that now.
Over the past few years I've come to believe that we are always figuring it out as we go. There is no final destination that we finally arrive at where we have it all worked out. We really are just doing the best we can, at the time.
Lesson: You may never have it "all figured out" — and that's okay because everyone is in the same boat.


Want FREE access to The Infinite Collection?
Enter your details below to get access to The Infinite Collection — a FREE mini library of resources especially for you, including a copy of my eBook Infinite: Take your life to the next level and beyond!
Plus you'll also receive super exclusive content from me a couple of times a month, including personal stories and insights, behind-the-scenes peeks (that I don't share anywhere else!) and lots more.
To join the Infinite Collective and get access to the collection (and your free eBook) enter your details here incredible human