October 19, 2016
Last Sunday I spent the morning at the Inspired Women 2016 event.
This event showcased 5 incredible women who were in Jade McKenzie's (of Event Head) Beautiful Business Mastermind this year: Felicity Watson, Amy Mackenzie, Laura Banks, Mel Van Kuyk, and Lenice Gaunt.
I think everyone who was there on the day will agree with me when I say this was truly an incredible and inspiring morning.
There's something special about being in a room filled with like-minded and inspiring women (and one guy!) and that's exactly how I would sum up how this morning felt: SPECIAL.
I also loved connecting and re-connecting with some of the online connections I've made over the past couple of years, and to also connect with some new people as well. A huge shoutout to Maddsion, Rachael and Sophie (pictured below) who I loved getting to share the day with.
I left the event feeling so inspired and I had so many incredible takeaways, which is why I'm writing this post today — because I'd love to share them with you.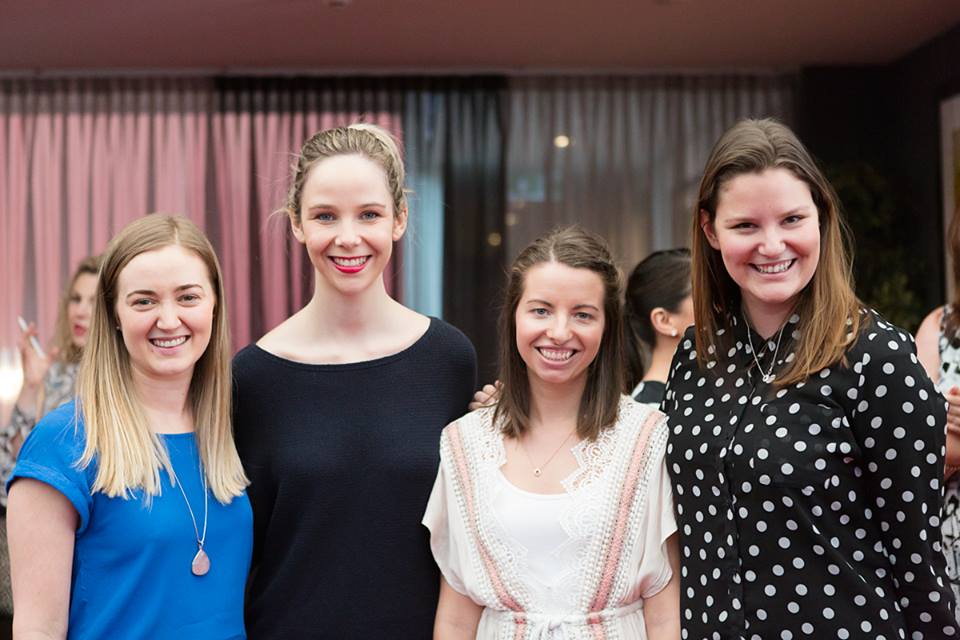 Before we dive in, a few notes of gratitude to:
∞  The five women who courageously shared their stories and spoke on stage. Your courage has inspired me so much!
∞  Jade Mckenzie and Event Head for managing and hosting such an inspiring event.
∞  Jo Parker from Heart Sparks for being such an incredible MC and holding the space so beautifully.
∞  Monika Berry from MB Captured for capturing the day and for all the photos I've included in this post. Also it was so lovely to meet Mon for the first time in-person at this event as we have worked together a few times now over the years.


INSPIRED WOMEN 2016:
REFLECTIONS & TAKEAWAYS
Felicity Watson
The first speaker of the day was Felicity Watson, who spoke about self-promotion and going from loathing it to loving it.
Felicity shared that embracing self-promotion really is mandatory in your business and career. And I know for me, self-promotion is something I find really challenging, so I was eager to learn from someone who does it so well.
She shared that as women we often learn to not put ourselves out there and doubt our worth. She believes that being invisible is a disservice — which I think is such a powerful reframe.
Felicity shared with us her 5 tips to embrace self-promotion which were:
1. Get clear on what you stand for and the impact you want to have.
2. Surround yourself with positive and supportive people.
3. Get curious about the stories you tell yourself and whether they are pushing you forward or backward.
4. Don't overthink it — and say yes!
5. Practice. The more you do it the easier it comes and the better you get at it.
She also shared this incredible quote by Estee Lauder: "If I believe in something, I sell it, and I sell it hard."
One of my biggest takeaways from Felicity's talk was that self-promotion doesn't have to be big, which was I found really comforting. She also encouraged us to start small, to choose platforms we are comfortable with (and a few we're not!) and to take small steps.
Another one of my biggest takeaways was that absolutely no one is natural at anything. I think it can be easy to assume that people are natural at putting themselves out there, promoting themselves, or being a brilliant speaker but as Felicity shared in her no one is a natural at anything.

Amy Mackenzie
Next up, was Amy Mackenzie who shared her story of how she became an entrepreneur and spoke about how to design a life and business you love.
I already knew some of Amy's story before this event, but hearing her share her story in-person blew me away. She has been dealt some challenging cards in her life and hearing the way she has navigated these to get where she is today is incredible.
Amy shared that everything changed for her when she took back her own power and decided that she could control how her life circumstances impacted her and how she reacted to them.
Amy shared some tips for entrepreneurs who want to design a life they love, some of my favourite points were:
∞  Be kind and compassionate with yourself.
∞  Your self-talk leads the way.
∞  Follow the breadcrumbs.
∞  The right support is everything.
∞  Align every decision with the person you want to be.
∞  Be grateful — and don't let the things you want make you forget what you already have.
∞  This powerful question: "If you could do anything in the world, what would it be?" 
∞  Celebrate and be proud if your achievements. One of the things I'm going to start doing inspired by Amy is taking the time to write down the things I'm proud of as they happen.
For me, Amy's talk was such a powerful reminder that our circumstances do not have to define us and that we get to choose how we show up in our lives, no matter what. Amy's story really does show that your past does not have to dictate your future, and I think she is such a powerful example of this.
She ended her talk with a beautiful quote by Elisabeth Kübler-Ross, which I think sums up her story and journey so well:
"The most beautiful people we have known are those who have known defeat, known suffering, known struggle, known loss, and have found their way out of the depths. These persons have an appreciation, a sensitivity, and an understanding of life that fills them with compassion, gentleness, and a deep loving concern. Beautiful people do not just happen."

Laura Banks
The next speaker of the day was Laura Banks, who spoke about going from failure to freedom.
Laura shared her story how she avoided "failing" in her life and went along ticking the boxes like she thought she should, but what happened was she lost touch with who she was and became deeply unhappy. Hearing her story was a really powerful reminder for me to re-connect with what I want and to re-evaluate if I'm doing things because I want to or because I think I "should".
Laura shared how she decided to see failure as an opportunity to create change and to get more clarity on her vision. She also reminded us that it is up to us to decide what needs to change when we aren't getting the results we want. One of the most powerful things I took away from Laura was that we have a choice in how we respond to failure and we can use it as a course corrector, one that gives us an opportunity to do something different and to get closer to what we want and is aligned for us.
Some of my favourite takeaways from Laura were:
∞  We don't have to let life happens to us.
∞  We get to choose how we live our lives and who we want to be.
∞  This powerful reframe: What if we saw every failure as an opportunity instead?
∞  This powerful question: What did this teach me about myself?
∞  Start small, be gentle.
∞  Confusion always precedes understanding.
I also loved that Laura shared that when you don't try you fail by default. This is something I can really relate to because often we hold ourselves back from doing things because we're afraid of failing, but not trying means you fail anyway! I think Laura is a powerful example of how reframing your failures and leaning into it can change your life.
And I also loved the quote Laura shared by Robert Frost: "Freedom lies in being bold."

Mel Van Kuyk
The next speaker — Mel Van Kuyk — connected with us on the day via Skype (how awesome is technology!) about shared her story about finding her space.
I've followed Mel's journey for a couple of years now when I started following her on Instagram when we started our life coach training with Beautiful You, but hearing more about her story over the past couple of years was so special.
Mel shared that being diagnosed with a brain tumour in 2014 was the catalyst for her re-evaluating everything in her life, it slowed her down and made her realise what was important. It was also this experience that made her become aware of our how physical space and environment can support us (and our healing) and also help us grow.
Some of the lessons I took away from Mel's talk were:
∞  We all need space to be our real selves and to grow.
∞  Our physical environment can support us and help us to become the person we want to be.
∞  By tapping into the potential of our space we can tap into our own potential too.
∞  The power of creating a space that supports you and the work you do.
∞  We only have one life — and this is it!
Mel also shared this incredible quote by Tom Hiddleston, which I think reflects her story and what I took away from hearing her speak so well:
"We all have two lives. The second one starts when we realise that we only have one."
Also, Mel's talk has really inspired me to re-evaluate my space and environment and to start intentionally creating a space that supports me and the vision I have for my life.

Lenice Gaunt
Lenice Gaunt ended the day with her talk: Just A Mum. And even though I'm not a mum myself, I could so relate to her story, to feeling like you're "just" something and believing you're not enough.
Lenice shared that some time ago she was feeling out of control, had no self-belief and wasn't making any time for herself. She realised had two options: stay the same or get outside her comfort zone and change. And she decided to change her story — and hearing her tell it was very empowering.
Some of my biggest takeaways from Lenice's story were:
∞  In order to be the best version of you for yourself and the people in your life you need to fill your cup first.
∞  Focusing on filling up your own cup means that the overflow will automatically fill up others as well.
∞  What you can see on the outside is not always a good indication of what's going on the inside.
∞  True wellness begins within.
∞  Change is harder than staying stuck, but even though it's not easy — it's worth it.
∞  If not now, then when are you going to fully back yourself?
∞  If someone you loved spoke to themselves the way you speak to yourself, how would you feel?
For me, Lenice's talk was a powerful reminder to check in and ask myself what stories am I telling myself that's keeping myself stuck, to check in and evaluate where I'm playing small and feeling stuck. I also think that it was a powerful reminder that believing in ourselves and believing that we're enough is a choice we get to make.
If I could some up what I took away from Lenice's talk in one sentence it would be this: You're never just — you are so much more!


As you can probably tell, there were SO many incredible takeaways from this morning and I'm so grateful to the Felicity, Amy, Laura, Mel and Lenice for courageously sharing their stories and insights on the day.
Going to events is something that is outside my comfort zone, but when they are as incredible and inspiring as this one — it's so worth it! If you get the opportunity to attend an event and connect with like-minded people like this, I highly encourage you to to feel the fear and show up anyway — because there really is nothing quite like it.
Love & Gratitude,

PS. You might also enjoy: Beautiful You Inspiration Day: Reflections & Takeaways.

Want FREE access to The Infinite Collection?
Enter your details below to get access to The Infinite Collection — a growing library of resources created to help you get the absolute most out of your life. There's an eBook, worksheets, audios and more! Plus you'll also receive super exclusive content from me, including personal stories and behind-the-scenes insights that I don't share anywhere else.
To get access to The Infinite Collection enter your details here incredible human