October 17, 2016
Life has been really full lately — in a really great way. There's been a lot going on and so many things I'm so grateful for. So today, before I dive into my to-do list and get-stuff-done mode, I want to take a moment to pause, reflect and acknowledge the things I am currently grateful for this month.

Turning 24!
Truth be told, I'm not usually one to get super excited over my own Birthday. But this year I felt like so much had happened in the past year. Being 23 has been one of my favourite years of my entire life, even if it has been challenging in ways as well.
I welcomed in my new year by doing things that I loved like having breakfast at Feast of Merit (highly recommend if you're in Melbourne), doing a bush/beach walk, having a bath, going out for dinner with my family and eating this incredible cake.

I hosted and took part in a mini gratitude photo challenge on Instagram.
To celebrate the upcoming launch of The 28 Day Gratitude Project — and just for a bit of fun — I hosted and took part in a photo challenge over on Instagram.
For 7 days I shared what I was grateful for, alongside some really amazing humans. We shared about the people, the past experiences, the objects, the places that we were grateful for and so much more.
Even though gratitude is a huge part of my life on a daily basis, it was really fun to share what I was grateful for over on Instagram. Here's a snippet of the photos I shared during the week for the #28DayGratitudeProject photo challenge…
What made this week so much fun was sharing what I was grateful for alongside the incredible people who also took part in the challenge. I'm so grateful to everyone who took the time to share a photo (or more) of what they were grateful for during the week.
Huge thank you to: @kristinerberg, @sammiesonjafleming,
@iamjanellecrawford, @skyhighandbelieve, @maddison_vernon,
@erinwilliamsblog, @_ellephillips_, @laurzkg
for the photos below and for taking part in the challenge 🙂

I launched the next round of The 28 Day Gratitude Project.
In June 2015 I had an idea — one that lit me up and excited me so much that I knew that I had to pursue it. That idea became The 28 Day Gratitude Project, which I was so excited to launch the 3rd round of last week.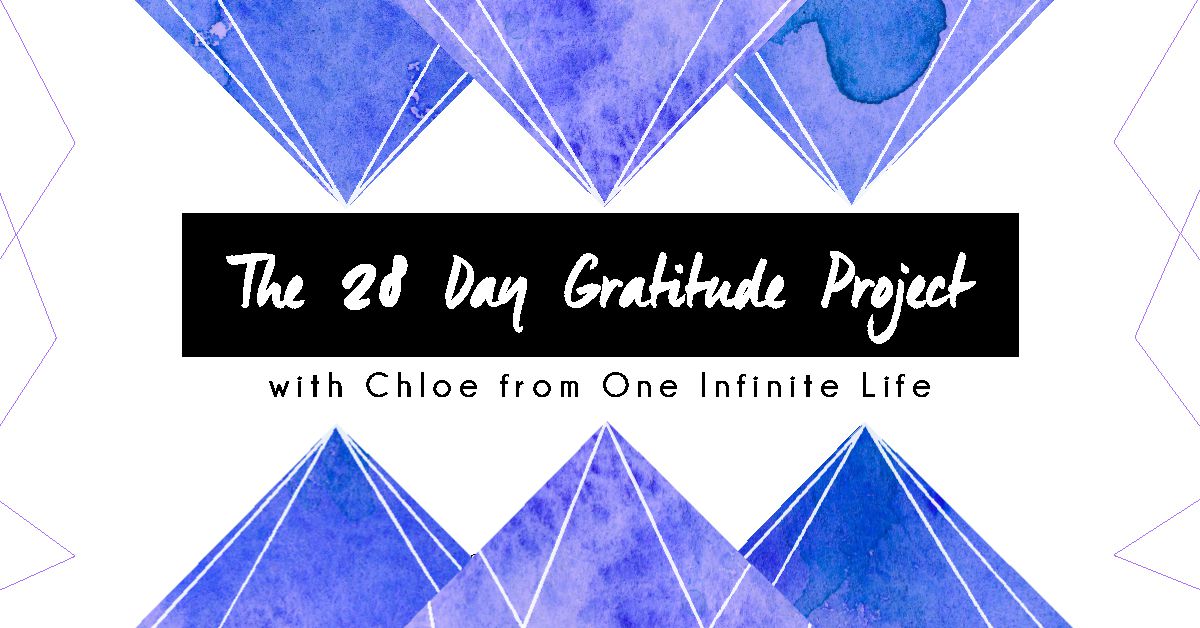 This project has evolved since last year, but it's pretty much a cumulation of experiences and learnings with gratitude over the past decade.
It was created because practicing gratitude has been a life-changer for me and I wanted to share with others how they could add more gratitude into their lives — in a way that was simple, easy and even fun!
I'm so grateful how this project has been embraced already — so a huge thank you to everyone who has joined. You can find out more about the Project over here or at the end of this post 🙂

I attended some really inspiring events in Melbourne.
I spent the weekend up in the city having a really incredible time eating amazing food and going to some inspiring events.
On Saturday I attended Cassie Mendoza-Jones' You Are Enough workshop, where I was reminded of some really powerful things and got clearer on the ways in which I hold myself back.
And on Sunday, I attended the Inspired Women event for Jade McKenzie's Beautiful Business Mastermind. This was such a powerful day hearing about the stories of 5 really incredible women.
I had such an amazing time at both of these events and I'll be sharing more about my takeaways from them very soon!

I shared my thoughts on gratitude for the Rock Your Goals Podcast.
I'm so excited to share that I'm back over on Sarah Jensen's Rock Your Goals podcast sharing some rapid-fire tips about gratitude.
I'm sharing how gratitude can be used to stop you comparing yourself to others and how you can use gratitude to help you navigate the highs and lows of having a business.
You can have a listen over here if you like, and this episode is only 20 minutes so super easy to have a listen to while you walk, drive or do some chores around the house 😉


And finally, some exciting news!
I'm truly so excited to share with you that I'll be speaking at the On The Rise event in Melbourne next month, hosted by Felicity Watson.
Truthfully, putting myself out there for this event was really outside my comfort zone and I've never done something like this before. One of the reasons I'm really grateful for this opportunity is because it is going to be a challenge for me.
I'll be speaking alongside Katie Maynes, Wendy Taylor, Kerry Jeffery, Naomi Morrow, and with Lou Spargo as MC.
I'll be speaking about one my favourite topics — gratitude — and you can find out more about this incredible event here.
I would so LOVE to see you there if you're in Melbourne.

As always, I'd love to hear what you're currently grateful for if you feel called to share in the comments 🙂
Happy Monday and I hope you're week is off to an incredible start!

PS. If you're wanting to add more gratitude into your life you might like to check out The 28 Day Gratitude Project.
PPS. I've also created a FREE daily gratitude worksheet to guide you in exploring what you're grateful for in The Infinite Collection. You can access to this worksheet — plus a whole lot of other resources by entering your details in the sign up box below 🙂

Want FREE access to The Infinite Collection?
Enter your details below to get access to The Infinite Collection — a FREE (and growing) library of resources to help you get the most out of your one infinite life. There's currently an epic eBook, worksheets, workbooks, audios and more!
Plus you'll also receive super exclusive content from me each week, including personal stories and insights, behind-the-scenes peeks (that I don't share anywhere else!) and lots more.
To get access to The Infinite Collection and your free gratitude worksheet enter your details here incredible human