December 19, 2016
On the 24th of November 2016 I did something I never thought I would do…
I voluntarily spoke in front of an audience.
Moment-of-honesty: I do not like public speaking. I'm afraid of speaking in front of an audience. And I found this to be really challenging.
However, in saying that, I could not think of a better way to do my first ever speaking gig than at the incredible On The Rise Speaking Event.
In this post I'll be sharing a wrap up of the event including my reflections and of course lots of photos (all of which have been taken by the talented Samara Clifford).

ON THE RISE SPEAKING EVENT
A wrap up, reflections & photos
On The Rise is an event for new speaking talent created and hosted by the incredible Felicity Watson. This event was such an incredible evening and I was so grateful that I could to be apart of it.
When I first heard that Felicity was creating the first On The Rise event I thought it was an amazing opportunity, but I never actually considered putting myself forward for it. However, I'm so glad that for the 2nd event I applied to be a speaker, even though the idea of public speaking scares me — and I've written more about that over here)
This event was held at The Windsor Workshop in Melbourne, which is an absolutely stunning venue (which you will see from the photos through the post).
As the audience members started to arrive I knew that it was going to be a special night… and it was.

The evening began with an introduction by the MC Lou Spargo, who was amazing throughout the evening.

The first speaker of the night was Kerry Jeffery, who spoke about why you need to start saying no.

Up next, was me! I (very nervously) spoke about The Power of Gratitude, which is one of my favourite topics to share about. I shared about my 10+ years of practicing gratitude, from the experience that helped me discover how powerful gratitude is, to how my first practice started and I also shared 3 of my best tips to help people add more gratitude into their own life.
Even though sharing in this way wasn't easy — it was definitely worth it!
It was SO amazing to have people come up to me or share with me online after the event that they were going to get a Gratitude Token (which is always a favourite tip!).
My biggest takeaway from my experience speaking at this event was that I can do things that scare me.
I was super relieved to have got my talk done and out of the way so I could really enjoy the rest of the evening — and that I did.

The next speaker was Katie Maynes who spoke about storytelling for the spotlight shy.

The amazing host — Felicity — gave a really beautiful tribute to Clare Grieg who passed away earlier this year. Clare had been apart of the Beautiful You life coach training course group that both Felicity and I were in, and she had also been apart of the first On The Rise event. So this was a really nice way to remember and honour such a special person in the coaching community.

The next speaker for the evening was Wendy Taylor who spoke about the art of forgiveness.

The final speaker of the night was Naomi Morrow who spoke about embracing uncertainty.

There were so many beautiful touches that Felicity made to the On The Rise event that made it really special… The epic grazing table set up for the guests. The take-home gifts: Bookmarks created by Zanin Mercury with quotes chosen from each of the speakers' topics and hot chocolate and turmeric latte mixes from Zara from Oh My Goodness (which are super yum!). There was also mini magnums (!) and a raffle with some really awesome goodies to raise money for Kiva in honour of Clare.


The people who attended this event were so supportive and I could not imagine a better audience to be speaking in front of for the first time. It was so incredibly special to have people I knew in the audience, such as people I did my life coach training with and those who I'd met through the Beautiful You coaching community, and also my parents and boyfriend who came to the support me on the night.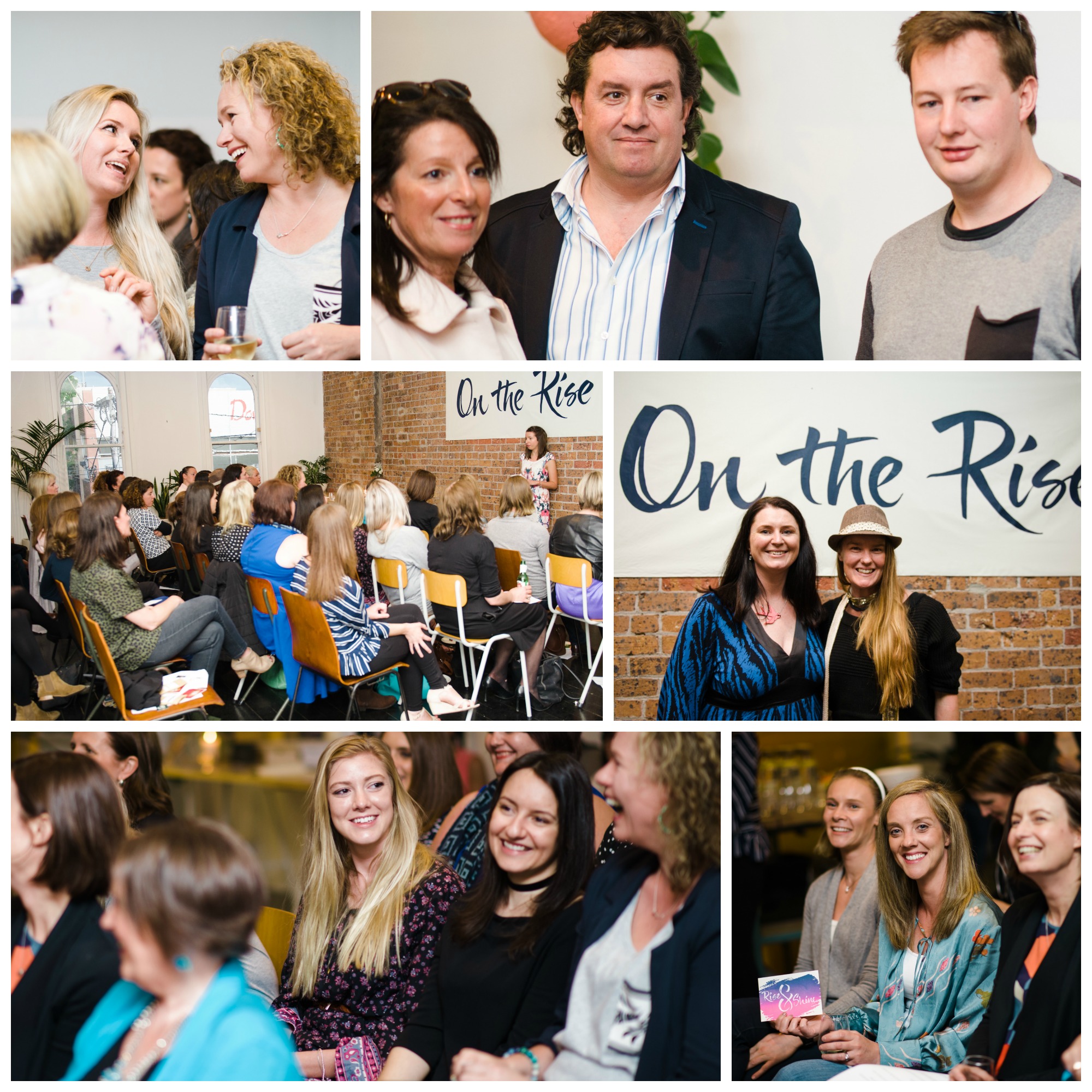 A huge thank you…
To Felicity Watson for creating, organising and hosting this incredible event and to everyone who was involved with making it happen. It really was such a special night.
To everyone who attended on the night. I'm sure all the other speakers would agree that it was so amazing to have such an incredible and supportive audience. Thank you.
And finally, all the speakers for the evening were amazing and I personally got so much out of every single talk. Thank you for stepping up and sharing with us in this way.
Love & Gratitude,

PS. You might also like to read my reflections on what saying yes to this event was really like for me.
PPS. You can get access to a daily gratitude worksheet to help you discover the power of gratitude for yourself by entering your details below 🙂

Want FREE access to The Infinite Collection?
Enter your details below to get access to The Infinite Collection — a FREE library of resources to help you get the most of your one infinite life. There's an eBook, worksheets, workbooks, audios and more!
Plus you'll also receive super exclusive content from me each week, including personal stories and insights, behind-the-scenes peeks (that I don't share anywhere else!) and lots more.
To get access to The Infinite Collection enter your details here incredible human