March 30, 2017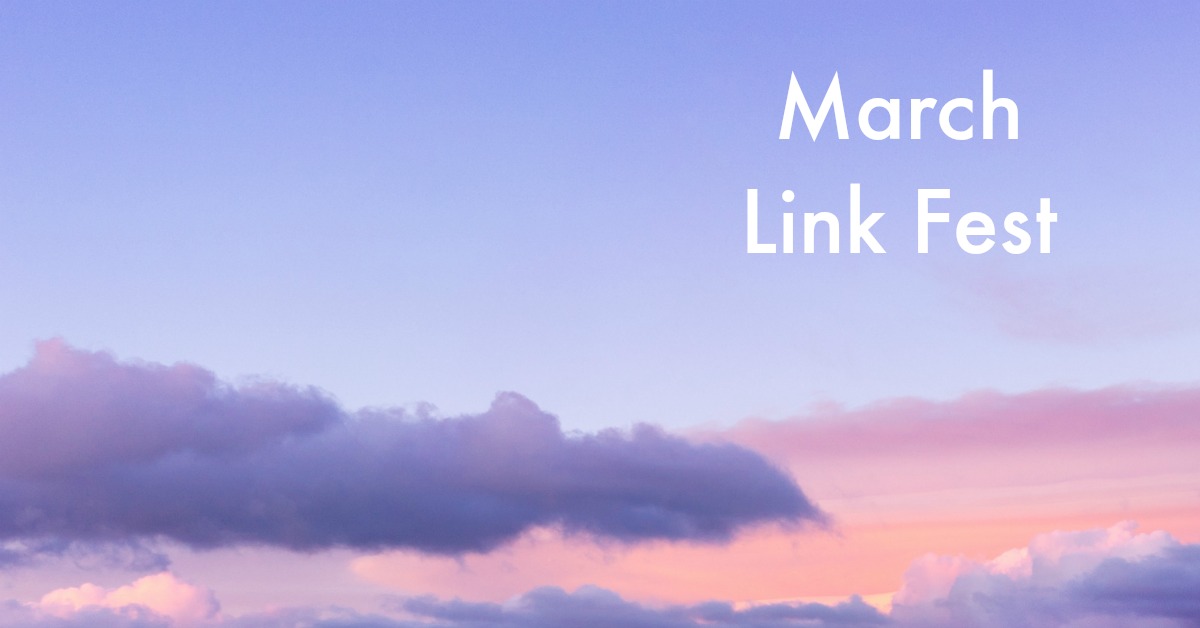 It's been awhile since I've collated a Link Fest for you and I'm excited to share with you a whole lot of articles I've come across on the Internet over the past few months.
This edition includes articles about being judged, living a creative life, mindfulness, self-care when you're on holiday, thoughts on your calling and purpose, creating calm, making excuses or making progress, being a quiet achiever and more.
Enjoy diving into these awesome articles!

∞  Are you afraid of being judged? This is for you.
∞  I loved Katherine's thoughts on living a creative life.
∞  Wanting to be more mindful as you go about your life? Read this.
∞  I loved these creative and intentional goal-setting practices.
∞  How to practice self-care, even when you're on holiday.
∞  Loved this: 6 resources to help ease anxiety.
∞  I loved reading Aimee's musings from a night with Danielle LaPorte.
∞  Want to start your day more intentionally? Fran's got some awesome tips on reviving your mornings.
∞  Thought-provoking read: Do you have to find and follow your calling?
∞  How to create calm in your life — even when you feel like you don't have time.
∞  Looking for some book recommendations? Here's 21 of Elyse's favourite self-development books.
∞  I've been loving this podcast lately, especially this episode.
∞  I was so inspired after reading this: You can make excuses or you can make progress.
∞  Why you should act like a normal human on the Internet.
∞  7 things to know before moving to another country alone.
∞  Feeling burnout? Here are 30 ways to get more energy.
∞  Loved this: We're all works in progress. If we admitted that, it'd be so much easier.
∞  Is being busy your excuse?
∞  Is there a perfect way to write your goals?
∞  Here are 101 ways you can be more mindful in everyday life.
∞  I loved this different approach to finding your purpose.
∞  I could so relate to this article.
∞  Why we aren't as nice to ourselves as we are to others.
∞  Are you a quiet achiever? Here's some insights on creating your own success.
∞  A few recent favourites of mine: This book. This movie. This tv show. This song. And this playlist.

Recently on One Infinite Life…
∞  I wrapped up 2016 sharing my lessons, highlights and photos from the year gone by and shared an overview of what you can expect from me in this year, and what I have to offer you.
∞  What if you just showed up? A story about the power of showing up and how I committed to a daily yoga challenge in January.
∞  Here are 16 truthbombs I took away from seeing Danielle LaPorte speak in Melbourne.
∞  To celebrate the launch of the new and updated version of The 28 Day Gratitude Project I shared how I truly discovered the power of gratitude.
∞  You won't feel this way forever. A story about how I first discovered the concept of impermanence and how it helped me navigate a challenging time in my life.
∞  I've shared a new edition of The Gratitude Diaries (the 20th segment of this series!) about the Beautiful You Coaching Awards Night.
∞  Do you downplay your achievements? I wrote this article for you.
Also:
∞  I loved being interviewed by Alessia (from Paris!) on the power of gratitude (and how to add more of it into your life), understanding my passion/purpose in life and what getting outside my comfort zone and looked like for me.
∞  I was honoured to have my article "You can be an introvert and be anything you want" in the first ever edition of The Introvert Effect Magazine created by Katherine Mackenzie-Smith.
Happy Reading!

PS. You might also like: Challenging times, overworking & not knowing your purpose.

Want FREE access to The Infinite Collection?
Enter your details below to get access to The Infinite Collection — a FREE (and growing) library of resources to help you get the most out of your one infinite life. There's currently an epic eBook, worksheets, workbooks, audios and more!
Plus you'll also receive super exclusive content from me each week, including personal stories and insights, behind-the-scenes peeks (that I don't share anywhere else!) and lots more.
To get access to The Infinite Collection enter your details here incredible human