January 31, 2018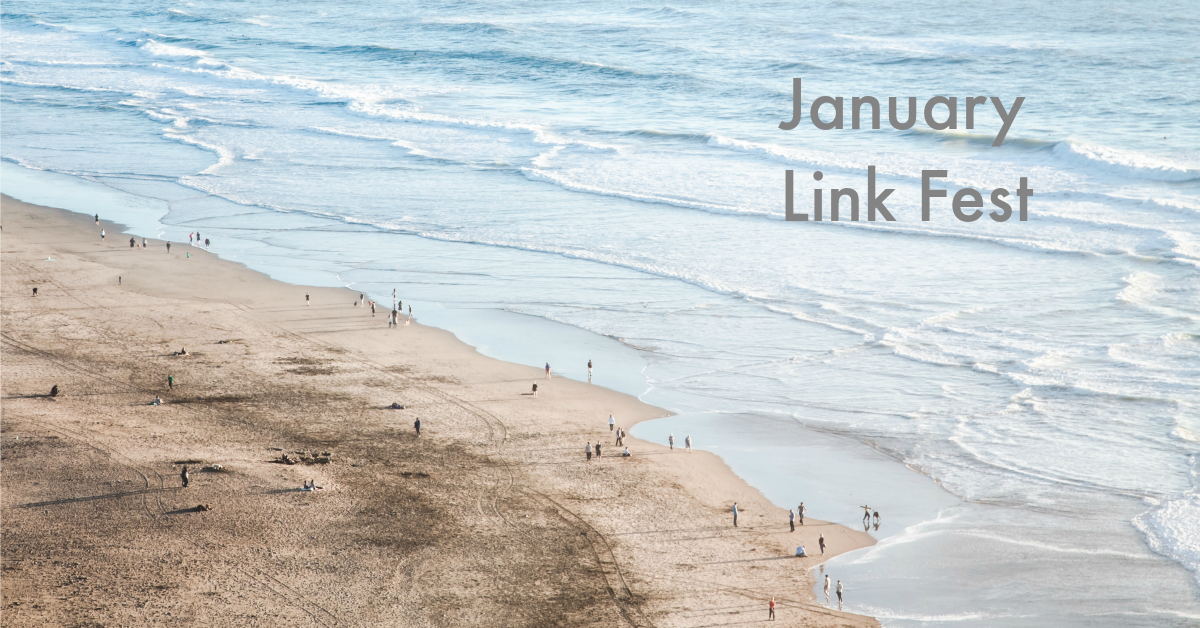 It's time for the first Link Fest of 2018!
This edition includes articles on living an extraordinary ordinary life, setting intentions and goals for the new year, creating a give back policy, simple self-care tips, unravelling the new year, plus my favourite things from last year and lots more.
Enjoy!

∞  Loved this: How can I make this feel amazing?
∞  How to live an extraordinary ordinary life. "It's about finding the extraordinary in the normalcy of your daily life."
∞  I loved these words on surrender.
∞  How to set your intentions for the New Year.
∞  5 steps to achieve your (real) goals this year
∞  Looking for some new podcasts to listen to? Here are some awesome recommendations for coaches, creatives and solopreneurs.
∞  Loved these words on Oprah, that speech and feminine leadership.
∞  How to not give up on your goals when you "screw up".
∞  Why it's okay to be happy with a quiet life.
∞  Here is 28 of the most powerful pieces of writing by women in 2017.
∞  This — 17 things I did to make the most of this year — is an amazing read. Plus inspired by this I decided to share my own list here.
∞  Feeling discouraged had a set back recently? I highly recommend reading Alexandra Franzen's new book You're Going to Survive.
∞  How to create a give back policy.
∞  Are you familiar with the the Four Tendencies? Here's how to use them for your New Year's Resolutions.
∞  A reminder: Today is a great day to be alive.
∞  Want a purposeful, peaceful and abundant 2018? This is for you.
∞  Loved this: The year that I let go of being perfect.
∞  Small and simple self-care tips that make a difference.
∞  This is SO GOOD: Addicted to productivity, and the courageous act of…stillness.
∞  Wanting to choose a word for 2018? You might like to read this post or check out this free 5 day series.
∞  Need some support in planning out what you want for 2018, check out the incredible (and free) resource by Susannah: the Unravel Your Year Workbook.

Recent stuff from me:
∞  I've shared 16 of the best things I did last year that helped me get the most out of the year.
∞  Want to know what I have in store for 2018? I've shared an insight into the things I'm offering and creating this year in this overview.
∞  I also collated an epic list of all my favourite things from last year. It contains my favourite books, tv shows, movies, podcasts, meditations, business tools, plus some random things I loved and experiences I enjoyed in 2017.
∞  If you're dreaming of becoming a life coach, you might like to check out this post to see how I became one and how I can support you in your coaching journey this year.
Happy Reading!

PS. You might also like: A link fest of my most-read posts of 2017.

Want FREE access to The Infinite Collection?
Enter your details below to get access to The Infinite Collection — a FREE (and growing) library of resources to help you get the most out of your one infinite life. There's currently an epic eBook, worksheets, workbooks, audios and more!
Plus you'll also receive super exclusive content from me each week, including personal stories and insights, behind-the-scenes peeks (that I don't share anywhere else!) and lots more.
To get access to The Infinite Collection enter your details here incredible human