January 17, 2018
This year I've taken my yearly reflecting and planning slower than ever. I've taken my time working through this workbook, to reflect and unravel the lessons from last year and let myself process all that unfolded in 2017.
Planning for the year is always exciting, but this year I made it more enjoyable by making more of a ritual out of the process. I drew cards from this deck, worked (slowly) through this to help me choose a word for the year and carved out little pockets of space in my life to sit with my intentions and ponder what I wanted from this year. I also spend time planning at one of my favourite cafes with chai and bagels (where the photo above was taken) and to really enjoy the process of mapping out what I want to do/create/make happen this year.
Which brings me to this… I want to give you a peek behind-the-scenes and share with you what I have in store for 2018. From things that I'll be continuing to do, new offerings/ideas I have and some personal insights into what I'm focusing on this year — this is an epic overview of what I have planned for the year. And I can't wait to see how it all unfolds…
Here's (some of) what I have in store for you in 2018:
1:1 coaching. This year (in March) will mark THREE YEARS since I did my first ever coaching session with a client. Working 1:1 with people all over the world  is one of my absolutely favourite parts of the work I do (and my life!) and I'm so grateful to be able to support people in this way. This year I'm going to be continuing to coach 1:1, but there are going to be some changes to my coaching packages and offerings this year (more on this soon!). There is also going to be some changes in my schedule this year, which I'm really excited about — BUT it will restrict my availability for 1:1 coaching. This means I'll have a limit on how many clients I can take on at a time, plus I'll be forward-planning and booking in coaching series many months in advance, so keep this in mind if you're thinking of working with me this year.
If you're thinking of getting some 1:1 support from me this year, you can get an idea of what it's like working with me here, but if you want any information on my new coaching packages stay tuned as I'll be sharing them with you very soon — but if you really want to know (like right now!) get in touch with me at chloe@oneinfinitelife.com.
"After working with Chloe for 3 months I now feel more aligned and purposeful than I ever have. She was so genuine and supportive every step of the way and had such a gentle way of guiding me to acknowledge what I really wanted and to bring my goals to life. One of the biggest shifts I experienced was being able to strip away things which were holding me back and replace them with purposeful actions. " —

Rachael Kable
Ignite 2018 Sessions. I always love offering these one-off single sessions at the end/beginning of the year and this year has been no exception. If you're wanting some guidance in reflecting on last year — so you can move forward feeling complete and with newfound clarity on what you're wanting to work towards / make happen / bring into your life in the new year — these sessions are for you! They include: An epic set of reflection questions for you to dive into and explore before our session and 90 minutes with me on Zoom (it's like Skype — but better!) where we will dive deeper into reflecting on your year, unravelling the lessons and closing off the year that was 2017. I will also support you in uncovering what you want to make happen in 2018 and together we will set some goals (or intentions) that feel empowering for you to enter the new year with.
You can find out more and book your IGNITE session here. These are only available for the rest of January, so if you're wanting to have one of these special sessions get in touch with me by emailing me at chloe@oneinfinitelife.com so you can secure one of these sessions.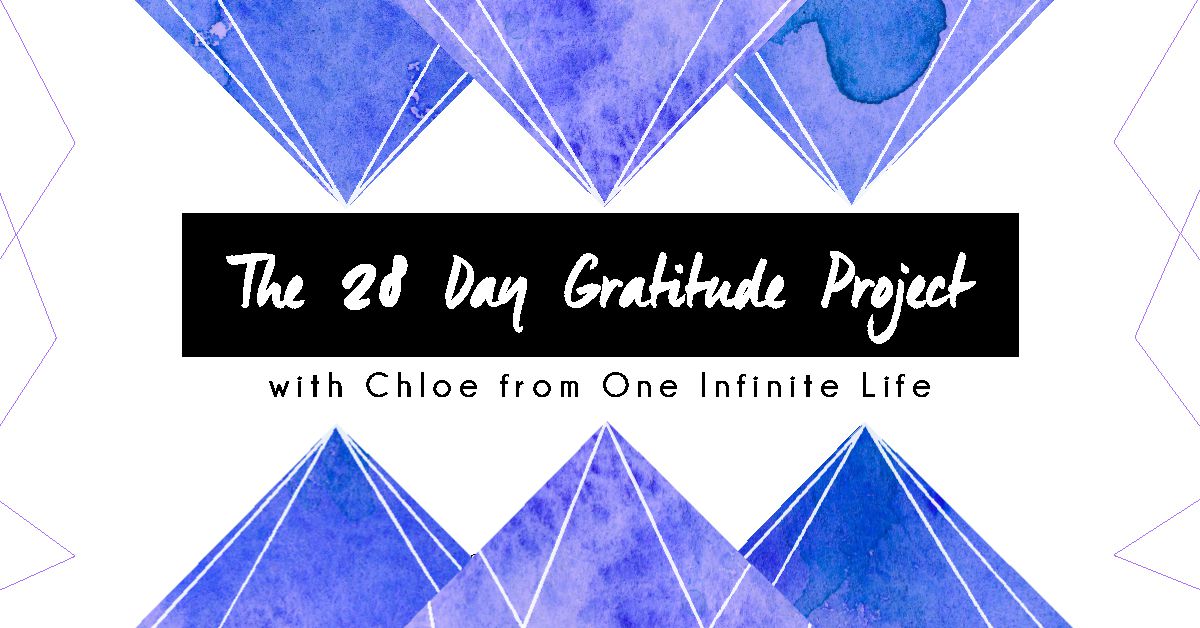 The 28 Day Gratitude Project. Whenever you'f feeling like you want to add more gratitude into your life, you can sign up to the award-nominated 28 day experiment anytime for $28 AUD. The project includes daily email content for 28 days and an epic digital workbook. Plus once you've completed the experiment you also get ongoing support from me throughout the year (through emails and opportunity to join live calls). This year I'm planning on running a couple live rounds of the experiment and I'm also thinking of trying out a more interactive version for a special live round.
You can find out more & sign up to The 28 Day Gratitude Project here.
"I can't thank you enough for offering The 28 Day Gratitude Project. It was such a great way to kickstart the year and I really enjoyed getting all the lovely little reminders in my inbox." — Kara
Mentoring for future life coaches. You may already know that I undertook my training with the Beautiful You Coaching Academy several years ago now and it truly is one of the best things I've ever done, which is why I love teaming up with future life coaches to support them to go through their training. I'm currently calling in people who are wanting to undertake their life coach training with Beautiful You in 2018 AND who are wanting some extra support at getting the absolute most out of their own training and as they enter the world as a coach. If you sign up to life coach training with Beautiful You through me (and my unique link) you can get an epic bonus offer – at absolutely no extra cost to you! This offer currently includes a FREE 1:1 coaching series with me, mini group Q&A sessions (the ultimate way to pick my brain about ANYTHING coaching/blogging/business related) and more!
You can read more about my experience becoming a coach and find out more about how we can team up in this special way here. And if you're interested in becoming a coach in 2018 and want my bonus offer, you can email me at chloe@oneinfinitelife.com to get access to my unique link.
"The best thing about receiving Chloe's Beautiful You bonus offer is going to sound really cheesy, but honestly it was YOU. Your kindness, your caring, your support, and your honesty all made this an amazing experience! Thank you for all the time and energy you put into supporting me. I've saved all of your emails because there's so much valuable information and advice in them!" —

Beth Moshier
Articles. I'm looking forward to getting back into writing blog posts amore regularly. If you're wanting to do some reading today though you can find my most popular articles from last year here and my most recent articles right here. And if you've got a topic/question you'd love for me to cover in my content this year you can click here to submit your request.
The Infinite Community. I sent out emails to The Infinite Community at least once (but usually a couple more) times a month. This is one of my most favourite ways to connect and share with people in my community. In my emails I share personal stories, insights, behind-the-scenes peeks into my life, that I don't share anywhere else. Plus if you want to keep up to date with the things I'm mentioning in this article, then this is the best place to be the first to know these things as they happen 😉
To receive emails from me all you need to do is enter your details below AND you'll also get access to The Infinite Collection — a FREE (and growing) library of resources to help you get the most out of your one infinite life. There's currently an epic eBook, worksheets, workbooks, audios and more!
Some new things I'm wanting to bring to life / offer in 2018:
Mini group coaching program. I've been wanting to facilitate this for awhile now, but I'm committing to bringing this program to life this year. This experience will focus on helping you create positive change in your life, based on my own personal approach — which I believe will revolutionise the way you approach your goals (and life!). We are going to focus on being okay with where you are right now, while working towards what you want, because I want to help you to enjoy your life now (while you continue to work towards what you want). If you're interested in being the first to find out more you can join the interest list here. A heads up that spaces in this program are going to be INCREDIBLY LIMITED (as I want to keep the group super small) so people on the special list will be the very first to get all the info and offered a spot in this experience.
Gratitude workshops. This year I'm hoping to hold my first ever in-person workshop. The topic will be on GRATITUDE and will be practical, insightful and fun! I'm nervous about this (eeekkkk!), but also really looking forward to connecting with you in this way. If you're based in Melbourne/Mornington Peninsula (or those areas are accessible for you) and you'd be interested in attending an gratitude workshop with me, click here to let me know and you'll also get first to find out more and get first opportunity to sign up.
Mini mastermind for new coaches. Last year I found myself getting asked a lot of questions like, "How did you overcome your fear of putting yourself out there as a coach?" "How did you get your first client?" "How have you grown your online communities?" "What resource/tool do you recommend for this or this?" "What did you do when [this happened]?" and so on… Which is why in 2018 I'm considering holding a private mini mastermind to support new coaches. This will be an opportunity to "pick my brain" on anything and everything about blogging/business/coaching, to get behind-the-scenes insights from me and benefit from the lessons I've learnt over the past few years, and to come together with like-minded people and have honest conversations about these things. This mastermind will have super limited places and be by application only, so if you're at all interested in this offering you can join the interest list here and you'll be the first to know more and receive an invitation if/when it goes ahead.

A few more things for 2018:
∞  I'm wanting to do more video/live sharing on Facebook and Instagram to share more insights, tips and behind-the-scenes stuff in my life. I'm going to continue sharing behind-the-scenes insights into my gratitude practice more regularly as well, most likely on Instagram Stories.
∞  On a personal note… My word for the year is EASE. My core desire feelings are: Devotion, Ease, Connected and Alive. This year I'm really committing to honouring myself and looking after myself (deeply — on all levels) so I can show up in the world and do the work the way I want to.
∞  My biggest goals for the year involve doing meaningful work as a coach and also in the local mental health industry. My challenge for 2018 is to write down what I'm grateful for every single day. And I'm going to focus on making things happen and taking empowered action — with a whole lot of ease.
And that's it (for now) that's what I have in store for 2018 at the moment. Of course, who knows how the year is going to play out or what is going to happen. I do love having a general idea of where I'm going / what I'm wanting to do, but I'm looking forward to seeing how this year unfolds and if (and how) the things above unfold/come into fruition.
I'm so looking forward to connecting with you and sharing with you this year. Thank you to infinity and beyond for being here and reading about what I have in store for 2018.
I hope 2018 is an INCREDIBLE year for you!
Love & Gratitude,