January 5, 2016
You're here, which tells me that you're wanting to make 2016 your best year yet — and that's awesome! And you're definitely in the right place, because in this this post I'm sharing…
∞  13 specific ways you can make this year amazing.
∞  The resources that I've personally used and loved (and that have made my life better), that I believe will support you in making this year amazing for you.
∞  Questions to ask yourself, plus heaps of actionable tips and super useful links.
∞  Heaps of examples and insights from my own life.
∞  Plus 11 rapid-fire ways to make 2016 an incredible year for you.
So if you're wanting to make 2016 your best year yet, read on!

13 WAYS TO HELP YOU MAKE 2016 YOUR BEST YEAR YET
1. Reflect on the year gone by
When we enter a new calendar year it can be tempting to move on and leave the previous year behind completely. And if doing that feels good to you, by all means do it!
However, I do find that it can be incredibly powerful and useful to spend a little time reflecting on the previous year, in order to make the upcoming year even better.
Some of the things I like to reflect on at the end of a year include: 
What worked really well. What didn't work so well. What I'm grateful for. What I learnt. What I'm going to take away from the year. What I'm proud of. What I achieved and how I did it.
A useful resource for reflecting on the year:
Susannah Conway's Unravelling The Year Ahead workbook is a free 33-page workbook that helps guide you through reflecting on the year gone by, as well as working out your intentions for the year ahead. I've been using this for a couple of years now and it's become a really awesome end-of-year ritual for me.
I also used this workbook to help me write my reflections on 2015 (including what I learnt and what I'm taking away from the year.)
Once you've reflected on 2015, it's time to start looking forward to how to make 2016 an amazing year for you…


2. Get clear on your vision for the year ahead
Having clarity on what you want is awesome! So devote some time to getting clear on what you want your year to be like. You can't make this year your best ever if you don't actually know what that looks like for you.
Some useful questions to ask yourself: What would I love to do in 2016? What do I want to achieve this year? If I could do anything I possibly wanted this year, what would I do? Where would I like to be at the end of 2016?
At this stage, I like to focus on dreaming — and dreaming BIG. And I don't like to think about how realistic any of it is, or if it's even possible. This part is all about allowing yourself to get clear on what it is you truly want.
To get clear on your vision you might like to:
∞  Write down every single possible thing you would LOVE to achieve and do in this year.
∞  Create a vision board (in real life or on Pinterest) as a visual representation of what you want the year to be like. Here's a great article on how to create a vision board by Rachel.
∞  Write out what your ideal day involves, including how it looks, what it involves and how you feel. Here's an awesome example by Claire to guide you in doing this.
∞  Write a letter to yourself one year from now about what you would have loved to happen this year, as if it has already happened. And if you want to actually send this letter to yourself in a year's time you can do that here.


3. Focus on how you want to FEEL.
Doing this has actually revolutionised how I approach my goals — and my entire life in general.
This idea (by Danielle LaPorte) flips traditional goal-setting on it's head, and asks you to get clear on how it is you want to feel first, before working out what you want to achieve or do.
I love getting clear on how I want to feel, then making intentions and goals based on these feelings. Because I believe that what we really want isn't the goal itself, it's how the goal will make us feel.
As Danielle says "Knowing how you actually want to feel in life is the most potent form of clarity than you can have."
When you know how you want to feel, you can do things to make you feel that way NOW — not just when you reach your ultimate goal. And I truly believe this is one of the keys to creating and living a life you love.
Recommend resource:
Danielle Laporte's The Desire Map* will change your life (I know it has for me and so many others!) I refer back to this all the time and I also revisit the workbook every year (or whenever I want to get clear on how I want to feel.) I truly believe that your life will never be the same once you start living in alignment with how you want to feel — and this is an incredible guide to help you do that.
My Core Desire Feelings: Last year they were were CONNECTION, EASE, GRATITUDE, JOY, GENEROSITY. I've written more about my experience with them here, and later on in the week I'll be sharing my new core desire feelings for 2016.


4. Choose a guiding word.
I love choosing a word for the year that encompasses the main theme I want to focus on or what I want to embody for the year.
Once you've got clear on what you want this year to be like, you might like to choose a a word (or several words) to help guide you for the year ahead.
What I love about having a guiding word is that it's inspiring and grounding, plus it also anchors me to what I really want and empowers me to take action.
Recommended resource: Susannah Conway's Find Your Word, a free 5 day email class to help you choose a guiding word for the year.
I used this resource last year to come up with my word, which was DEVOTION, and I wrote about how this word served me and what I learnt from it here. (And I'll be sharing my word for 2016 later on this week.)


5. Set some super inspiring goals
Once you've gotten clear on your vision for the year, on how you want to feel and what your intentions are — one of the most powerful things you can do is set yourself a goal (or goals) for the outcome that you want.
Goal setting can get a bad rap sometimes for being too rigid and structured. But for me, I've found that it's empowering to set myself powerful goals, and it helps me to (co)create the life I want.
When I look back on the things I've achieved in my life, none of them came about by accident. They happened because I set a goal to make them happen and I kept working towards it.
If you're wanting to set some super inspiring goals for this year keep an eye out at the end of this post for an awesome way I can help you do this!
Recommended resource: Sarah Jensen's Rock Your Goals is a simple, practical and super powerful course that will help you get really clear on what you want, help you set inspiring goals and help you to create a pathway to achieving them. If you want to make your dreams a reality this course is a great guide.


6. Work out what you'd like more and less of this year
One of my favourite ways to get my life back into alignment with what I want is to reflect on two things: What I want more of and what I want less of in my life.
Doing this helps me to uncover the things that are working for me and those that aren't. Then based on this, I can make small changes and tweaks to my daily life to help me live the life that I want.
A powerful question to ask yourself: Are you happy with the way your currently spending your life-minutes? I ask myself this question all the time, and it helps me to assess if I'm really happy with how I'm spending my time and helps me to make conscious decisions on how I truly want to spend my life-minutes.
An example from when I did this more/less exercise:
More… Trust. Creating. Presence. Movement. Stillness. Ease. Exercise first thing in the morning. Micro and macro adventures. Hiking. Sleep. Going to bed earlier. Reading. Spontaneous dance parties.
Less… Control. Procrastination. Consuming before creating. Overwhelm. Mindless social media scrolling. Multi-tasking. Working late at night.
As you can see doing this exercise is a simple way to work out what is and isn't currently working for you, so you can invite more and less of those things into your life — plus make some conscious decisions and little changes to do so.


7. Create a list of things you would love to do this year
Write down all the things that you would love to see, do and experience this year and put this list somewhere where you see it everyday.
Doing this is really fun and I also find it helps me to be more engaged with seeking new experiences and doing things that I enjoy throughout the year.
Some of the things that are on my list for this year:
∞  Write more letters by hand and send them in the post. If thats something you're interested in too here's an awesome (and free) ebook by Alexandra to help you write more letters.
∞  Eat an acai bowl (can you believe I've never had one before!?)
∞  Read 1 book per week for the entire year (inspired by this post by Claire).
∞  Try acupuncture.
∞  Spend a day at a beach on the Peninsula I've never been to before.
∞  Do a semi juice cleanse (I'm currently doing this one right now!)


8. Take action!
Anatole France once said: "To accomplish great things we must dream as well as act."
And I couldn't agree with more… Taking action is where the magic truly happens.
Once you've got clear on what you want to achieve or do, you need to start taking action to get from where you currently are to where you want to be.
You can do this by:
∞  Creating a roadmap to achieving your goals.
∞  Listing every step you can think of that will take your from where you are now to your goal, and then arranging them in the best possible order.
∞  Brainstorming and really considering all the possible paths you could take to reach your goals.
Read this: If you find yourself feeling overwhelmed by your goals.
Try this: Do ONE thing every single day to move you towards your goals. It doesn't matter how small the action is, just keep taking those small steps. As Rach and Tara say in their Spirited eBook:
"Baby steps = quantum leaps"

9. Get support
One of the best things I did last year to help me get from where I was to where I wanted to be was working with a coach (and I've written more about this here.)
Once you know what it is that you want this year, work out what kind of support you will need in order to make this happen.
When doing this it can be useful to consider: What you don't have —  that you need — in order to achieve your goals. What you struggle with. What gaps you need to fill. What is not in your zone-of-genius that you may need insight on. What has previously held you back from achieving your goals.
Then based on these insights, you can determine what support would work best in helping you achieve what you want. You might approach this by:
∞  Working with a coach that feels like a good match for you and can give you the support you need to make your goals happen.
∞  Getting an accountability buddy. Naomi's written an awesome post on this.
∞  Creating a mastermind group. Denise has a great article how to get started with a mastermind.
∞  Enrolling in a course, or finding a book or resource that will help you with what you need support in.

10. Question everything.
One of the most powerful and profound thing you can do for your evolution is to question absolutely everything.
Question: What your told. What you think you know. What you believe. What you want. What you observe.
Be curious and question it all.
Ask yourself questions all the time. Big ones and small ones.
One of the biggest turning points in my life was because I asked myself the question "is this really the life I want?" and it guided me to make a really big change in my life.
Where to start?
∞ Alexandra has 5 questions to ask yourself on New Years Day (or any day!)
∞ Claire shared 17 powerful questions that she asked herself recently (that are really interesting!)

11. Flood yourself with inspiration.
Inspiration is truly everywhere. But sometimes when I'm feeling super unmotivated and uninspired I'll need to be more proactive about seeking it out.
I find that for me inspiration leads to action, and I constantly seek out inspiration as well as making it easy for myself to be inspired.
You can help yourself be inspired by:
∞  Creating an inspiration file on your computer. You could make it a bookmark, an Evernote file, a Pinterest board, anything you like. Use it to collect inspiring articles you've read (or want to read) and when you're feeling uninspired you can dip into your file.
∞  Keeping a list of books you want to read and adding to it whenever you come across a book you want to read. To get you started here are 5 life-changing reads I'd recommend, plus I love this list of books that Megan read and loved in 2015.
∞  Keeping a list of movies to watch when you're feeling uninspired. This is one of my all-time favourite inspiring movies.
∞  Download podcasts onto your phone to listen to when you want to feel inspired. Here are 6 inspiring ones I'd recommend, plus Fran has shared an epic round-up of podcasts.
∞  Creating a folder on Youtube to store inspirational videos (I love TED talks).
∞  Putting an inspiration board or manifesto somewhere you will see it everyday. If you like you can get the inspirational One Infinite Life manifesto in my free eBook.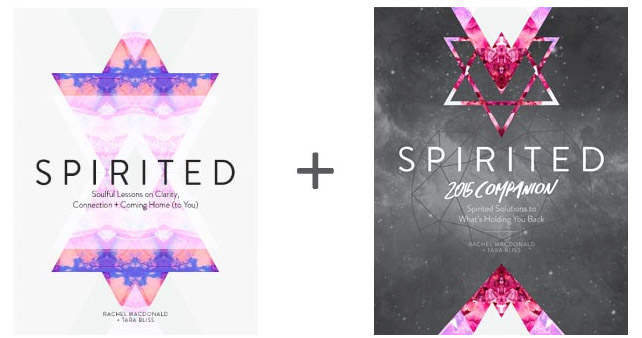 Recommend inspirational resource: Spirited eBook and the Spirited Companion* by Rachel MacDonald and Tara Bliss. One of my absolute favourite resources that I go back to again (and again) when I'm feeling uninspired. It empowers me to move forward and helps me to work through what's holding me back.


12. Start practicing gratitude.
It's no secret that I'm a huge fan of gratitude (you can read why here) and I've been practicing it for decade now because:
Gratitude has — and continues to — make my life infinitely better.
Gratitude really does amplifies my life — in every way. It makes each day worth living. It helps me feel grounded. It brings more joy into my life. It helps to put everything in perspective. It makes me feel satisfied and happy with what I currently have. It helps me to get unstuck. And ultimately it just makes my life infinitely better.
I truly believe that gratitude changes lives (and it definitely has changed mine!)
If you're wanting to add more gratitude into your life this year:
∞  Read this: 7 tips to create a powerful gratitude practice.
∞  Check out my free email series: The 28 Day Gratitude Project.
∞  Watch this awesome TEDx talk by Clare from the Top Five Movement.

13. Challenge yourself.
Something that will help you to make the most out of this year is to challenge yourself.
You can do this by trying things, doing something you've never done before, stopping yourself from playing small, trying a different approach, and doing the things that scare you (that you really want to do!)
Evolution and growth come from doing things you've never done before, by stretching to new limits and seeking new experiences.
I'm doing this in 2016 by: Making a list of challenges that scare me (that I really want to do) and taking inspired action to make them happen. One of my challenges on my list is actually mentioned at the end of this blog post!

If fear is holding you back from challenging yourself, check out this resource:
In Infinite I share what getting friendly with fear in my own life has looked like and the 3 questions I ask myself when I feel like I'm letting fear hold me back. Plus I also share what getting outside my comfort zone has looked like and how I have done it. If you want to read about my approach to befriending fear and getting outside my comfort zone you can get your free copy here.
 Some rapid-fire ways to make 2016 your best year yet:
Be constantly devoted to learning.
Focus on what's most important to you.
Take super good care of yourself. Here's why.
Choose to surround yourself with people who uplift and inspire you.
Let go of anything that no longer serves you.
Declutter your life. I'm about to do this using this book.
Remember that you always have a choice.
Be devoted to being your best self.
Do something that makes you feel good every day.
Embrace ease and impermanence.
Take small steps towards your dreams every single day.

An important note:
You don't have to wait for a new year to make a change. The truth is there is never going to be a perfect time to make a change or to start working towards what you want.
But if you want to step it up and make a change remember this: Everything changes now if you say so.
I truly believe that if you want to make 2016 your best year yet, you will.
And I hope that this post has given you some useful ideas on how you can go about doing this.
If you've got any awesome ideas on how you're going to make 2016 your best year yet, I'd love to know so feel free to share away in the comments below. And if you enjoyed this post I would be so grateful if you shared it on social media. You can do this easily by pinning the image below or using the buttons at the end of this post. Thank you!
Love & Gratitude,
PS. Full transparency is awesome, so it's important for me to let you know that I am a super proud affiliate for some of the items mentioned in this post that are marked with a * and you can read my affiliate disclaimer here.


Want FREE access to The Infinite Collection?
Enter your details below to get access to The Infinite Collection — a FREE mini library of resources especially for you, including a copy of my eBook Infinite: Take your life to the next level and beyond!
Plus you'll also receive super exclusive content from me a couple of times a month, including personal stories and insights, behind-the-scenes peeks (that I don't share anywhere else!) and lots more.
To join the Infinite Community and get access to the collection (and your free eBook) enter your details here incredible human