June 2, 2017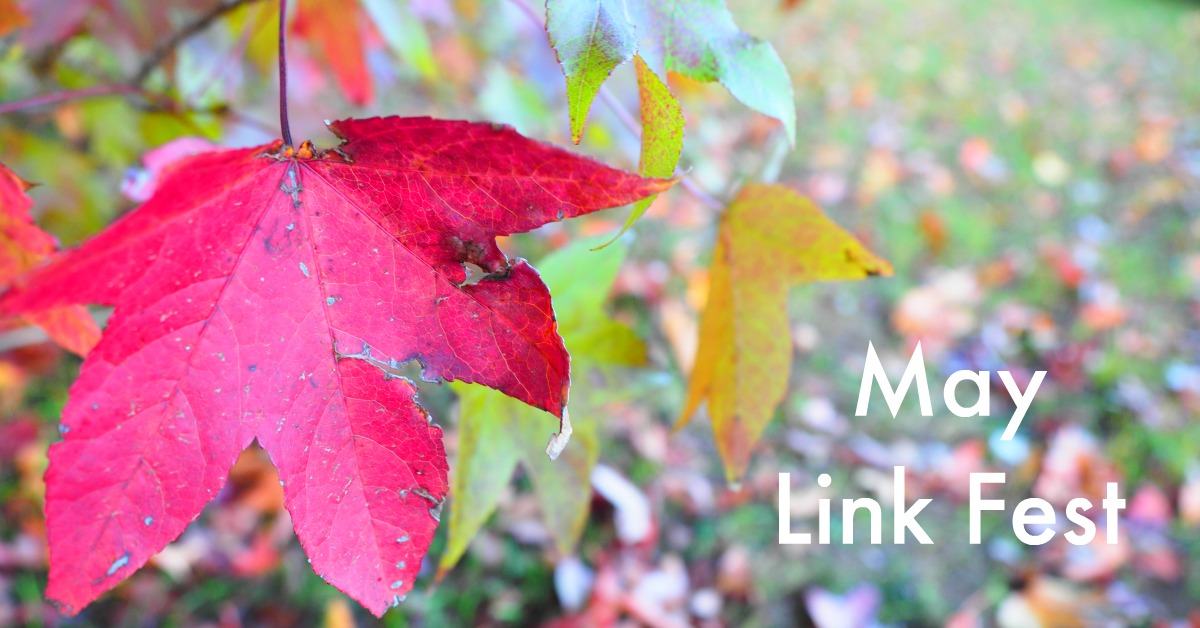 May's Link Fest contains my favourite articles (and other things) I've come across over the past couple of months.
This edition includes: The importance of gratitude rituals, why your life isn't changing, how doing better takes less time than you think, self-help addictions and "input fasts", why everything that's "wrong" with you is actually what makes you amazing, a 10+ year history of practicing gratitude, questions to reflect on your year so far and a whole lot more.
Enjoy!

∞  Why it's important to have a gratitude ritual.
∞  Not sure what to write about? Here's 5 awesome prompts for you.
∞  An awesome read: Everything that's "wrong" with you is what makes you amazing.
∞  An important note on writing about mental illness.
∞  Looking for a mentor? Here's 9 signs to help you find the perfect one for you.
∞  Love this: My Best Advice for Graduates.
∞  What to say when a friend is going through a hard time.
∞  Here's why better probably takes less time than you think.
"Sometimes the difference between 'good enough' and 'way better' is 62 seconds." — Sarah Von Bargen
∞  With The Vampire Diaries final series finishing earlier this year, I enjoyed reminiscing on the 20 best episodes of the show.
∞  How to wind down at night and get better sleep.
∞  Loved this: But I've done EVERYTHING! Have you really?
∞  I loved using these 12 questions to help me reflect on the first quarter of the year.
∞  The reason why your life isn't changing.
∞  An important read: Act like you matter.
∞  Addicted to self-help? Maybe you need an "input fast".
∞  Yes to this: Momentum, not perfection.
∞  Struggling to meditate? Here's some actionable tips on how to overcome your meditation blocks.
∞  How to build self-care into your work day – #2 is my favourite! 😉
∞  Feeling wobbly? This is for you.
∞  Are you blocking your possibilities?
∞  A whole blog post dedicated to chocolate? Your welcome.
∞  Growth, evolution, fear and doing it anyway. Such a great example of what happens when you commit to showing up, taking action and doing the work.
∞  How to create a morning routine that works for you. Plus here's the REAL morning routines of 5 awesome ladies.
∞  Awesome strategies on cultivating resilience.
∞  One of my favourite books of last year was The Year of Yes by Shonda Rhimes and I loved this write up about it.
∞  An important reminder: What is your "dough"?
"As human beings, we slip into mental ruts so easily. We convince ourselves that we "must" make the dough. That it's mandatory. That there's no other option…" — Alexandra Franzen
∞  Feeling tired? Here's 10 ways to recover — and thrive.
∞  A few of my recent favourites: This playlist. This tv series. This book. This book. And this movie.

Recent stuff from me:
∞  At the beginning of the month I hosted a 7 day gratitude photo challenge over on Instagram. It was so fun to share what I was grateful for each day for 7 days and to have others join in during the week using the hashtag as well. I'm feeling really excited to share with you a deeper insight into what my gratitude practice is like, more on this soon! 😉
∞  I got to attend the Beautiful You Inspiration Day in Brisbane last month, and I shared my reflections and takeaways from the day.
∞  I shared a chronology of my gratitude history and the role gratitude has played in my life over the past decade and the why behind creating The 28 Day Gratitude Project.
∞  I also (finally) updated my about page this month you can check that out here if you want to get to know me a little more 🙂
∞  And I'm currently booking in new coaching clients for June and July, if you're interested in working 1:1 with me you can find out everything you need to know here.
A few more things:
∞  I was grateful to be interviewed by Amanda about how I try to make an impact on the world, the biggest challenge I've faced in my business, overcoming 'busyness' and my favourite book at the moment. You can read the full interview here.
∞  I had an article published in Toward Magazine about 4 particular things that I've found useful at helping me navigate setbacks and challenges in my business for but really — they apply to LIFE as well  You can read the article and get your FREE copy of this awesome magazine here.
∞  I've gotten some really lovely feedback about the podcast interview I did on gratitude with Jordanna from The Inspired Table. We talked about the power of personal development books (and Harry Potter — of course!) and more about my gratitude practice and why I believe it can be simple and easy to do. You can listen to the episode here.
Happy Reading!

PS. You might also like: Being judged, mindfulness & showing up.

Want FREE access to The Infinite Collection?
Enter your details below to get access to The Infinite Collection — a FREE (and growing) library of resources to help you get the most out of your one infinite life. There's currently an epic eBook, worksheets, workbooks, audios and more!
Plus you'll also receive super exclusive content from me each week, including personal stories and insights, behind-the-scenes peeks (that I don't share anywhere else!) and lots more.
To get access to The Infinite Collection enter your details here incredible human