April 25, 2017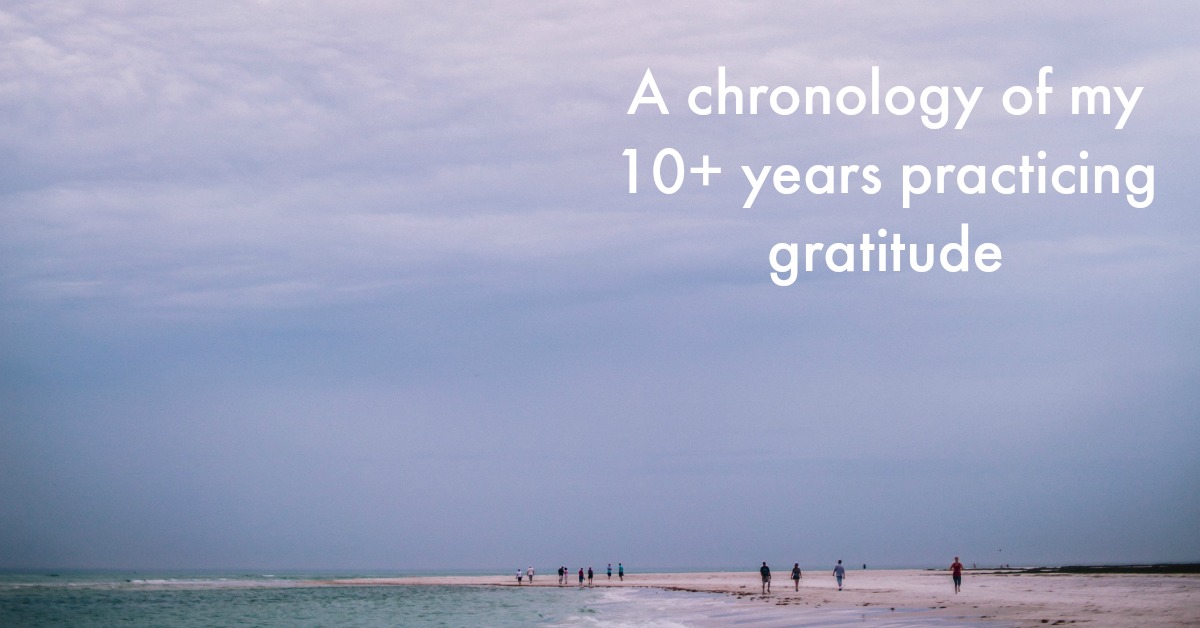 I've been practicing gratitude — with varying levels of devotion — for over a decade now, since I was thirteen years old.
It's now been more than 11 years since I was first introduced to this practice. And during that time I've experience how incredibly powerful this practice can be.
Here's how gratitude has played a role in my life over the past decade and why I'm so passionate about sharing my experience with this simple — but life-changing — practice.
Let's go back to how it all began…
---
2006
It all started with rock…
I'm thirteen and my Dad and I watch the movie 'The Secret' and my mind is blown. I'm especially taken with the idea of being grateful. I want to do that.
Shortly after, my Dad gives me my first Gratitude Rock.
Each day I put my rock in my school uniform pocket along with my favourite lip balm and locker key, and it reminds me to think of something I'm grateful for.
I think it's fun and I like how it makes me feel better and change my perspective when I'm having a not-so-awesome day.
I don't fully realise at the time how powerful this practice is and how much it will influence my happiness over the next decade.
---
2007 – 2010
I dabble in practicing gratitude over the next few years of high school.
I'm not super devoted to it or anything — I just try to do it when I remember.
I lose my Gratitude Rock, so I get a new one.
I start writing down what I'm grateful for. It feels kind of silly at first, but I quickly realise how amazing it makes me feel.
Sometimes when I'm having a bad day I'll stop and write down as many things as I can think of that I'm grateful for, and this always makes me feel better.
As time goes on I start to do it less…
---
2011
I've finished high school and life feels really hard.
I'm not sure what's going on, but all I know is this: I'm not happy.
And I pretty much abandon every personal development and life-improving thing I know, including gratitude.
For a year I don't write down what I'm grateful for, I have no idea where my Gratitude Rock is and I don't even intentionally think grateful thoughts.
---
2012

First half of 2012:
I come back to life a little — then a lot. I start feeling better than I have in a long time.
I feel beyond happy to feel alive and I'm met with a familiar feeling that I haven't felt in a long time: gratitude.
I rediscover my gratitude practice and this time it feels different — and more powerful than ever before.
I start spending more and more time devoting myself to being grateful. I look forward to writing down what I'm grateful for and this practice lights me up more than ever.
Second half of 2012:
I pack up my life and move 230km away from home to go university.
I know that it's going to be challenging because it's very outside my comfort zone, for so many reasons…
I don't know anyone where I'm moving to. I'm going back to studying full-time. And I'm also going to be living on a lot less money than before.
Going into this, I know that I'm going to need something to support me during this time. So I decide — kind of on a whim — that I want to find something I'm grateful for every single day, no matter what.
"Let's just see what happens," I tell myself.
And even though I don't know it at the time… This is one of the best things I've ever done.
---
2013
Nearly every single day for an entire year I've acknowledged something I'm grateful for.
Even when we get rejected from renting house after house and I think I might have to drop out of university because we can't find somewhere to live.
Even when we're driving 580km back and forth and staying in different accommodation every single week because we don't have a house.
Even when my boyfriend is working double shifts as a chef and I'm spending more time alone than I ever have before — and for the first time in my life I truly feel lonely.
Even when I'm studying at university and I feel more stressed than I've ever been in my entire life.
Even when I don't want to, even when I feel like there's nothing to be grateful for — I find a way to find something — anything — that I'm grateful for.
This is when I experience — more than ever — how powerful gratitude can be.
It makes what I have enough — and more. It makes me feel content with my situation — no matter what it is. It brings more joy in my life. It makes me more resilient.
And it pretty much amplifies everything about my life.
Practicing gratitude became lifeline for as I navigated this challenging time in my life — and it continues to beyond that as well.
---
2014
Gratitude is apart of my daily life in a way that's so ingrained that I do it without even thinking about it.
Rarely a day goes by where I don't intentionally practice gratitude in some way.
When I'm having an awesome day, I'm grateful.
And when I'm having a not-so-awesome day, I still turn to gratitude. No matter what happens in my day I go to sleep each night feeling content that I have something to be grateful for.
Practicing gratitude isn't just something on my to-do list — it's something I look forward to every day.
However, I do get a bit bored of doing the same thing every day, so I start to experiment with different methods of practicing gratitude and I let myself have fun with my practice.
When I start my blog in September 2014 I know I want to share how powerful gratitude has been in my life. So one of my very first blog posts is about my tips for creating your own gratitude practice. But there's only so much I can include in one blog post — and there's so much more I want to share. But how?
---
2015
I want to live in a world where people know how they can use gratitude to help them get the most out of their life. I want to share how I've made practicing gratitude an integral part of my life and how it can be simple, easy — and even fun! I want to show people that there is so much more to gratitude than just listing what you're grateful for every day.
This leads to me creating The 28 Day Gratitude Project — and I know that this is my most important work yet.
I run the first round of the project in October. The feedback blows my mind. There's also suggestions for something more and a seed is planted…
---
2016
I run another round of The 28 Day Gratitude Project in February. And I use this round of the project to explore how I can create something that's even more useful and practical to help people get the most out of this project, and to help them put it into action.
I also want to create something to support people in continuing to practice gratitude long after the Project is finished.
My initial idea of creating an eBook companion for the project evolves into something more — and a 61 page digital workbook is created. I launch this digital workbook in October. It contains all my best tips and insights that I've learnt about practicing gratitude over the past 10+ years all in one epic eBook.
I continue to write and share about gratitude (including my experience, learnings and tips) on my blog and on other sites as well.
---
TODAY
Since the very first round of The 28 Day Gratitude Project in October 2015 I've guided 300+ people through experimenting with gratitude for 28 days.
I've experimented with the content, the order, the delivery, etc. and have come to a point where I hand-on-my-heart believe that the Project is simple enough to help you take empowered action — but potent enough for it to leave an impression on you.
I'm so grateful for the way this project has been received and I'm so grateful to be the one to facilitate and guide people through experimenting with gratitude for 28 days. The feedback I continue to receive from this 28 day experiment continues to blow my mind.
Gratitude is still a much-loved regular part of my life. And I still continue to explore and experiment with my own gratitude practice on a daily basis.
Alice Morse Earle said, "Every day may not be good…but there's something good in every day."  For me, practicing gratitude is the way I find, acknowledge and appreciate the good in each and every day. And I hope that it can do this for you too.
Love & Gratitude,

PS. If you're wanting to make gratitude a regular habit in your life, I'd love to invite you to join a very special live round of The 28 Day Gratitude Project. This project will guide you through 28 days of gratitude so you can explore how you can add more gratitude into your life — in a way that works best for you. It includes a digital workbook and daily emails for 28 days to help you make gratitude a regular habit in your life. Plus there's going to be a pop-up Facebook group *just* for this special live round (where I'll be doing live calls in each week!).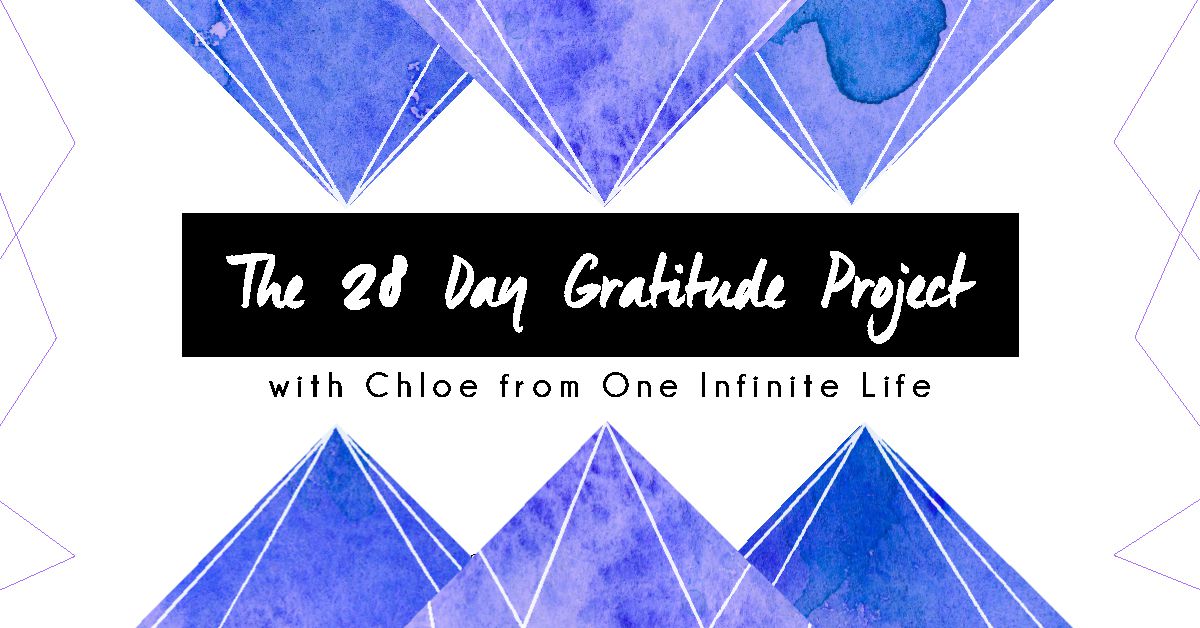 PPS.  I've also got a FREE daily gratitude worksheet to guide you in exploring what you're grateful for in The Infinite Collection. You can access to this worksheet — plus a whole lot more free resources by entering your details in the sign up box below 🙂

Want FREE access to The Infinite Collection?
Enter your details below to get access to The Infinite Collection — a FREE (and growing) library of resources to help you get the most out of your one infinite life. There's currently an epic eBook, worksheets, workbooks, audios and more!
Plus you'll also receive super exclusive content from me each week, including personal stories and insights, behind-the-scenes peeks (that I don't share anywhere else!) and lots more.
To get access to The Infinite Collection and your free gratitude worksheet enter your details here incredible human