March 14, 2015
For this segment of Blogs I'm Digging I'm going to share with you my favourite blogs about blogging.
Ever since I started my blog these sites have been my go-tos for anything blogging related.
From do it yourself tutorials, to effective tips and bucketloads of inspiration – these blogs have got you covered!
Bloggers Bazaar is a "mix of strategies, tools and tips to stand out and create a successful blog on your terms."
Bloggers Bazaar is my go-to for easy-to-follow tutorials, invaluable blogging tips, plus awesome tips for newsletters and social media – which is something I really struggle with.
No matter where you are on you blogging journey Bloggers Bazaar is a great resource that will be of great use to you.
Where to start?
∞  A super awesome (and useful) guide to social media, including great tools and resources.
∞  Creating an email opt-in? Here's how you can make sure your readers love it.
∞  When I was first setting up Mailchimp and learning how to use it, these posts were mega helpful.


Sarah helps "make people and businesses awesome on the internet" and she sure does know her stuff.
In the last 5 years she has developed a huge online following (11,000+ daily readers) without working 12 hour days or being totally consumed by social media.
Sarah uses her own online experience to share easy-to-implement blogging tips and ideas that are simple but super effective (and awesome).
Where to start?
∞  I recently created a free eBook and these tips to grow your list were super useful (and effective!)
∞  Are you making these 4 mistakes that just about everyone online is?
∞  Not sure what to blog about? Here are some unique ideas.


Hayley Richardson (aka The Blog Whisperer) guides "soulful women out of confusion and uncertainty, and into clear communication – with a purpose".
Hayley's blog is a unique blend of "self-connection, served up with strategy and soul" and will help take your blogging to the next level.
Hayley will inspire you to blog authentically, communicate more clearly and make your online home a reflection of your true self.
Where to start?
∞  Don't know what to blog about? Here's how to get your creative juices flowing.
∞  Awesome tips to write newsletters that people will actually read.
∞  Here's how to hit publish – without freaking out.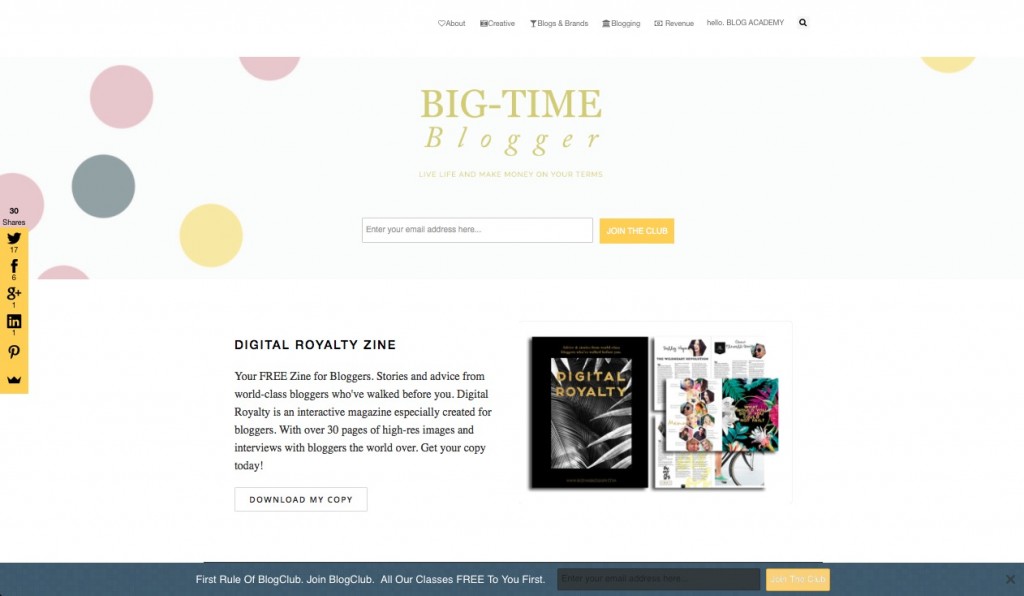 In the last Blogs I'm Digging round-up I featured Alice's awesome health and wellbeing blog The Whole Daily. Now Alice has created a new site to share her incredible blogging knowledge.
Big-Time Blogger helps you "live life and make money on your terms from anywhere in the world you damn well please." Sounds good right?
Big-Time Blogger contains information from creating a blog (and maintaining it), to using your blog as a business – think monetising, generating traffic and marketing. All in a totally transparent, honest, authentic and helpful way.
Where to start?
∞  Alice openly shares the backend of her businesses in her monthly income reports. Super useful if your interested in monetising your online home.
∞  Love this: Respect the Right to Enter your Subscribers Inbox
∞  Super interesting and useful information about email sales conversion rates.


Happy Blog Exploring!
PS. You can find more awesome blog recommendations here.