February 20, 2015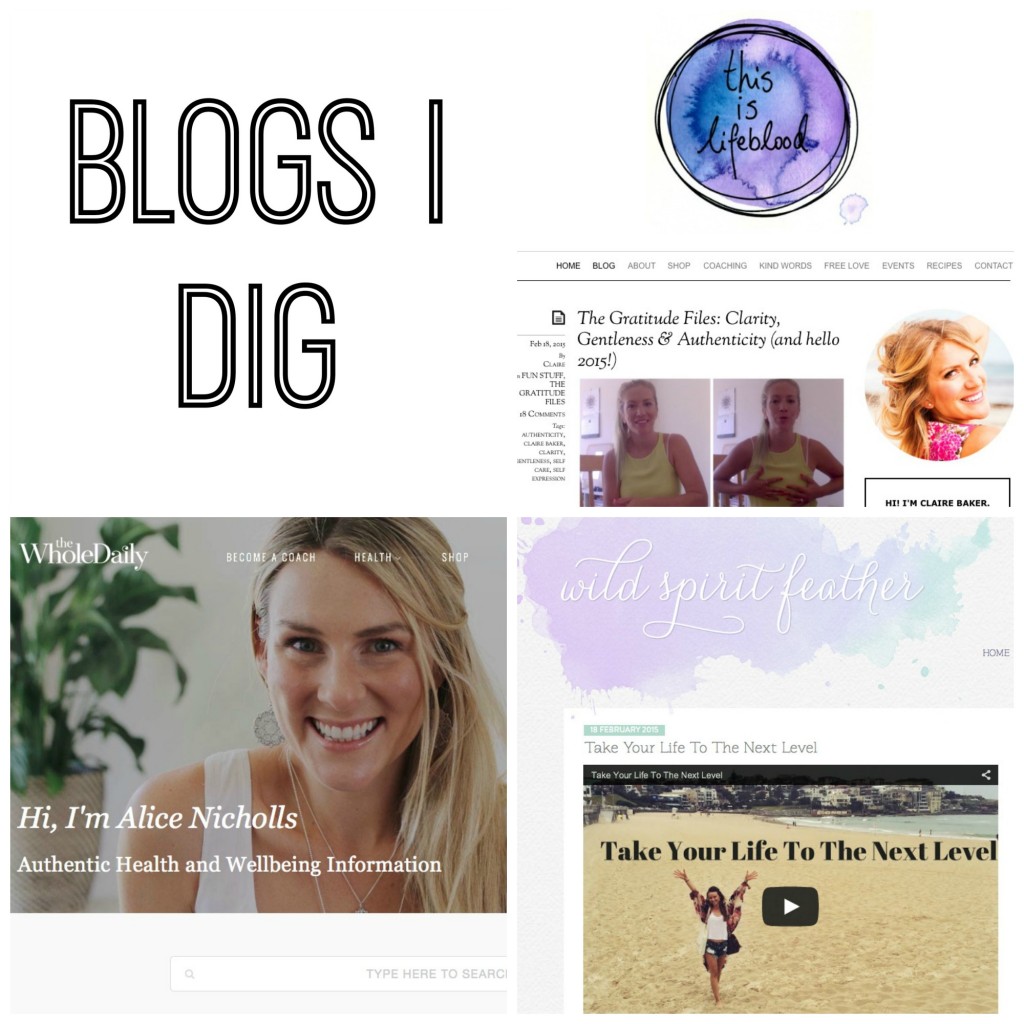 I'm always super excited to share some my favourite blogs with you in my Blogs I'm Digging series.
And today is absolutely no exception as I'm sharing three of my my absolute favourite blogs at the moment, who belong to three women who are incredible and absolutely inspire the pants off me.
Let's dive in!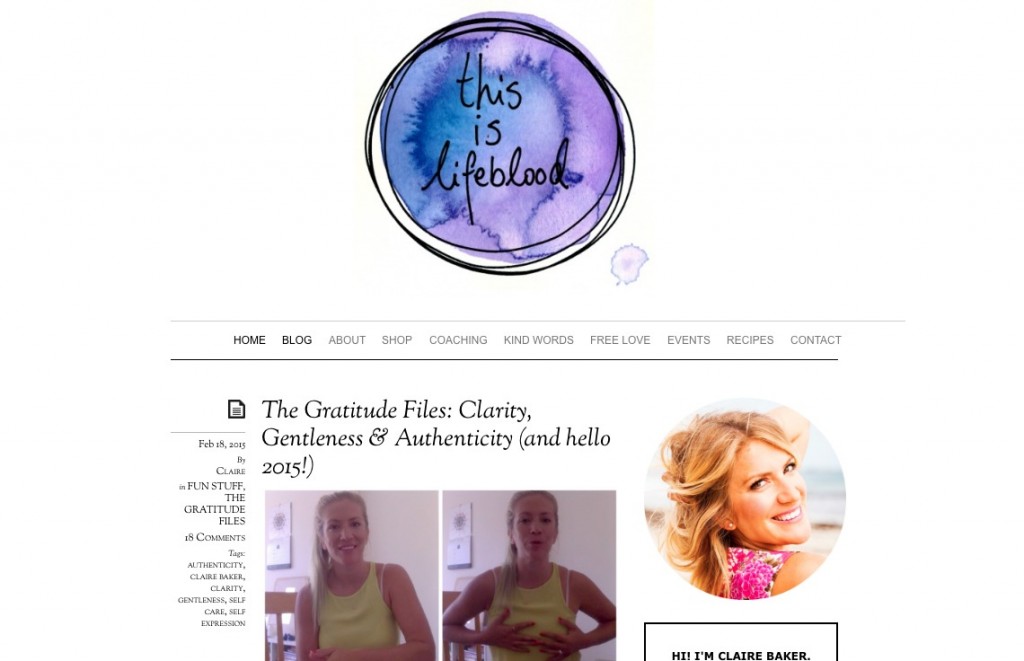 Claire is "your personal advocate for living an energised, playful and heart-centred life" and her blog This Is Lifeblood  is honest, fun, empowering and even a little cheeky – just like Claire herself.
Claire is the creator of the She Is Radiant revolutionary wellness eBooks, which I totally adore. Both her eBooks and her blog will inspire you to start experimenting with what health and lifestyle choices makes you feel good and light you up.
One of the (many) things I love about Claire is that is she is so authentic and real. Even though she is health coach she openly and unapologetically declares that she drinks wine and coffee, eats chocolate and cheese and doesn't exercise or meditate every single day. How empowering! Oh and I did I mention that she also loves Harry Potter!?
Where to start?
∞  My all-time favourite post by Claire: So I'm a health coach.
∞  A powerful and potent reminder that you were born to be real, not to be perfect.
∞  Loved this: Write how (and what) you want to write.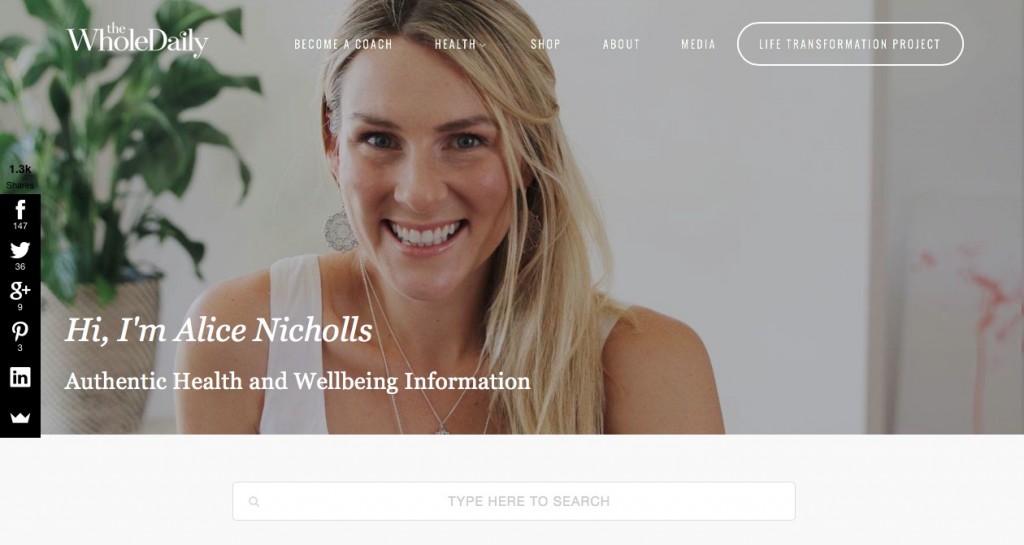 The Whole Daily is an authentic health and wellbeing blog, where you definitely will learn "all sorts of useable information on food, nutrition, body love, healing, conscious living and being kind to your good self."
Not only does The Whole Daily share useful wellbeing information and delicious recipes, but it's creator, Alice is an absolute legend. She is contagiously passionate, insightful and authentic, but also witty and hilarious. Seriously, I find myself giggling every single time I read a blog post or newsletter.
Her recipes real, healthy and also jaw-droopingly delicious in a I-can't-believe-this-is-healthy kinda way. Oh and her recipes have impressed everyone I've ever cooked them for, plus my boyfriend (who is a chef!)
Where to start?
∞  Alice asks herself: What would Sarah Wilson do? and lives accordingly for two weeks. Honest, insightful and so hilarious.
∞  Why fruit is not the enemy.
∞  My current go-to (and favourite) comfort food: healthy mac n cheese.

Soulful. Gentle. Peaceful. Spirited. Uplifting.
Just a few of the words that come to mind when I think of Kristen and her incredible blog: Wild Spirit Feather, where she shares "insights and soul wisdom on holistic health, happiness and the spaces between."
Even though I've never met Kristen in real life, her presence and energy is so incredibly soothing, soulful. Spending time on her site makes me feel calm and at ease. However at the same time Kristen harnesses such graceful power.
Wild Spirit Feather truly is a divine space to honour your mind, body and soul, and I highly recommend heading over and soaking up the incredible ethereal and delightful energy.
Where to start?
∞  I love Kristen's favourites videos, there full of brilliant (and conscious) recommendations, here's her latest one.
∞  Are you seeking more soulful connections in your life? Then you need to watch this.
∞  Loved this: Kristen's journey from party girl to peace seeker.


Now over to your incredible human, what blog are you loving at the moment? Share it with me in the comments below.
Happy blog exploring!
PS. You can find more awesome blog recommendations here.