January 26, 2015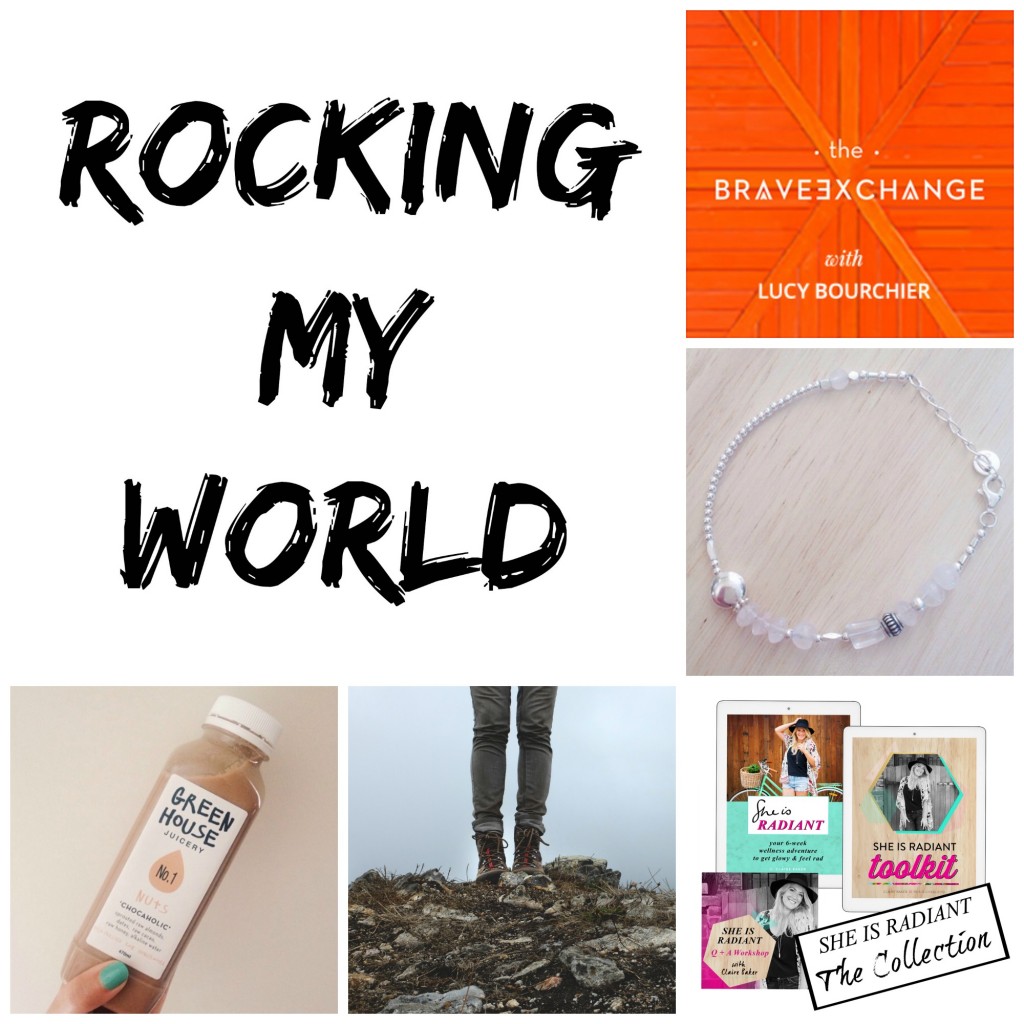 I absolutely love sharing the things I love with other people. So today I present to you a new series on the blog: Rocking My World. This segment will be a round-up of things that I've been loving that I think you will love too.
In this very first edition I'm sharing an inspiring podcast series, a powerful and moving film, a revolutionary wellness eBook series, beautiful intentional jewellery, and a few more super awesome things that I've been loving. So here are…
4 THINGS THAT ARE CURRENTLY ROCKING MY WORLD


Image via Something To Move
I'm constantly on the look out for new podcasts and this month I came across Lucy's incredible podcast series: The Brave Exchange.
The Brave Exchange is an incredibly inspiring podcast series. The conversations are so real, honest, transparent and super juicy! Lucy asks her inspiring guests incredible questions that if I had the chance to speak to them myself I would absolutely want to ask them the same thing.
My absolute favourite episodes so far are: Divine Destruction with Tara Bliss and Side-hustle to Lifestyle Entrepreneur with Claire Baker.


Image via my Instagram
I've already mentioned how much I love Violet Gray Designs. I adore their jewellery and their incredible philosophy.
For Christmas I got an 'I Appreciate You' Rose Quartz bracelet, which I am so in love with.
I wear the bracelet as a reminder to be grateful and appreciative for everything in life. To extend love, compassion and understanding to all those around me. I also wear it to remind me to be radically empathetic to everyone I encounter. I am in love with Violet Gray jewellery and I will definitely be adding more intentional pieces to my collection.


The movie: Wild
Wild by Cheryl Strayed is one of my all time favourite books. I was beyond excited when I found out it was going to be transformed into movie. But I was a little nervous too, as I always am when a book I hold in such high regard is turned into a movie.
I thought that the movie was amazing. Reese Witherspoon was absolutely incredible as Cheryl. I loved that the movie stayed quite true to the book. The cinematography was absolutely beautiful, the natural sceneries were amazing. Wild is raw, honest, intense, redemptive and transformative. If you enjoyed the book, I highly recommend checking out the film.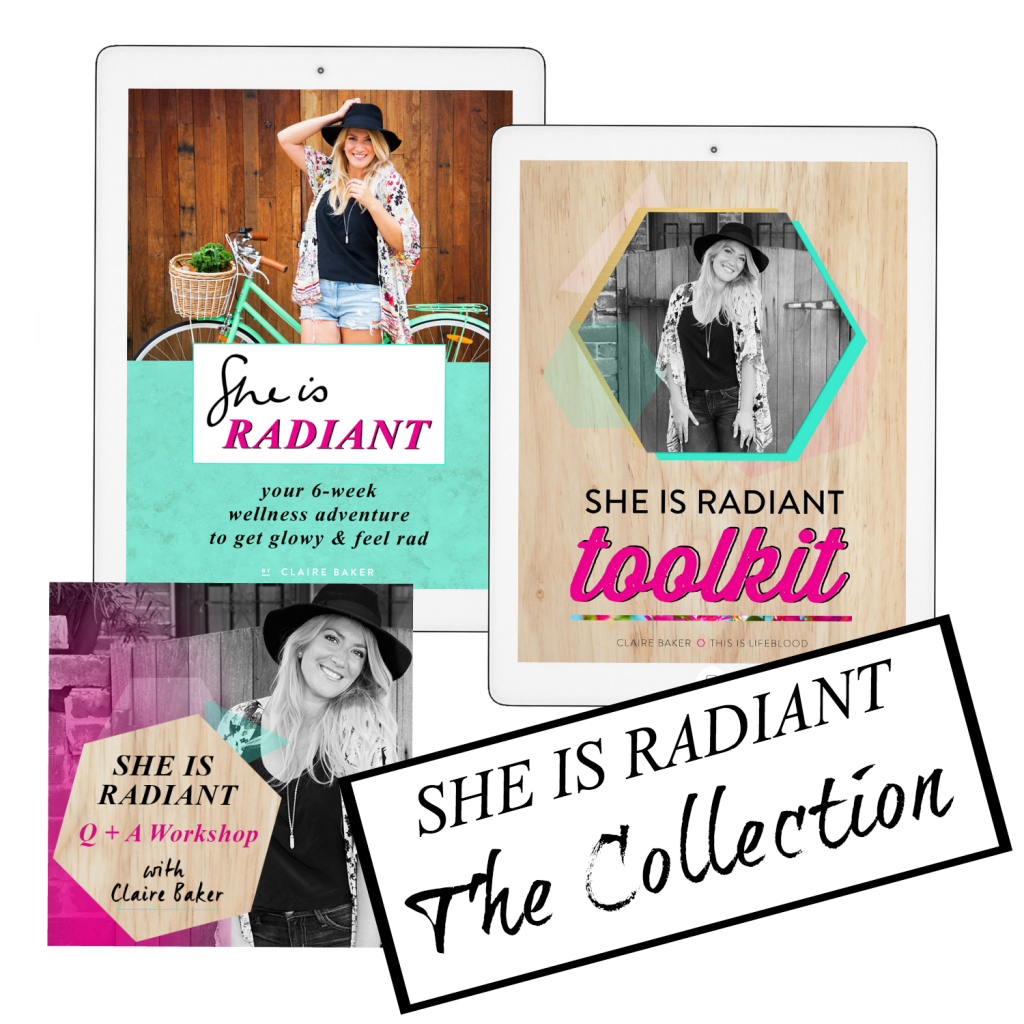 Image via This Is Lifeblood
I must of been living under a rock when Claire released She is Radiant, but never fear because this month I finally read (well let's be honest devoured) both revolutionary wellness eBooks.
What I love about the She Is Radiant eBooks is that it is so much more than just about making healthy food choices. Claire covers a whole lot of things like being mindful and creative, self-care practices and so much more. There is a real focus on wellness as a lifestyle. And I never thought reading a health eBook could be so fun, but seriously they are super fun and even a little cheeky!
She is Radiant really is the ultimate guide to honouring your uniqueness. The eBooks will inspire you to start experimenting with what food and lifestyle choices make you feel good and light you up. Trust me, your health (and life) will never be the same again…


A few more things that I've been loving…
Image via my Instagram


Green house Juicery cold-pressed juice and nut milks are AWESOME. I don't drink regular milk but when I was younger I absolutely loved chocolate big Ms. In my opinion the Chocoholic nut milk is better than regular chocolate milk, and it's made from gorgeous natural ingredients like almonds, dates, cacao and honey. It's so so good! Oh and they also make awesome green juices as well (my favourite is Popeye's Lunch).
I am so incredibly grateful for the awesome response to my free eBook I launched last week, so thank you! If you haven't already, you can get a copy by entering your details at the bottom of this post.
Between uni assignments and launching my free eBook I've been spending way too much time on the computer working. So lately I have been reading a lot less non-fiction and more light easy-to-read fiction books, think stories about young love, vampires, dystopian societies and more. It's been really refreshing and fun. The standout was Eleanor & Park by Rainbow Rowell – I absolutely loved it and read it in one sitting.
This month I was honoured to be interviewed on In Our Stillness in the The Women of Wellness series. It was a fun interview and I answered questions about what wellness means to me and how I make it a priority in my life, what makes me feel alive (and bursting-out-of-the-seams excited), how I practice presence, what song I like to have crazy one person dance parties to and much more. You can check out the full interview here.
So that's it from me today.
I would love to hear from you in the comments below about what has been rocking your world lately!
PS. Keep an eye out on the blog later this week as I'm sharing some life-changing lessons I learnt from Wild.


 Join the One Infinite Life tribe and receive a special gift!
Enter your details below to receive newsletter-only updates, insights and inspiration, plus get a FREE copy of my super inspirational eBook Infinite: Take your life to the next level and beyond!