February 2, 2015
Another round of Blogs I'm Digging is here, featuring 3 incredible women who have super inspiring online spaces.
Enjoy!
---
The moment I came across Lucy's blog Something To Move I was captivated. Lucy is super inspiring, her writing is captivating, and the posts she shares are so beautifully vulnerable.
Not only does Lucy have an awesome blog, she also has an inspiring podcast series called The Brave Exchange, which I love. The conversations she has are so real, honest, transparent and super juicy!
Lucy says she is here to "stamp my clog on the flapping canvas of this life, and own it" – and to that I say HELL YES!
Where to start?
∞   Here are 5 amazing life-changing lessons.
∞  I loved this post: Retracting the claws – releasing perfectionism.
∞   My favourite episodes from The Brave Exchange podcast series have been Divine Destruction with Tara Bliss and Side-hustle to Lifestyle Entrepreneur with Claire Baker. Super inspiring.
---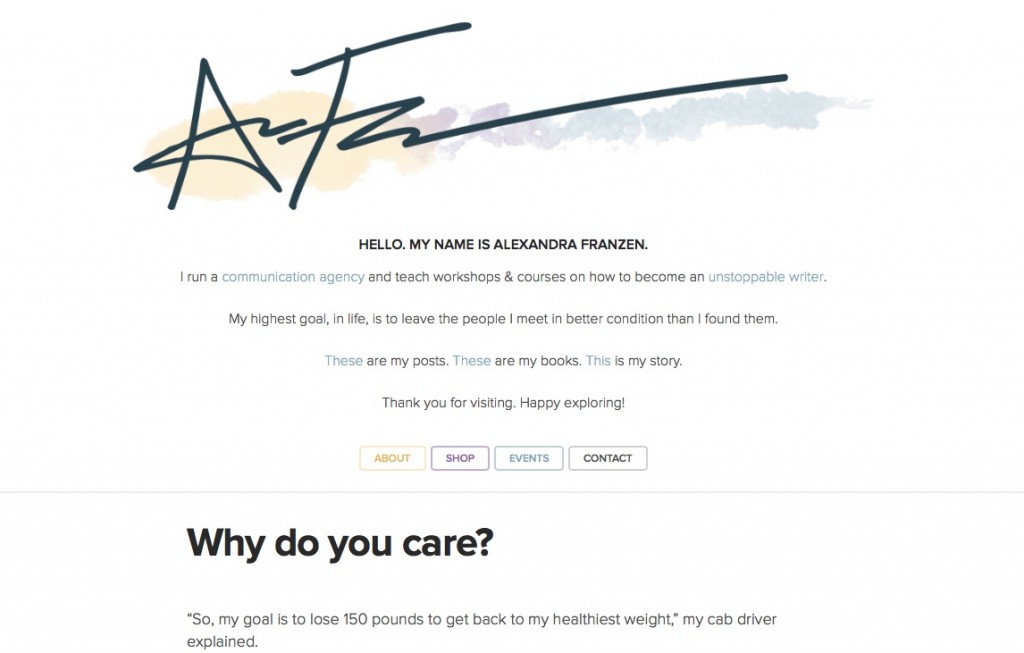 Alexandra Franzen is a prolific wordsmith and one super incredible human, and her life goal is "to leave the people I meet in better condition than I found them." which I think is so amazing!
I first came across Alex in this interview and proceeded to her website where I devoured post after post until I my eyes hurt and I realised I forgot to eat lunch.
But that's exactly what Alex's blog does to me. It reels me in (and makes me forget to eat!) It inspires me to communicate better, to handwrite more notes to people, to be kinder and so much more…
I'm always blown away by her content. It's potent, generous, and always so useful.
Where to start?
∞   Loved these 100 incredible questions to spark conversation & connection.
∞   Here are 50 ways to to be ridiculously generous.
∞   Totally digged this: 50 ways to say "you're awesome".
∞  Or just head over here where you can browse through all her posts. Every single one is pure gold.
---
In Our Stillness is all about "exploring the place where health, wellness and spirituality collide." It's about getting the most out of life, being present and appreciative, and living your life on your own terms – all things which I am super passionate about!
Erin's wellness philosophy will inspire you to ditch the diet (and the scales), and instead emphasises self-love, meditation and doing what makes you feel good – which I just find totally empowering!
In Our Stillness has fast become one of my go-to blogs so spark some inspiration back into my life.
Where to start?
∞   Ease is one of my core desire feelings so I totally digged this: living with ease.
∞  Here are some incredible life-changing lessons from Gabrielle Bernstein's Miracles Now workshop.
∞   My interview in The Women of Wellness series, was so much fun to do.
---
Happy Exploring you amazing human!
PS. If you want more awesome blog recommendations you can check out the other Blog I'm Digging posts.