March 4, 2019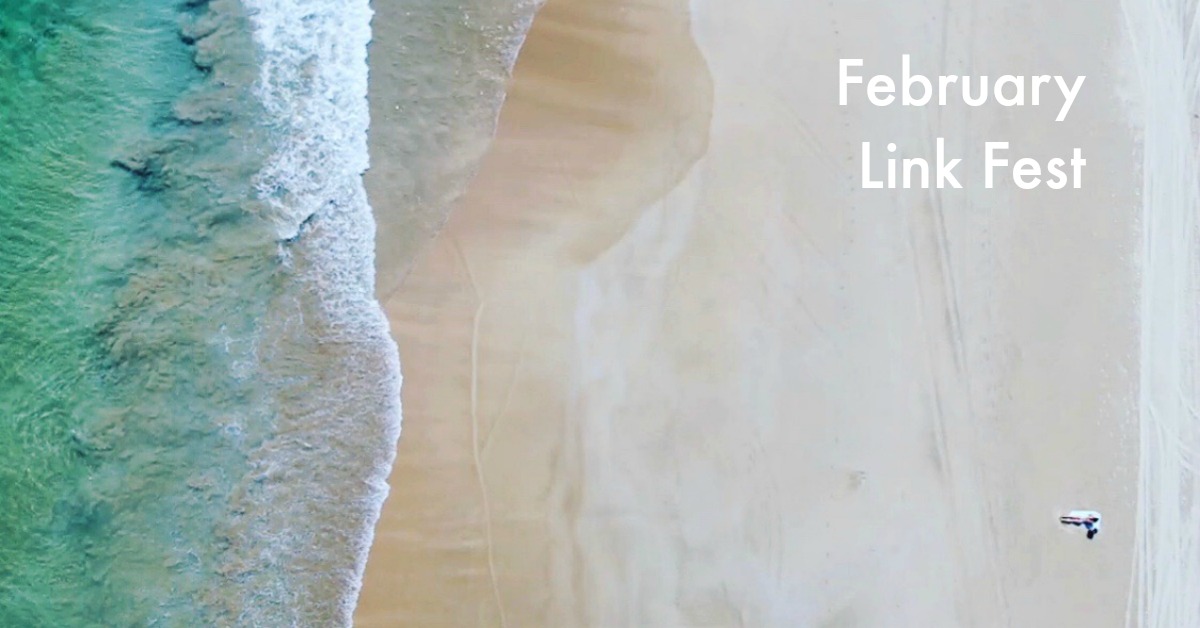 It's time for the first Link Fest of 2019!
This edition includes articles on planting seeds for future self, asking for help, turning hobbies into businesses (or not!), what it's really like to work from home and a couple of articles I haven't been able to stop thinking about ever since I read them.
Enjoy!

∞  Great read: Breaking free from patriarchal perfection.
∞  Some thoughts on rituals over resolutions.
∞  I agree with this: Creativity = Quality > Quantity.
∞  Loved this: Why personal development is not always unicorns and rainbows.
∞  On planting seeds for your future self. "We'd never plant a seed and expect a flower the next day. Plant seeds for Future You and then step back, have patience, and give them time to grow."
∞  Important words on asking for help.
∞  Some great tips on how to meditate better.
∞  The secret to getting what you want.
∞  I loved this honest piece from my friend Sophie on how (and why) she transitioned out of her full-time business. "I forgot that my life is the biggest creation that I will ever make."
∞  Gentle ways to overcome the biggest creative block we all face.
∞  This article by Alexandra Franzen hit my right in the heart when I read it. "Action is the medicine that brings you back to life." And this one did too.
∞  The modern trap of turning hobbies into hustles.
∞  I could so relate to this article on what it's REALLY like working from home.
∞  I'm currently obsessed with this new podcast.
∞  I'm so excited that my friend Rachael has released her new book The Mindful Kind out into the world this month.
∞  If you're looking for a new job, wanting to develop or career, or wanting to start a side-hustle, I highly recommend checking out this site.
∞  A reminder that there's always a simpler way.
∞  This was a great article on travel anxiety.
∞  On being our best for each other, even on the good days.
∞  How do you know when you're ready to start a new habit?
∞  I've been loving using this sacred business map so far this year.
∞  Want to know how I batch my gratitude? Find out here.
∞  This was the best book I read in February.
∞  Interesting in honouring and not appropriating yoga? Check out this free online series.
∞  This month I attended an Inspired Hike, which was such a unique experience of connection with ourselves, nature and each other and just a really fun was to spend a Sunday morning! You can find out all the details on future hikes on the Mornington Peninsula here.
∞  Are you wanting to become a life coach this year? Check out this AMAZING offer from the training I wholeheartedly recommend. You can also find out how I can support you as you train to become a coach here.
Happy Reading!

PS. You might also like: A round-up of my most popular posts for 2018.

Want FREE access to The Infinite Collection?
Enter your details below to get access to The Infinite Collection — a FREE (and growing) library of resources to help you get the most out of your one infinite life. It's chock full of things I've made for you, including: the Infinite eBook, an online class, lots of worksheets, workbooks, audios and more!
Plus you'll receive personal emails from me a couple of times a month(ish) where I share personal insights, stories and behind-the-scenes happenings (that I don't share anywhere else!). It's my ultimate aim is that these emails are useful to you and can make your day a little brighter or better than it was before. Sound good to you? You can join the community and get access to The Infinite Collection by entering your details below!