April 22, 2015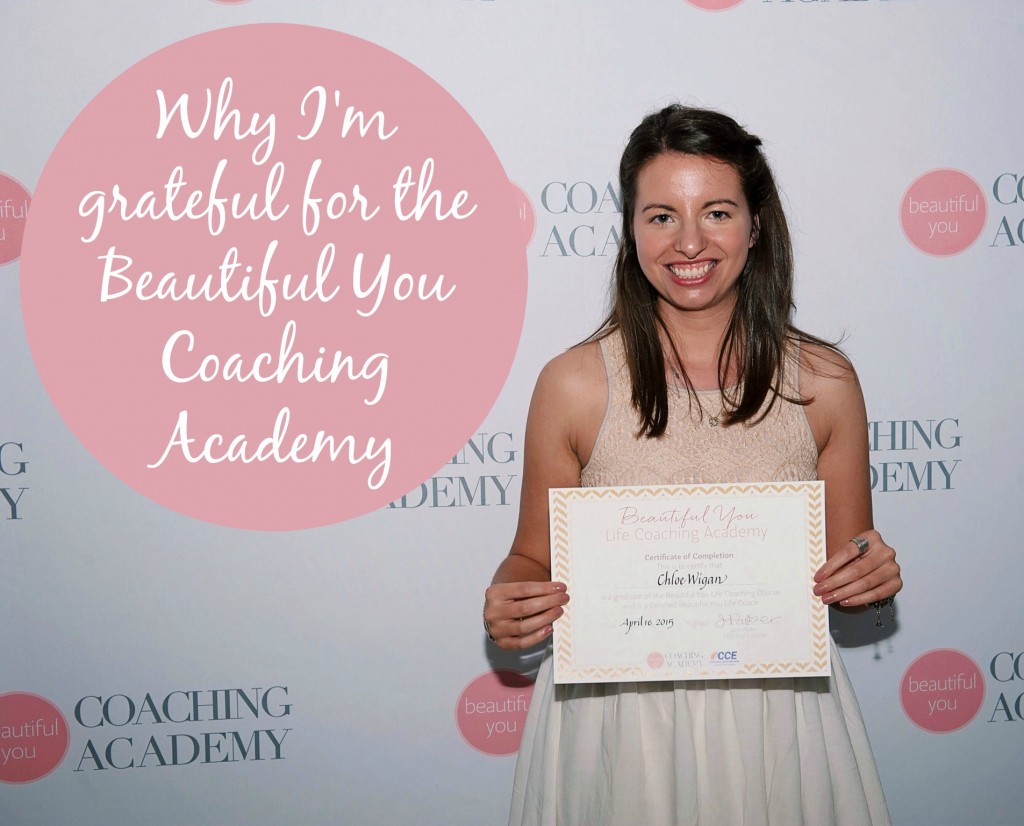 Last Friday I graduated and officially became a life coach.
And my amazing journey with the Beautiful You Coaching Academy ended. But I know that this really is only the beginning.
To be honest there aren't adequate words to describe how incredibly grateful I am for this incredible experience, but today I am going to do the best I can…


Training with the Beautiful You Coaching Academy has honestly been one of the most incredible experiences of my life.
I had come across several other life coaching courses before and none of them felt right to me.
The moment I came across this life coaching course every single atom in my body knew that this was the right course for me and I knew for sure that I was going to enrol in it.
I am so grateful I followed that feeling because the course truly was a perfect match for me and I am so grateful that I enrolled in it.
I know for sure that I will look back on my life and see this as one of the best decisions I've ever made.
I've learnt…
∞  How to be an incredible life coach.
∞  How to support people to achieve their dreams and grow as a person.
∞  How to have an awesome life coaching business.
But truth be told, this is so much more than just a life coaching course.
The unexpected things that happened were…
∞  I have learnt more about myself in the past 6 months than I have in my whole entire life. This course amped my self-development up to the next level.
∞  I now feel ready to work with some incredible humans as a life coach.
∞  I have overcome the limiting belief that I am not enough, which has been holding me back from becoming a life coach.
∞  I have realised that I am not too young to help people achieve their dreams – this is also something that has been holding me back from becoming a life coach.
∞  I have become a better daughter, sister, girlfriend, friend and just a better human in general.
I am so grateful that this course taught me how to be the best life coach I can be, but has also helped me become the best version of myself possible.


Connection
Connection is one of my core desired feelings and unexpectedly this course has cultivated such a deep sense of connection and belonging for me.
I have met some incredible like-minded humans – who are truly some of the most inspiring people I have ever met.
On both our in-person training days I was in absolute awe as I looked around the room, as I have never been surrounding by so many incredible, inspiring, game-changing humans before.
I have made such beautiful friendships, which I am so grateful for.
And I feel so supported by the other trainees that it truly feel like I could do anything.
I feel so grateful and proud when I think of how many people's lives are going to be transformed because of my fellow trainees.
I am also so grateful to have been paired with my amazing coaching partner, Janelle, who is one of the most divine and inspiring humans I have ever met. I am so grateful for her support and friendship throughout the past 6 months.


Julie
Julie is one of the most amazing humans I have ever met.
She is so generous, loving, supportive and beams love, authenticity and her truth.
Being in her presence is like being embraced by the most loving hug ever (plus she gives the best hugs ever!)
When I think of Julie I automatically think and feel love, she truly is love in a human form.
I am so grateful that I got the opportunity learn from her and be apart of her amazing course. Words cannot even cut it.


There truly aren't life coaching courses in existence quite like this one – and I am forever grateful for this one.
If you have a dream to become a life coach and transform people's lives I truly would recommend this course.
You can read my official review about the Beautiful You Coaching Academy here (plus I've got a special offer for future life coaches!).
Love & Gratitude,
PS. You might also enjoy: How to add more gratitude into your life.
PPS. I've also got a FREE daily gratitude worksheet to guide you in exploring what you're grateful for in The Infinite Collection. You can access to this worksheet — plus a whole lot of other resources by entering your details in the sign up box below 🙂

Want FREE access to The Infinite Collection?
Enter your details below to get access to The Infinite Collection — a FREE (and growing) library of resources to help you get the most out of your one infinite life. There's currently an epic eBook, worksheets, workbooks, audios and more!
Plus you'll also receive super exclusive content from me each week, including personal stories and insights, behind-the-scenes peeks (that I don't share anywhere else!) and lots more.
To get access to The Infinite Collection and your free gratitude worksheet enter your details here incredible human