October 13, 2016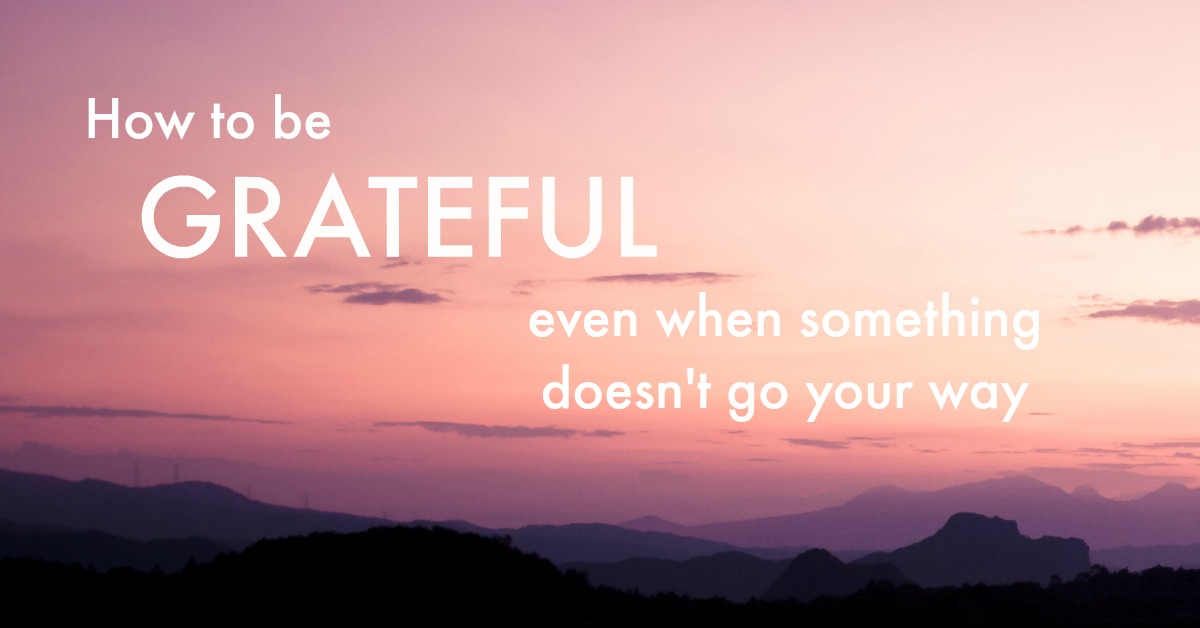 We don't always get what we want. (Or what we think we want.)
Things don't always go the way we want them to — or the way we hoped they would.
We're going to fail, get rejected, make mistakes, mess things up, disappoint ourselves (and others) — it's inevitable.
But there's one thing I use to help me navigate whatever I've been dealt — even when it doesn't go my way — and that is GRATITUDE.
I believe that gratitude can be really powerful to shift your state, and to help you see things differently. It can help you navigate the ups and downs of life and to help you move on when something doesn't go your way.
As Kate Northrup says "The more we embrace the here and now and find ways to appreciate it, and perhaps even be grateful for it, the more power we have to move forward." 
So maybe you've failed, or got rejected from something, or made a mistake and messed something up, or maybe it just hasn't gone the way wanted (or thought it would)
Here are 6 questions you can ask yourself to help you explore how you can find a way to be grateful — even when something doesn't go your way…
1. What did I learn from this experience?
2. What am I gaining from this experience?
3. What can I take away from it moving forward?
4. How can I see this experience differently?
5. In a year (or 2 years, or 5 years, or 10 years) what will you be able to take away from this experience and what will I appreciate about it then?
6. If this experience is something I don't want more of — what has it taught me about what I DO want more of?

I've used these questions to help me navigate so many things such as:
When my boyfriend and I kept getting rejected when applying for rental houses when I moved away to go to university.
When I couldn't get into summer subjects because I didn't realise that they would need so much time to process my applications.
And more recently, when I found out I couldn't volunteer at one of the mental health organisations I really wanted to.
I find that exploring how I can be grateful for things — even when they don't go the way I want to — helps me to shift my perspective, to trust that things will work out anyway, to find something to take away from the situation and to help me move forward.
And I hope that these questions can help you as much as they help me navigate things when they don't go the way I want to.

WANT TO ADD MORE GRATITUDE INTO YOUR LIFE?
If you're wanting to add more gratitude into your life you might like to check out 
The 28 Day Gratitude Project
. This self-guided project will guide you through 28 days of gratitude so you can explore how you can add more gratitude into your life — in a way that works best for you! It includes daily emails, a digital gratitude guide (and workbook) and on-going gratitude guidance and support.
I'd love to guide you through 28 days of gratitude experimenting!

I hope gratitude — and these questions — can help you to explore being grateful for the things that don't worked out the way you hoped.
And I'll leave you with these wise words from Danielle LaPorte:
"You can't always choose what happens to you, but you can always choose how you feel about it." 
Love & Gratitude,

PS. I've also got a FREE daily gratitude worksheet to guide you in exploring what you're grateful for in The Infinite Collection. You can access to this worksheet — plus a whole lot of other resources by entering your details in the sign up box below 🙂

Want FREE access to The Infinite Collection?
Enter your details below to get access to The Infinite Collection — a FREE (and growing) library of resources to help you get the most out of your one infinite life. There's currently an epic eBook, worksheets, workbooks, audios and more!
Plus you'll also receive super exclusive content from me each week, including personal stories and insights, behind-the-scenes peeks (that I don't share anywhere else!) and lots more.
To get access to The Infinite Collection and your free gratitude worksheet enter your details here incredible human