January 28, 2015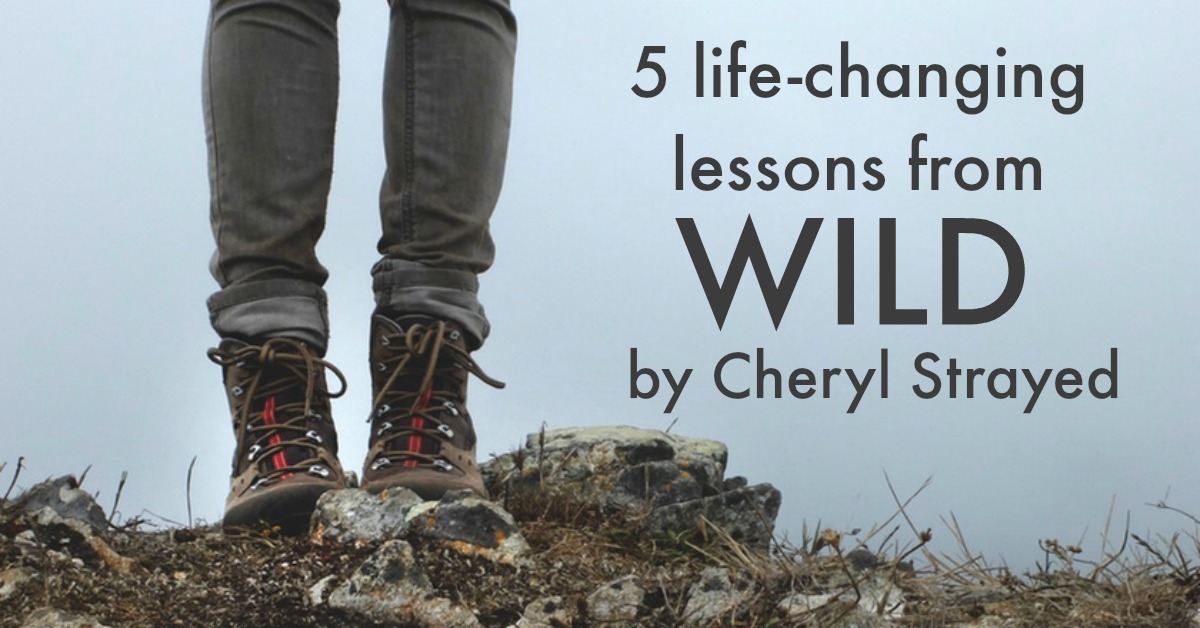 Wild: A Journey from Lost to Found is a memoir of a 26 year old woman – Cheryl Strayed – who embarks on an intense and healing 1000+ mile solo hike with no hiking experience or training.
The story follows Cheryl's challenging journey along the Pacific Crest Trail as she reflects on the events that had led her there: her mother had dying 4 years earlier, her family falling apart, using heroin, and her marriage breaking down.
Cheryl's story is brutally honest and completely raw. Her journey to self-discovery entails unimaginable grief and brave redemption. It's an extraordinary read (and so compelling that I couldn't put it down) and now also an amazing movie – with absolutely incredible cinematography.
This story has stayed with me, and I've learnt so many amazing things from her journey on the PCT. Here's my 5 favourite lessons I've taken away from Wild and Cheryl's inspiring journey.


5 LIFE-CHANGING LESSONS I LEARNT FROM WILD BY CHERYL STRAYED:
1. Everything that has ever happened to you has led you to this very moment.
This was such a profound realisation for Cheryl during her hike. It also became a profound realisation for me the first time I read Wild. It made me wonder the same thing as Cheryl: what if every single thing that had ever happened to me had got me to where I was right now? Even the things I considered to be 'bad'? What if it all got me to where I am today? Like Cheryl, I realised that if I could go back in time and do everything again — I wouldn't do anything differently.
2. Learn from your mistakes.
We are all imperfect humans. We all make mistakes. We all do things that we shouldn't do. And you know what? That's totally okay. What if every time you made a "mistake" you accepted that it's already done? You can't change what has happened in the past, all you can do is accept it, learn from it and move on. Cheryl's story is a powerful example of learning from past experiences — even the bad ones.
3. Forgive.
Echoing what I have already said above you can't change what has already happened in the past. You can't change what you've done, who's hurt you, or who you've hurt. You can't erase your mistakes. All you can do is forgive and move on. Forgiving yourself. Forgive others. Cheryl's story illustrates that forgiveness is healing and empowering.
4. To move forward you need to deal with fear.
On the first night of her hike Cheryl has to camp out in the wilderness alone and is scared (I mean who wouldn't be!?) She realises that if she gives into the fear now it would doom her whole journey. I think the same is true of life. If you give into fear it will keep you from moving forward towards the life you want. Cheryl's story showed me that you need to deal with fear in order to get you where you want to go.
5. You reach your goals by moving in the direction of your destination.
Cheryl's journey to complete a 1000+ mile hike was challenging, but she got there in the end by constantly moving in the direction she wanted to go. Essentially she reached her destination by putting one foot in front of the other — time and time again. By taking one step at a time, she eventually made it to where she wanted to go.


Now I would love to hear from you: Have you read Wild or seen the movie? What did you think of it? What lessons did you takeaway from this incredible story?
PS. You might also like: 5 books that changed my life + 8 lessons we can takeaway from The Secret Life of Walter Mitty.


Want FREE access to The Infinite Collection?
Enter your details below to get access to The Infinite Collection — a FREE mini library of resources especially for you, including a copy of my eBook Infinite: Take your life to the next level and beyond!
Plus you'll also receive super exclusive content from me a couple of times a month, including personal stories and insights, behind-the-scenes peeks (that I don't share anywhere else!) and lots more.
To join the Infinite Community and get access to the collection (and your free eBook) enter your details here incredible human