July 23, 2017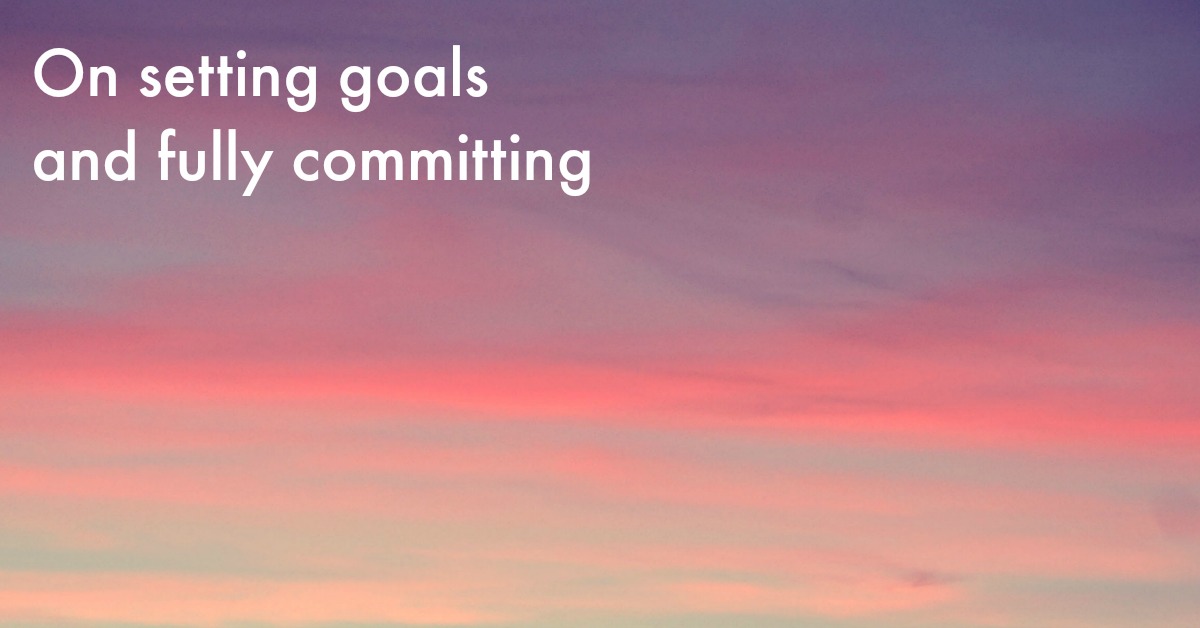 One year ago I did something that's been super powerful for me over the past 12 months of my life.
I decided to set a goal about something I'd been putting off for a long time and FULLY COMMIT myself to working towards it.
Doing this has helped me to move forward more than ever before and I've made more progress with this goal in the past 12 months than I did for the 7 years before that (crazy I know!).

I know this sounds simple, but looking back I can see how powerful doing this has been.
Just over a year ago now I set a goal to feel comfortable and confident driving and get my drivers licence. (You can read more about the backstory on this here if you'd like to.)
This was something I had been putting off for seven years… I kept telling myself that I would make it happen "some day" — but that day never came.
That all changed one year ago… When I decided to set a goal and fully commit myself to it for however long it takes me.
Doing this has meant I've actually started taking action towards this goal more than ever before.
And doing this has meant I'm actually closer than I've ever been to achieving it.
Now one year later I… Have my own car and I drive whenever I can (practically everyday!), I've done countless driving lessons with an instructor, and I feel more comfortable driving than ever before (even though I don't exactly like it). I've also passed the hazards perception test and I'm now working towards getting ready for my actual driving test!
Over a year ago I couldn't even imagine that this would be my reality right now. I couldn't possibly imagine feeling how I do now about driving. And if you would of told me that in a year's time I would be doing what I'm doing now, I wouldn't of believed you. Plus this time last year I actually had no idea how to drive at all! 😉
But that's the power of setting a goal and fully committing yourself to it.
I know it's simple, but over the past year I've moved forward with this more than ever before – and it all began because I set a goal and fully committed to it.
So if there something you want that you just aren't making it happen right now, here's a couple of questions for you to ponder:
What do you think would happen for you if you decided to set a goal and FULLY COMMIT yourself to it?
Where would you be this time next year if you did?
I recently shared this story in an online class I hosted called 'So you haven't achieved your goal. Now what?' 
In the online class I share:
+  Why you're not a failure — even if you haven't achieved what you wanted.
+  Three specific things that have (and continue to) help me move from feeling discouraged and unmotivated about my goals — to getting back into action again!
+  Stories from my own life (that I've never shared anywhere before) about some struggles I've had working towards some of my goals and what has helped me to get back into action.
+  Answers to the most common questions that were submitted for this topic such as: "What are some good steps to take towards motivating yourself?" "How I can stop putting myself down every time I don't achieve my goal?"
This class is for you if… You're feeling discouraged and unmotivated with working towards what you want — and you want to feel empowered to get back into action again.
You can get access to this 50 minute class for FREE by entering your details below.
You'll also get access to The Infinite Collection — an entire library or free resources (think: mini workbooks, an eBook, worksheets, audios and more!).
It is my ultimate hope that this class will help overcome feeling disappointed and discouraged about your goals and help you to get back into taking empowered action again.

PS. If you're currently feeling discouraged or unmotivated about working towards what you want and you're finding it hard to take action and move forward — here's everything you need to know about how I can support you with this 🙂
PPS. If you're wanting to set yourself a super empowering goal you might like to read this.