August 20, 2015
I'm currently obsessed with podcasts.
And at the moment I listen to podcasts pretty much every day.
I listen to them instead of watching TV, or when I go for a walk, or while I'm in the car or on public transport, when doing stuff around the house (like cleaning or cooking) or when I'm working on the computer.
I find them to be entertaining, as well as inspiring and useful.
So if you're looking for some inspiring podcasts to listen to, here are my picks…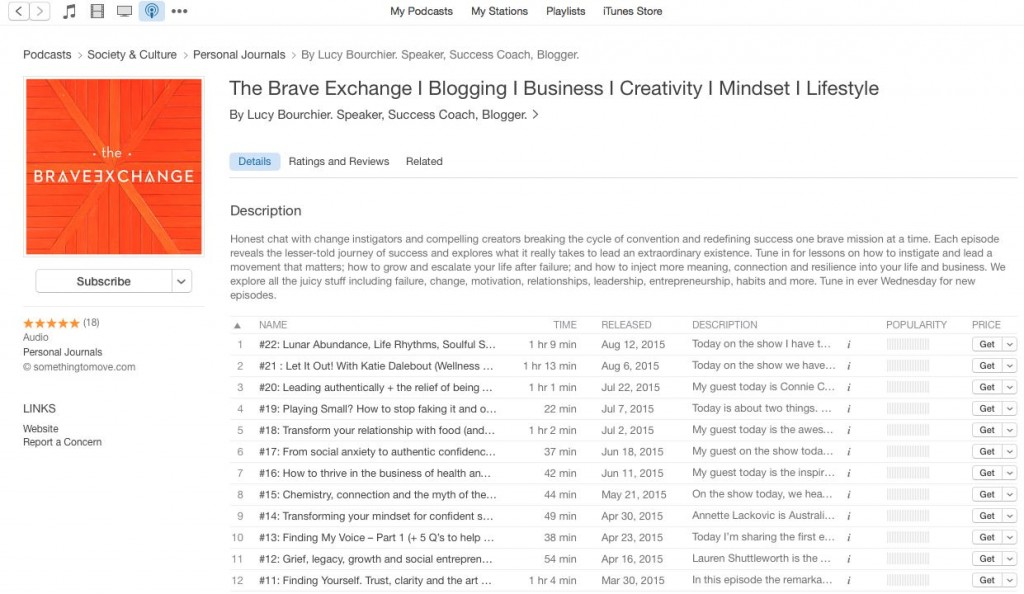 "Honest chat with change instigators and compelling creators breaking the cycle of convention and redefining success one brave mission at a time. Each episode reveals the lesser-told journey of success and explores what it really takes to lead an extraordinary existence. Tune in for lessons on how to instigate an lead a movement that matters; how to grow and escalate your life after failure; and how to inject more meaning, connection and resilience into your life and business. We explore all the juicy stuff including failure, change, motivation, relationships, leadership, entrepreneurship, habits and more."
This is my go-to podcast when I want to feel inspired. Think super juicy conversations that are so real, honest and transparent and Lucy asks her guests some really incredible questions. I tend to write a heaps of notes in my phone when listening to this podcast as the episodes are always super insightful.
Where to start: Divine Destruction with Tara Bliss or Assassins of Creativity (+ unleashing your best work everyday) with Todd Henry.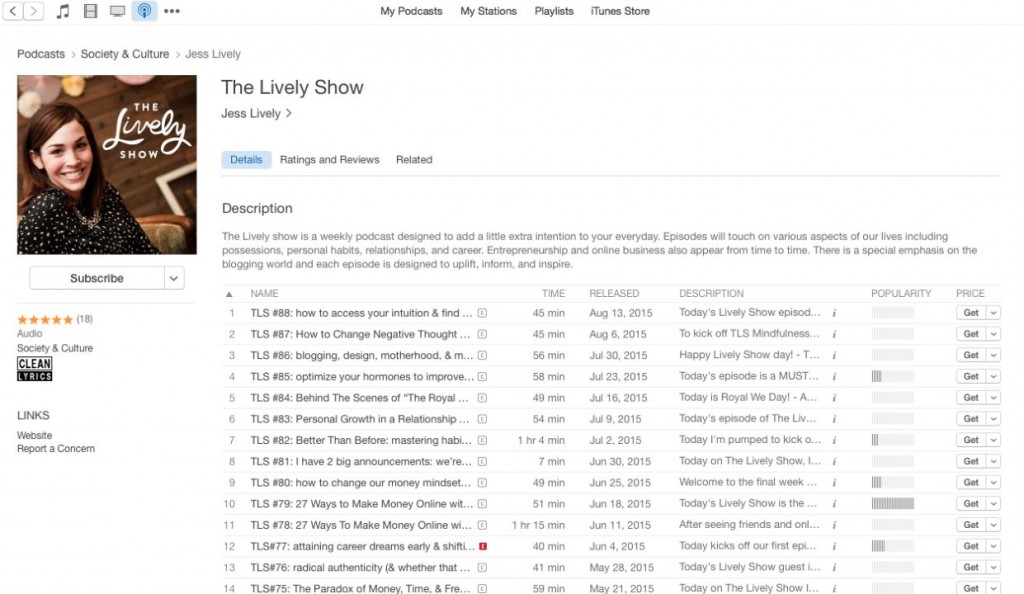 "The Lively Show is a weekly podcast designed to add a little extra intention to your everyday. Episodes will touch on various aspects of our lives including possessions, personal habits, relationships, and career. Entrepreneurship and online business also appear from time to time. There is a special emphasis on the blogging world and each episode is designed to uplift, inform and inspire."
This podcast is awesome and when I first discovered it I binge listened to SO many episodes. The episodes do exactly what the description says they are designed to… They are uplifting, informative, inspirational, and I always find them super interesting. There are new episodes each week and at the moment there are 88 inspirational episodes, which I highly recommend you dive into…
Where to start: Turn your day around and how to say no with Alexandra Franzen or Increasing our joy with Rachel Macdonald.


"She Makes Magic: The Podcast Series is for women craving soul-centered change. Hosted by Australian sisters Koren and Alana Helbig, the series features real-life stories from women around the world who've been through this before – and succeeded. They've honoured their calling and now live kind-hearted and often awesomely unconventional lifestyles. Each interview is packed with wisdom on facing fears, dealing with naysayers, managing finances, and staying grounded and motivated. These interviews will fire you up with inspiration and hand you the knowledge and resources you need to get out there and start living large."
Soulful and inspirational interviews with kind-hearted women, that is both empowering and also useful and insightful. The conversation revolve around soul-centered change and is really inspirational. I love the conversational vibe of this podcast, it feels like I'm listening to two friends chat about life.
Where to start: Alex Olsen: jewellery designer and Violet Gray Design founder or Laurent Aletta: Intuitive coach and Inner Hue founder.


"Magic Lessons are road maps for the path to creativity, the extra nudge you need when you're feeling stuck. In alternating episodes, Elizabeth Gilbert talks to people who are facing creative challenges and to guest experts, to offer perspective, advice and inspiration."
This podcast is for all the creatives out there. The episodes where Liz chats to people who are facing creative challenges are like an epic coaching session, chock full of wisdom and advice, but feel like a chat with a friend. The alternating episodes, with the guest experts, are incredible as well, with super valuable insights and advice. If you are feeling 'stuck' creatively, this podcast is definitely for you.
Where to start: Do What Ignites Your Soul or Cheryl Strayed To Mums – "pursue your passions like a mofo."


"The Awaken Radio Podcast brings you heart-opening conversations and inspiring interviews with experts and thought leaders from all over the world. Tune in each week to hear episodes with Connie and her guests covering everything from practical strategies for more happiness, confidence and self-love to how to live a soulful and intuitively-guided life."
This podcast is full of really heart-felt and soulful interviews with super inspiring people. It covers topics such as happiness, self-love, spirituality and living authentically from the heart. This is one of the first podcasts I ever started to listen to regularly, and for good reason, the conversations are soul-stirring, heart-opening and really inspiring.
Where to start? Find Freedom & Harmony In Your Body (And Life) with Cassie Mendoza-Jones or The Power Of Self-Love & Soul-Connection with Julie Parker.


"Gretchen Rubin is HAPPIER, and she wants you to be happier too. The #1 bestselling author of The Happiness Project and Better Than Before gets more personal than ever as she brings her practical, manageable advice about happiness and good habits to this lively, thought-provoking podcast. Gretchen's cohost and guinea pig is her younger sister, Elizabeth Craft, a TV writer and producer living in Los Angeles, who (lovingly) refers to Gretchen as her happiness bully."
I loved The Happiness Project by Gretchen Rubin so I was pretty excited when I found this podcast — and I really enjoy it. I love the conversational feel of these episodes and rapport between Gretchen and her sister Liz. The episodes are about how to incorporate habits into your everyday life to make you happier. Each episode contains really useful tips that you can easily try out in your own life and I love the 'try this at home' suggestions.
Where to start? Try This At Home-A-Palooza with A.J. Jacobs or Creative Habits with Guest Rosanne Cash.


I'm always looking for new podcasts to subscribe to, so I would love to know:
What are your favourite podcasts at the moment?
Looking forward to hearing from you in the comments below!


If you liked this post, you'll love my FREE eBook and newsletter!

Enter your details below to receive fortnightly newsletter-only updates, insights and inspiration – plus you will also receive a FREE copy of my super inspirational eBook Infinite: Take your life to the next level and beyond!
"Life isn't meant to be a blood-sweat-and-tears style search for happiness. In actual fact, everything we desire lies within us. With this magical little eBook, Chloe will remind you of this truth, gifting you a bunch of simple tips to tapping into your infinite potential and creating the life you truly crave. Chloe – Thank you for guiding people home." Meg O'Sullivan | Adventuring Home