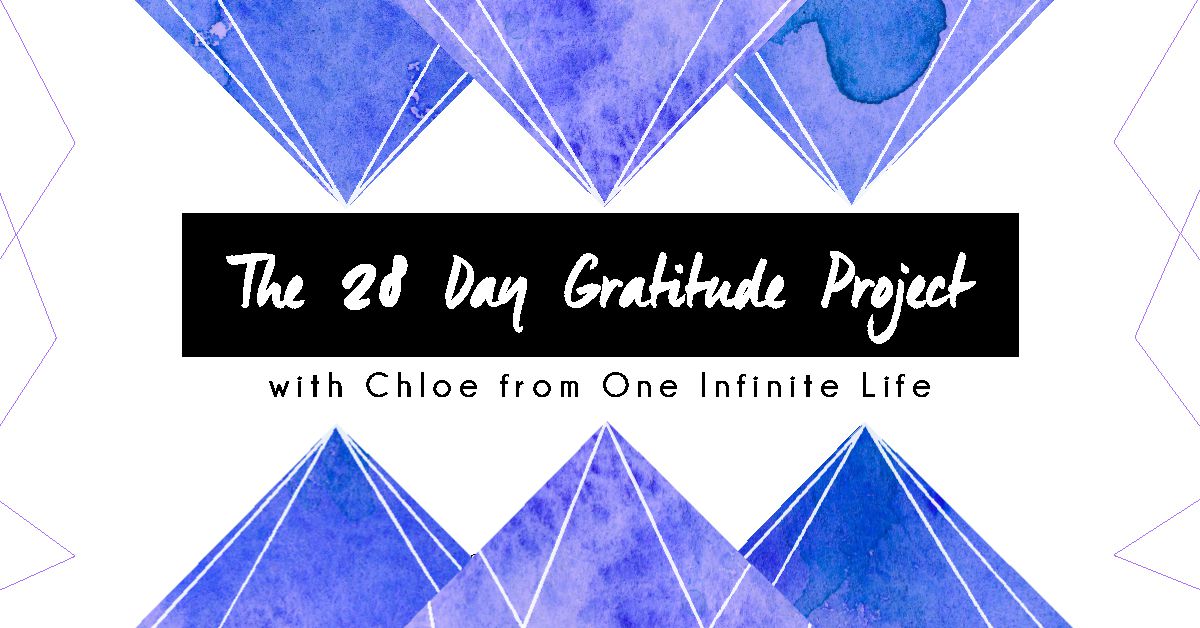 I've never practiced gratitude before, can I still take part in this project?
Yes for sure! You don't need any experience with practicing gratitude in order to take part in The 28 Day Gratitude Project, and this is a great introduction to start adding more gratitude into your life. I'll be there to guide you from the moment you sign up and every step along the way.
∞
I already have a regular gratitude practice, is this project right for me?
Maybe. If you'd like to mix up your current practice, this project will introduce you to many different ways to practice gratitude and add it into your life, and also open you up to all that there is to be grateful for. If you have an open mind and are open to experimenting with your gratitude practice, then yes this project is for you.
∞
How is this project delivered?
This project is delivered via a 61 page digital workbook, daily emails for 28 days and access to a live gratitude Q&A call. Be sure to make sure you sign up using the email you want to receive the project through.
∞
What happens when I sign up?
When you click one of the 'enrol now' buttons on this page you will be redirected (via my payment processor Send Owl) to pay the entry fee via Paypal. After your purchased has been finalised you will receive an email to the account you signed up with all you need to know.
∞

What should I do to prepare for the Project?
Nothing in particular, just be prepared to do one small action for 28 days. When you sign up you will receive one email a day and the first two days have been designed to help you to get ready for the Project and to help set you up for success with it. So if you sign up for the Project today, you will actually begin Day 1 of The 28 Day Gratitude Project in two days time.
∞
"What's inside the digital gratitude guide?"

The 61 page digital workbook was created to be your ultimate companion through the 28 day experiment, but to also support and guide you long after the Project has finished. It contains all the content from the 28 days email series (with extra insights, tips and examples for each of the days), plus a whole lot of extra content including:
∞  A 17 page printable workbook section that you can use complete the activities in. Plus a printable checklist to help you track your progress!
∞  Extra prompts and ways to continue to help you explore adding gratitude into your daily life.
∞  Rapid-fire, simple and practical solutions to common gratitude practice struggles to help you overcome what's holding you back as encounter challenges in your gratitude practice.
∞  An incredibly designed summary of the prompts and methods AND an awesome gratitude manifesto to remind you to practice gratitude, to inspire you to keep adding gratitude into your life and to make it EASY for you to do so.
You can get a sneak peek at what's inside the digital workbook here: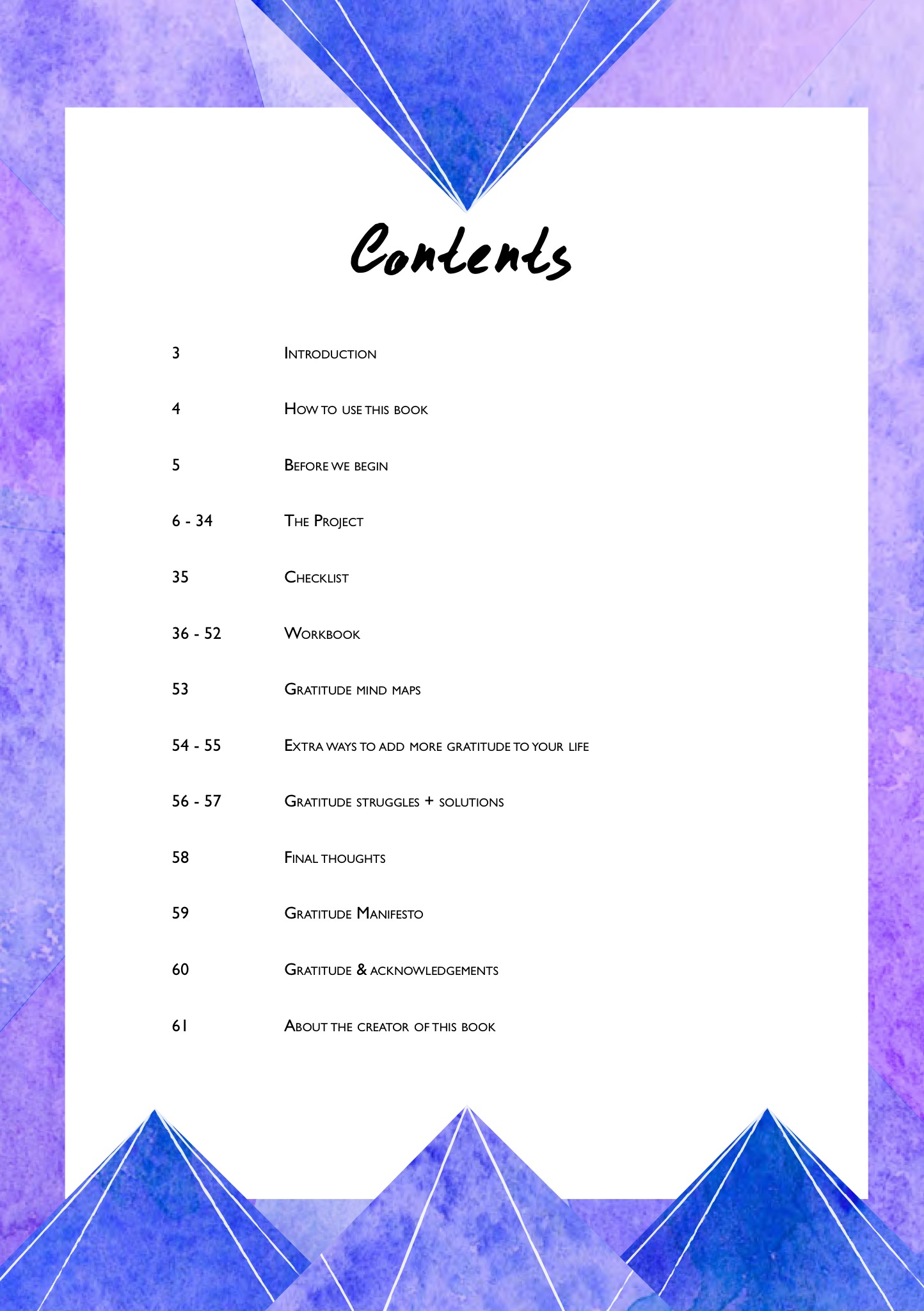 ∞
I've already taken part in this project before, is it any different now?
Maybe — it depends on when you took part in the Project, as it has evolved and changed over time. The biggest difference to the current round of the Project is that it includes an epic 61 page digital workbook to guide you during the Project and long after it has finished.
∞
What do I actually need to take part in this project?
You'll need access to an email account, an open-mind and a willingness to complete the actions each day. A pen and paper will be required for most of the actions or you can complete them in the workbook on your computer. I'll also give you more information on what you need to take part and how you can make this project work for you as soon as you sign up.
∞
Life is full at the moment and I'm not sure I can commit to doing the 28 days, can I still take part?
The good news is you can sign up to The 28 Day Gratitude Project anytime you like, so whenever you're feeling motivated to experiment with gratitude for 28 days you can sign up over here. You'll also get access to a digital workbook which contains all the content from the 28 day series, so you can continue to work through it long after the Project has finished, in your own time.
∞
How long will I need to devote to taking part in this project each day?
The actions in this project have been designed to be super simple and easy-to-implement, and you won't need very much time each day to complete them. So I'd recommend carving out about 5-10 minutes to complete your gratitude action each day.
∞
I want to buy a copy of The 28 Day Gratitude Project workbook, but I've already taken part in the Project and just want to access the workbook. Can I buy it directly somewhere?
I'm so excited that you're interested in getting your hands on a copy of this digital workbook. I created this workbook to be an awesome companion to the email series to help you to put it into action and get the most out of it and to be a standalone guide to help you work through 28 days of gratitude and to support you in adding more gratitude into your life long after the Project has finished. The only way to access the digital workbook is to sign up to the Project.
∞
How come this project is no longer free?
After running 3 live rounds of the Project and guiding 300+ people through 28 days of gratitude, I've gotten a lot of insight into what makes people  get the most out of this project. Unsurprisingly, the people who get the most out of it are the ones who put it into action — and because of this I really want to hold people accountable to doing actions each day — because that's really where the magic happens.
So in order to keep people accountable to working through the Project and staying committed for 28 days, entry to the Project is now $28 AUD. Keeping the Project accessible (at only $1 a day) but helping you to be accountable to it as well.
The current round of The 28 Day Gratitude Project now also includes an epic 61 page digital workbook, which is why it is now has an entry fee.


∞
What can you guarantee I will get out of this project?
Even though I wholeheartedly believe in this project, I can't (and won't) guarantee that you will get anything out of it. But what I do believe is that if you show up with an open mind and commit to doing every action, you will get something out of it.
After guiding 300+ people through the Project, I've noticed that those who get the most out of this project are the ones that commit to working through the actions each and everyday. So I have no doubt about it that if you commit to practicing gratitude for 28 days — and find a way to make gratitude a regular part of your life — you will begin to see why people believe that gratitude can be so life-changing.
If you're interested in finding out what others have gotten out of this project, you can read feedback from past participants over here.
∞
Click the graphic below to head to the offical project page where you can find out more and sign up.
∞