November 28, 2015
It's November Link Fest time!
Side note: I cannot believe it's been one year since I posted my first Link Fest.
Anway, here are the best things I've read on the Internet recently including how to be mindful when you suck a meditating, why social media isn't the problem, advice on how to be generous, rewarding yourself (without food or shopping) and a reminder that you haver permission to do whatever you want.
Plus some awesome things you should know about and a mini taking stock of what's been going on in my life recently.
Happy Reading!



∞  How to be an overnight success — the real answer.
∞  I loved Elizabeth Gilbert's perspective on dealing with critics.
∞  Ask yourself: What if you didn't give up?
"If there's one thing that is "universally true" about humanity, it is that we tend to give up far too quickly and too easily. We don't like hard work. We lack patience. We do everything in our power to avoid rejection, disappointment, and humiliation. We don't like to feel emotions that are not "fun" to feel. It's easier to give up. So we do.
But what if you didn't?" — Alexandra Franzen
∞  Want a super cute (and free) calendar with inspirational truthbombs? Check this one out from Emma.
∞  Here's how to reward yourself without food or shopping.
∞  What do you when you receive a compliment? How about just saying thank you.
"Accepting gratitude from others is as important as accepting it yourself."— Cassie Mendoza-Jones
∞  Suck at meditating? Here's how to be mindful anyway.
∞  Loved this: Screw the filters and curation. Let's get raw.
∞  There's been a lot of conversation at the moment about the negative consequences of social media, however I truly believe that it is within our power whether we choose to use social media and whether have a positive or negative experience with a platform. Fran articulated so well how I feel about social media in this: social media isn't the problem, it really is what we choose to make it.
"We get to choose how we use these platforms. We get to choose who we follow and engage with online. We have control over how we represent ourselves, our lives, and our values. We control how we respond to what others post." —  Fran Maspero
∞  Are you a new coach? Do you want to create an awesome coaching business? Here are 6 tips you'll love.
∞  Can one letter change your life, or the life of someone else? Plus Alex has created an awesome (and free) booklet full of writing tips and templates to start writing letters.
∞  Awesome advice on how to be generous.
"Be wildly, precisely, obsessively grateful. When you treasure how much you have – from your good health, free evenings, expertise, a loving soul, a bit of cash – you KNOW you have so much to give. If you're not feeling generous, try harder to feel grateful." — Danielle Laporte
∞  Have an over-active busy mind? Here's an easy mindfulness practice for you to try.
∞  A common misconception that has been coming up for me since I became a qualified life coach is that introverts cannot make good life coaches. So I love that Katherine has set the record straight by sharing why introverts make great coaches.
"I actually don't think personality type, gender, nationality, anything really determines whether or not you'll be a great coach. I truly believe that attitude is everything. That being a curious listener and a student of life are so key. That if you want to be a great coach with every fibre of your being, then you will be." — Katherine Mackenzie-Smith
∞  A divine ritual and meditation for the full moon.
∞  A reminder that today is not over yet (and either is this year for that matter!)
"If your heart is beating, if your lungs are breathing, if you are still alive… then it is not too late to do something kind, creative, generous, satisfying, and courageous. Today." — Alexandra Franzen
∞  Loved this: How to cope when the world feels scary.
∞  A reminder that you have permission to do whatever you want.
"Permission to sleep in […]
Permission to feel the way that you feel […]
Permission to take ten minutes for yourself, before attending to anyone else.
Permission to SAY NO […]
Permission to change your mind. […]"  — Claire Baker
And since there's less than a month until Christmas, here are some festive posts for you: 
∞  Gingerbread bliss balls.
∞  How to survive Christmas.
∞  Here's some ideas on what you can do for you this holiday season.
∞  Want a more peaceful holiday season this year? Here are 6 ways to do that.
∞  Looking for some festive desserts? I'm drooling over this raw white chocolate and pumpkin cheesecake and this chocolate panaforte.



Some stuff I've written recently that you may enjoy…
∞  Here's a mega round-up of my latest trip to Bali, including photos of my trip, my favourite area to stay, my best recommendations on what to do and see, where to eat, and some useful Bali travel tips.
∞  In a rut? Here's how to get unstuck and start moving forward (with some super useful and FREE worksheets!)
∞  Like so many other people I've been completely captivated by Liz Gilbert's latest creation Big Magic, inspired by that here is my creative confession and 6 magic lessons that have had the biggest impact on me so far.
∞  Looking for some new book recommendations? Here are 5 awesome books I've read recently including books about money and creativity, a delightful fable, and my latest young adult favourites.
∞  Plus I was thrilled to be interviewed by Ange from Empower Avenue on what I do to support and empower myself, how I go about shifting from a negative to a positive mindset, the hardest personal challenge I have experienced, and so much more.
Awesome things you should know about
Do you need an extra boost to help you start moving towards what you want to achieve?
Check out Sarah Jensen's new online course: Rock Your Goals, which is a short course, that's simple and practical, and if you commit to doing the exercises it's super powerful. I recently worked through this course and it helped me to:
∞  Realise that there is never going to be a perfect time to start working towards my mega goals (so I might as well start now).
∞  Get super clear on what I REALLY wanted to achieve.
∞  Determine if these goals actually felt aligned to me and where I'm at right now (which is so important)
∞  Create an actionable pathway to achieving my goals.
∞  Plus it has propelled me into taking action, which is what actually helps you move forward and make a goal your reality.
So if you're ready to start making your goals, an actual reality, you can find out more here.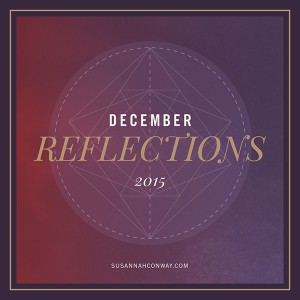 In December, I'm going to be participating in Susannah Conway's December Reflections photo challenge.
I think it's going to be an awesome way to finish up 2015, to share some insights and reflections on the year gone by, and to share more about myself with my Instagram community.
You can follow along with my #DecemberReflections here, and let me know if you're joining in as well (I think it's going to be super fun!)



A mini Taking Stock of what's going on my life at the moment…
Planning: The next round of The 28 Day Gratitude Project (with updated content!)
Cooking: Mini quiches for a picnic tomorrow.
Drinking: Peppermint tea.
Reading: Some light and fun fiction: The Rosie Effect by Graeme Simsion and The Heir by Kiera Cass.
Wanting: For it to be Summer already.
Looking: Forward to Christmas!
Playing: this song and this song.
Enjoying: Waking up early.
Waiting: For it to be acceptable to start watching Christmas movies.
Loving: Mockingjay – Part 2.
Watching: Old episodes of The Vampire Diaries.
Hoping: It's going to be nice weather tomorrow.
Marvelling: At these flowers.
Questioning: Everything… always.
Following: This awesome Instagram account.
Sorting: Through the photos from my Bali trip.
Getting: Obsessed with colouring in these mandalas.
Giggling: At this account, often.
Feeling: Relaxed.
Snacking: On fresh cherries (obsessed already!)


I hope November has been an awesome month for you, and I would love to know: what was the BEST thing that happened to you this month?
Love & Gratitude,


If you liked this post, you'll love my FREE eBook and newsletter!

Enter your details below to receive fortnightly newsletter-only updates, insights and inspiration – plus you will also receive a FREE copy of my super inspirational eBook Infinite: Take your life to the next level and beyond!
"Life isn't meant to be a blood-sweat-and-tears style search for happiness. In actual fact, everything we desire lies within us. With this magical little eBook, Chloe will remind you of this truth, gifting you a bunch of simple tips to tapping into your infinite potential and creating the life you truly crave. Chloe – Thank you for guiding people home." Meg O'Sullivan | Adventuring Home