December 10, 2015
I love giving people gifts. And I especially love giving people gifts that are going to make them feel good and happy.
So with Christmas right around the corner I've collated some of my favourite feel good products that I think will make awesome gifts.
Some of these things are stuff I already own (and love) or some are just totally on my wishlist (wink wink family! Kidding…)
Before we dive straight into the gift ideas, I just want to say that I think it's totally okay to choose not to buy gifts for people and just to spend time with the people that are important to you. Presence really is the greatest present of all.
However, if you do choose to buy some thoughtful gifts this Christmas and want some inspiration, here are 46 ideas for feel-good, empowering and unique gifts.


1. Belinda Davidson's Guided Chakra Cleanse Meditation for Busy People. The only guided meditation I use frequently. It's 35 minutes of pure bliss, that can somehow always transform how I'm feeling, it's truly magical. *
2. Blacklist Stores's Be Kind print. Awesome prints with positive messages made "by dreamers for dreamers" in Sydney, Australia. When I have my own house I have no doubt it will be full of awesome art by these guys.
3. Lumina Tarot by Inner Hue. A magical and enchanting deck of tarot cards. Plus the artwork on these cards is absolutely divine.
4. Kikki.k 2016 leather diary. This is my favourite diary to use and the daily one is the most efficient for me. A gift that's both useful and cute, plus they come in awesome colours.
5. Rose gold heart chakra necklace by Violet Gray Design. This is the first of many VG recommendations, because there's something truly special about this brand and their handmade intentional jewellery. Perfect for any of the special ladies in your life
6. High: A Party Girls Guide To Peace by Tara Bliss. Regardless of someone's age or if they're a party girl (or not) they will definitely get something out of this book. This book (or audiobook) would make for a truly life-changing gift.
7. True North Meditones Album by Sonesence. The only and best meditation music I listen to. There's something truly special about these meditones and would make a great gift for the peace seekers in your life.
8. Lemon Canary candles. Boutique vintage eco soy candles that are beautifully hand poured and handmade on the Gold Coast in Australia.
9. Spirited Bundle by Tara Bliss & Rachel MacDonald. Includes both Spirited and the Spirited Companion eBooks, both of which I go back to time and time again. A super empowering gift that will help someone make 2016 their best year yet.*
10. The Fifth Element Life's 111 Mandala Meditation Magick Colouring E-Book. Contains 111 different mandalas to colour in, that you can print as you go. A gift that encourages creativity and mindfulness, that can be used again and again.
11. Perfect Potion Chakra essential oil kit. Contains 7 essentials oils (one for each of the chakras) that smell divine. I also love the Australian essential oil kit as well, plus they also have some great diffusers (I use mine every day!)
12. Kikki.k Thankful Journal. It's not secret that I'm a huge believer in the power of gratitude, and it really does make being grateful easier when you have a super cute gratitude diary like this one.
13. Adventures Always print by Emma Kate Co. "Wall art to inspire adventure and mark milestones" perfect for the travel-obsessed wanderluster in your life.
14. Violet Gray Design tranquillity ring. VG collection of rings are so divine, unique and powerful "each piece carries with it a story, one to inspire and cultivate JOY."
15. The Desire Map by Danielle Laporte. Your life will never (ever) be the same once you start living in alignment with how you want to feel. A gift that I have no doubt will revolutionise someone's life.*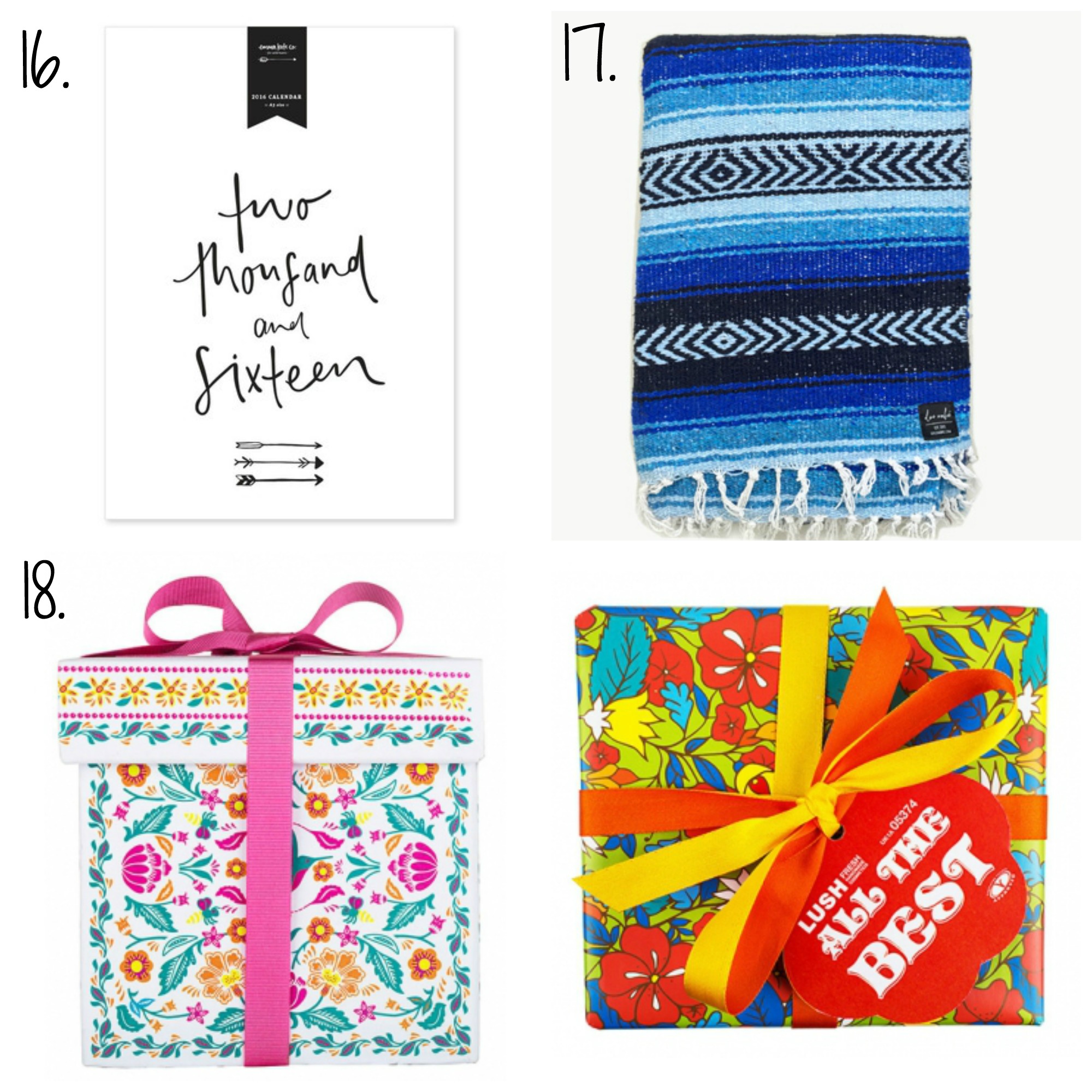 16. Emma Kate Co Two Thousand and Sixteen calendar. An inspirational calendar for the new year, with gorgeous hand lettering and empowering truthbombs for each month.
17. Simple Lover Amalfi blanket by Dos Ombre. Super funky handmade Mexican blankets perfect for anything and everything.
18. Lush gift boxes. Lush makes beautiful handmade cosmetics that are fun, not tested on animals, colourful and smell amazing.
19. Blacklist Store's All We Have Is Now print. Another one of these original limited-edition prints, because they're that awesome. An inspirational reminder of the importance of presence.
20. Shhh… An Introvert's Guide to Creating An Exceptionally Beautiful Life by Katherine Mackenzie-Smith. This gift will help someone fully embrace who they are, own and honour their unique energy, and ultimately find their own way to shine. A perfect gift for the introvert in your life to help them ignite their own quiet power.*
21. Violet Gray Design Divine Timing bracelet. Beautiful handcrafted intentional bracelets. Not a day goes by where I don't have one of these divine bracelets around my wrist.
22. Geometric prints by The Darling Tree. Absolutely stunning watercolour artwork by the lovely Jo.
23. Organic Chakra perfume oils by Lemon Canary. Really beautiful organic perfume handmade on the Gold Coast that are infused with Reiki.
24. Style + Spirit Just Do You shirt. Awesome graphic apparel for the spiritually inclined. Conscious fashion for those who want look and feel good.
25. She is Radiant Collection by Claire Baker. An eBook about health and wellbeing that is SO much more than that. It's a gift of radiance, health and honouring your uniqueness. Your health (and life) will never be the same again.
26. Simplicious cookbook by Sarah Wilson. I hadn't been captivated by cookbook for a long time, then this came along. With simple recipes that are made from real food that you would actually make in your daily life, plus a huge emphasis on sustainability and minimising food waste, this is one unique cookbook.
27. Green House Juicery juice cleanse. This company is awesome, they make delicious juices, plus it's the most local cold-press juice company to where I live.
28. Who Gives A Crap toilet paper. An unconventional gift I know, but it's something everyone uses. I love this company and what they do, their toilet paper is environmental friendly and 50% of their profits are donated to Wateraid to help build toilets in the developing world.
29. Kombucha Christmas Present Parcel by The Whole Daily. A unique, weird and wonderful gift. An awesome gift for someone who loves Kombucha, so they can start fermenting their own at home.
Some awesome stocking filler ideas:
30. Charka Balancing Mist by Perfect Potion. A divine combination of 23 essential oils in an easy-to-use spray.
31. Kester Black nail polish. These incredible nail polishes are Australian-made, they are non-toxic (five free), vegan, cruelty-free, ethically made and come in awesome colours.
32. Lemon Canary crystal intention pouches. These crystal pouches would make meaningful and unique stocking additions.
33. Loving Earth raw chocolate. These guys make the best chocolate, plus it's fair-trade, sustainable, and super yum!
34. Geometric metallic tattoos by The Darling Tree. Gorgeous golden tattoos for a fun and magical gift.
35. Hurraw lip balm. Lip balm is always a perfect stocking addition, and I especially love Hurraw because they are natural and fair-trade, but most importantly come in awesome flavours.


A few more gift ideas…
36. I don't think there's anything better than getting food made for you. If you want to give someone the gift of food this Christmas check out My Goodness Organics (if you're Melbourne based) and Let Us Feed You Organics (if you're Gold Coast based).
37. Opting to gift someone an experience? Check out Red Balloon for unique gifts from yoga class passes, hot air balloon rides, to stand up paddle board lessons and so much more.
38. If you know someone who loves movies you can't go wrong with a cinema movie pass.
39. Give a gift that keeps on giving with a subscription to something awesome like Netflix or a magazine such as Collective Renegade, Peppermint or Frankie.
40. Want to create a personalised photo gift? Check out Apple's print products, which you can create easily from your Mac. I have been really surprised with the awesome quality of the photo books and calendars.
41. For the guys in your life, check out Whisky & Wolf for awesome handmade vegetable leather wallets and belts.
42. If you're wanting to go the homemade route, here are 25 DIY gifts that people will love.


Some good karma gifts…
43. World Vision, for a gift that will make someone in a developing country's life better.
44. The Smith Family for a gift that will help disadvantaged Australian children with their education.
45. Unicef for life-saving gifts delivered to the children who most need it around the world.
46. One Night Stand Sleepwear for cute pyjamas that also provide a young homeless person with a meal, plus half of their profits are donated to shelter and employment projects.


And there you have it, 46 different gift ideas to help you celebrate your favourite humans this holiday season.
If you enjoyed this Feel Good Gift Guide I would love for you to share it around (you can do this easily using the buttons at the bottom of the post).
Here's to giving feel good gifts this year!
Before you go, full transparency is awesome, so it's important for me to let you know that I am a super proud affiliate for some of the items mentioned above that are marked with an asterisk*. This is because I truly love and believe in these products and want to support them in reaching more people. What this also means is that if you purchase any of the items marked with a * I will receive a small 'thank you' commission. And just so you know I only ever promote things I have personally experienced and truly believe in.


If you liked this post, you'll love my FREE eBook and newsletter!

Enter your details below to receive fortnightly newsletter-only updates, insights and inspiration – plus you will also receive a FREE copy of my super inspirational eBook Infinite: Take your life to the next level and beyond!
"Life isn't meant to be a blood-sweat-and-tears style search for happiness. In actual fact, everything we desire lies within us. With this magical little eBook, Chloe will remind you of this truth, gifting you a bunch of simple tips to tapping into your infinite potential and creating the life you truly crave. Chloe – Thank you for guiding people home." Meg O'Sullivan | Adventuring Home